U.S. Small Business Credit Card Forecast, 2017–2022: Healthy Market, Room for Improvement
Overview
Small businesses are the backbone of the U.S. economy, and credit card issuers have products that help them finance, procure, and transact. Small business credit cards control and report expenses with integration into many small business accounting programs; special tools help keep the financials organized.

Mercator Advisory Group's latest research report, U.S. Small Business Credit Card Forecast, 2017–2022: Healthy Market, Room for Improvement, projects that small business card will approach $700 billion by 2022. The report suggests that an additional 50 percent of transactions now posted on consumer cards could instead run on small business payment cards if small business owners realize that the dedicated cards have features suitable for running a small business.

"Some small business owners prefer to use their personal credit cards for their business," commented Brian Riley, Director, Credit Advisory Service, at Mercator Advisory Group, author of the research report. "There are some benefits to the consumer card, but when it comes to accounting for expenses and controlling usage it is hard to beat the current infrastructure," Riley added. "Issuers might accelerate movement if they give small business owners the same protections afforded to consumers in the CARD Act."

This document contains 20 pages and 9 exhibits.

Companies mentioned in this research note include: American Express, Bank of America, Bank of the West, BB&T, Capital One, Chase, Citi, Discover, FICO, Key Bank, Navy Federal Credit Union, PNC, MasterCard, Regions Bank, SunTrust, U.S. Bank, Visa, and Wells Fargo.
---
One of the exhibits included in this report: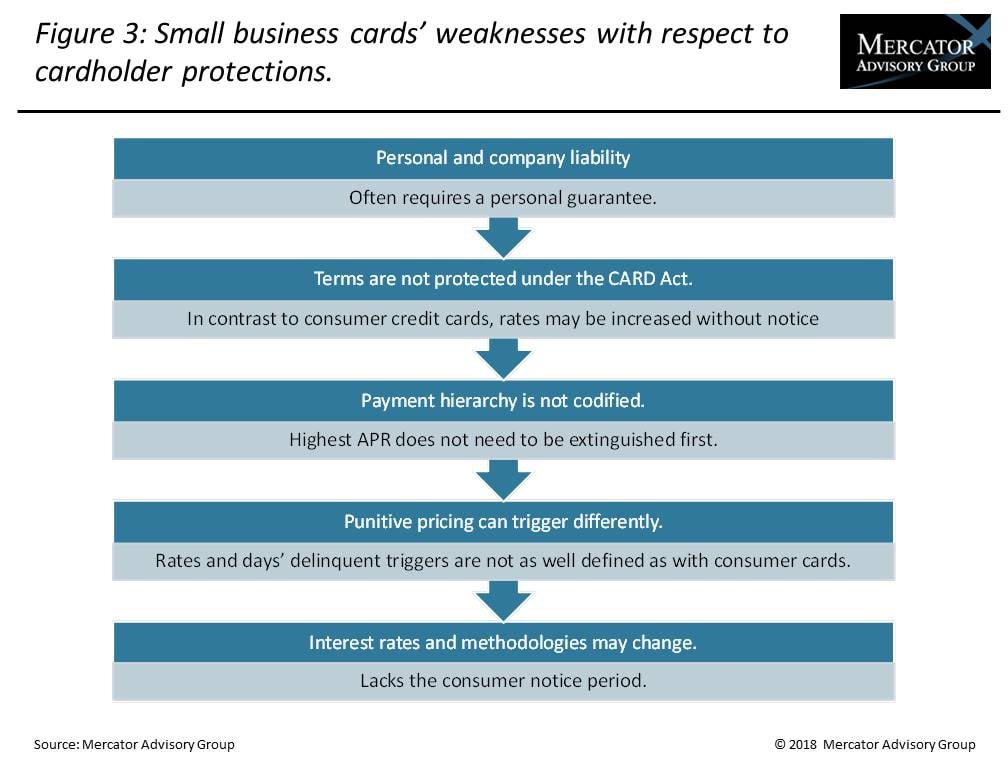 ---
Highlights of the research report include:

Estimated spend volume
Shadow credit, small business spend posted to personal credit cards
Detailed market view of co-brand and issuer small business cards
Essential features of a small business card
Interested In This Report
Related content
Private-label credit cards are an essential part of the U.S. card market, but they are a product in slow decline and face several threats, including instant point-of-sale financing...
The cobranded card market is a way to generate loyalty, scale your portfolio, and service the next generation of cardholders.
The Credit Card Data Book is a two-part annual publication that covers the internal and external factors affecting the U.S. credit card market. The first part focuses on environmen...