U.S. Secured Credit Cards Market Forecast, 2017–2021: A Credible Product with a Dark Past
Overview
Secured credit cards, a product tainted by opportunistic marketers before the turn of the 21st century benefited from transparency and disclosure requirements mandated by the Credit Card Accountability Responsibility and Disclosures Act of 2009 (CARD Act). Today, top credit card issuing banks, specialty nonprime issuers, and credit unions serve the market with fair interest rates and payment terms. Prospective cardholders can qualify for the product at institutions including Bank of America, Citi, Discover, Green Dot, US Bank, and USAA for deposit balances well under $500.
Mercator Advisory Group's latest research reporte, U.S. Secured Credit Cards Market Forecast, 2017–2021: A Credible Product with a Dark Past, provides a view of this market of 5 million cardholders and gives a detailed view of the issuing landscape.
"Secured cards used to represent the dark side of the credit card business, with gouging fees and deceptive 900-carrier billing numbers," comments Brian Riley, Director, Credit Advisory at Mercator Advisory Group, and the author of the research report. "Since the CARD Act cleaned up deceptive practices and unconscionable lenders, secured cards offer a mutually beneficial proposition for issuers and credit-impaired consumers. Issuers can increase their interest and non-interest revenue and also nurture pathways to other products. Consumers who either are recovering from a household financial crisis or do not have established credit have the opportunity to be included in mainstream financial services."
This document contains 18 pages and 9 exhibits.
Companies mentioned in this research report include: American Express, Bank of America, Barclays, Capital Bank, Capital One, Chase, Chevron Credit Union, Citi, Digital Credit Union, Discover, FICO, First Progress, Fiserv, General Electric Credit Union, Green Dot, Mastercard, Merrick Bank, Navy Federal Credit Union, NIH Credit Union, Open Sky, Synovus, US Bank, USAA, and Visa.
---
One of the exhibits included in this report: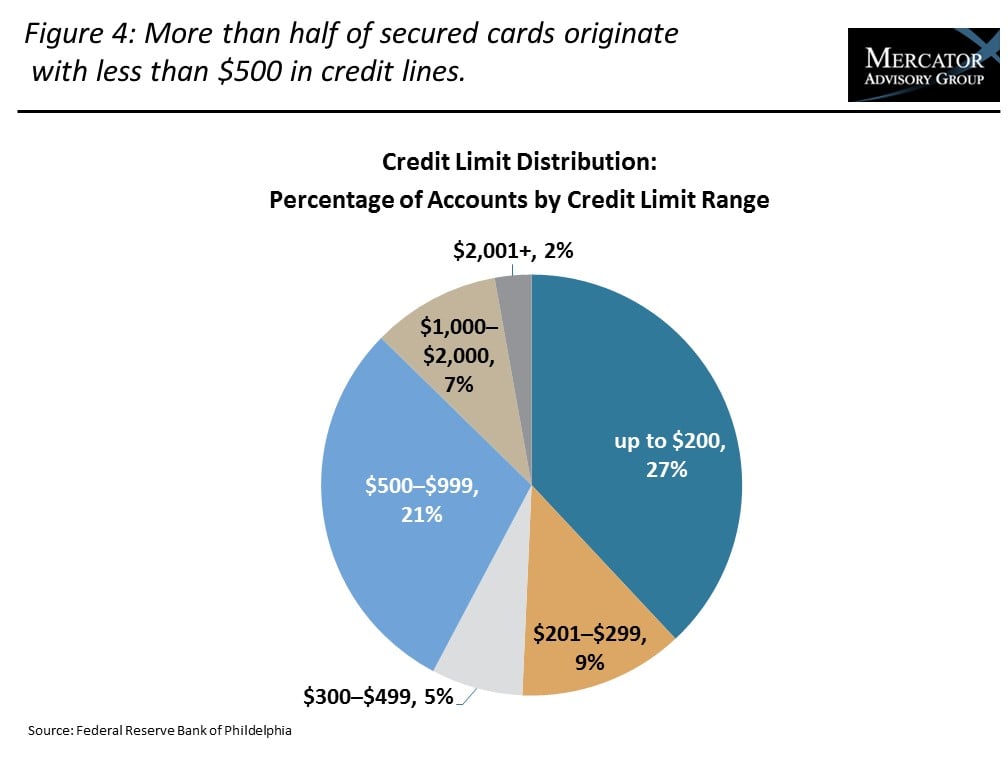 ---
Highlights of the research report include:

How the secure card product evolved
Demographics of the secured card product market in the U.S.
Selected secured card issuers
Segment risks and opportunities
Operating technologies
Interested In This Report
Related content
Private-label credit cards are an essential part of the U.S. card market, but they are a product in slow decline and face several threats, including instant point-of-sale financing...
The cobranded card market is a way to generate loyalty, scale your portfolio, and service the next generation of cardholders.
The Credit Card Data Book is a two-part annual publication that covers the internal and external factors affecting the U.S. credit card market. The first part focuses on environmen...