US Merchant Acquiring 2010: Consolidation at the Top
Overview
US Merchant Acquiring 2010: Consolidation at the Top
Mercator's annual US Merchant Acquiring analysis

Boston, MA -- June 28, 2010 - All things considered, the US acquiring space weathered the recession favorably, and it stands poised to take advantage of new growth opportunities, both as cash and check payments are increasingly displaced by cards and as investment dollars begin to thaw. The largest acquirers in the US are capturing more merchant payment volume than ever before, and recent moves to consolidate operations have left the market top-heavy.
This year Mercator Advisory Group's annual merchant acquiring report focuses on the consolidation of the industry and its impact on the participants as the overarching trend affecting the US market in 2009. The 'US Merchant Acquiring 2010: Consolidation at the Top' report examines the root causes of consolidation at the economic level thorugh analysis of declining retail sales data, and applying this information to identify segments of the US retail space that have been resilient through the economic downturn. Mercator also indicates the upside to falling sales volume by discussing the continuing displacement of cash and check payments by cards as a continuing driver of growth in the merchant services business.
As part of our annual coverage of this topic, Mercator again examines the threat of payments system pricing regulation as the passage of pending interchange legislation is imminent.
Highlights of this report include:
The economy is rumored to be on the mend, but the impact of the recession on merchant acquirers has been broad and deep, with same store sales in 2009 being the leading indicator of widespread pain.
There's nothing like a recession to bring the need for innovation into focus - growth in the merchant services market depends on delivery of greater value to merchants and their customers.
Consolidation of the largest 2 US merchant acquiring organizations has the top 5 US acquirers capturing nearly three-quarters of merchants' payment card dollar volume.
The bank alliance acquiring model is back in a big way, with a number of the largest players executing new business with this approach. At the same time, private equity investors seek to grow their presence within the space.
The US payments industry faces growing regulatory threats, which could impact the sustainability of acquirers' current business models.
"The survivors of the consolidation game will at least have the chance to broaden and deepen the relationships they gain in their mergers and acquisitions," David Fish, Senior Analyst in Mercator Advisory Group's Credit Advisory Service and author of the report comments. "Not only is value-added service and technology an absolute necessity for competition within the space, but it is even more critical as the competition is gradually absorbed. Even as the merchant services market continues to mature and consolidate, there will always be an entrepreneurial upstart with an innovative product or business model eager to carve out a piece of the pie."

One of 14 exhibits in this report: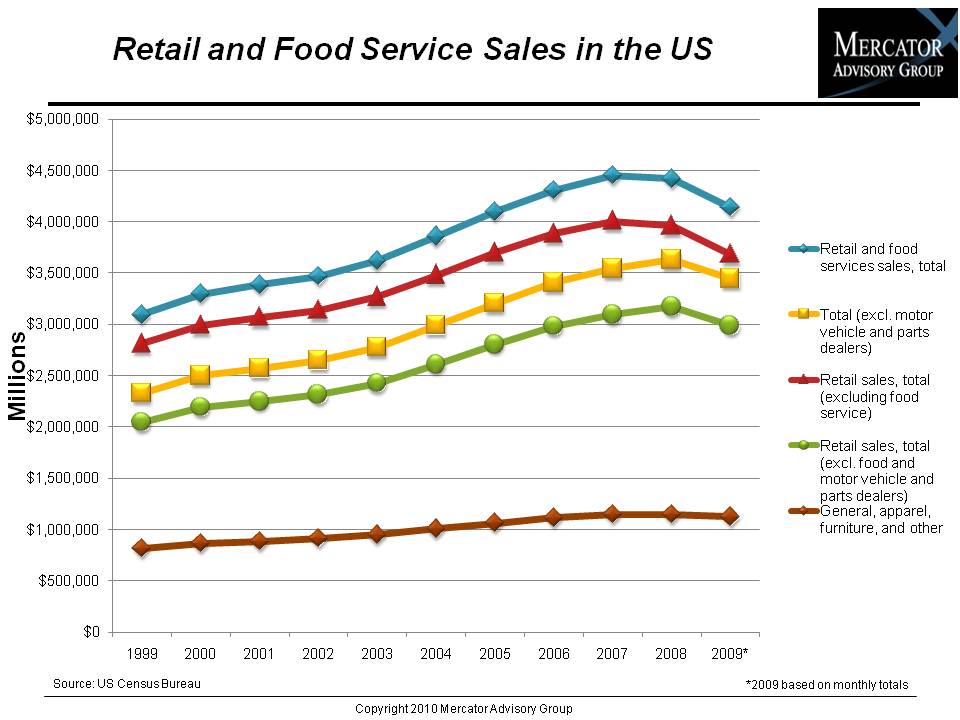 This report is 23 pages long and has 14 exhibits.
Companies mentioned in this report include: Advent International; American Express; Apax Partners; Atos Origin; BA Merchant Services; Bain Capital; Banc of America Merchant Services; Bank of America; Carlyle Group; Chase Paymentech Solutions; Citi Merchant Services; Clayton, Dubilier & Rice; Comvest Group; CSU CardSystem; CyberSource; Cynergy Data; DolEx; Elavon; Euronet; Experian France; Fifth Third Processing Solutions; First Data; First National Bank of Omaha; First National Merchant Solutions (FNMS); Global Payments, Inc.; Heartland Payment Systems; Humboldt Merchant Services; JPMorgan Chase; Key Merchant Services; MasterCard; Moneris; PaySys; Permira; Pipeline Data; RBS WorldPay; Royal Bank of Scotland; Silverlake; Sovereign Bank; SunTrust Merchant Services; TPG Capital; TransFirst; TSYS; US Bancorp; Visa; Wells Fargo Merchant Services.
Members of Mercator Advisory Group have access to this report as well as upcoming research for the year ahead, presentations, analyst access and other membership benefits.
Please visit us online at www.mercatoradvisorygroup.com.
For more information and media inquiries, please call Mercator Advisory Group's main line: (781) 419-1700 or send E-mail to info@mercatoradvisorygroup.com.
---
Interested In This Report
Related content
Private-label credit cards are an essential part of the U.S. card market, but they are a product in slow decline and face several threats, including instant point-of-sale financing...
The cobranded card market is a way to generate loyalty, scale your portfolio, and service the next generation of cardholders.
The Credit Card Data Book is a two-part annual publication that covers the internal and external factors affecting the U.S. credit card market. The first part focuses on environmen...