Overview
The adoption of person-to-person (P2P) transaction applications is growing at rates the U.S. retail banking has not seen since the rush to launch debit cards in the late '80s and early '90s. P2P products for money transfers between individuals have now reached the point of mainstream adoption.

With the volume of digital P2P transactions now greater than $100 billion in the U.S., financial institutions, financial service providers, and financial technology (fintech) companies alike cannot ignore the influence of P2P payments and they are compelled to finalize decisions about how P2P fits into their product suite. A new research report from Mercator Advisory Group, U.S. Market Forecast for P2P Solutions, 2017–2021, addresses the opportunities.

"We are finding that consumers are just as likely to say that they use a debit card as they are a P2P product. In our analysis, we project that the rate of growth in P2P will continue to rapidly impact the use of checks and cash as a form of payment between individuals," commented Sarah Grotta, Director of the Debit and Alternative Products Advisory Service at Mercator Advisory Group, author of the report.

This report has 18 pages and 9 exhibits.

Companies mentioned in this report include: ACI, Apple, Bank of America, CGI, Chase Bank, CO-OP Financial Services, D3 Banking Technologies, Jack Henry, Early Warning, Facebook, FIS, Fiserv, Google, IBM, Mastercard, PayPal, Square, Visa, and Wells Fargo.
---
One of the exhibits included in this report: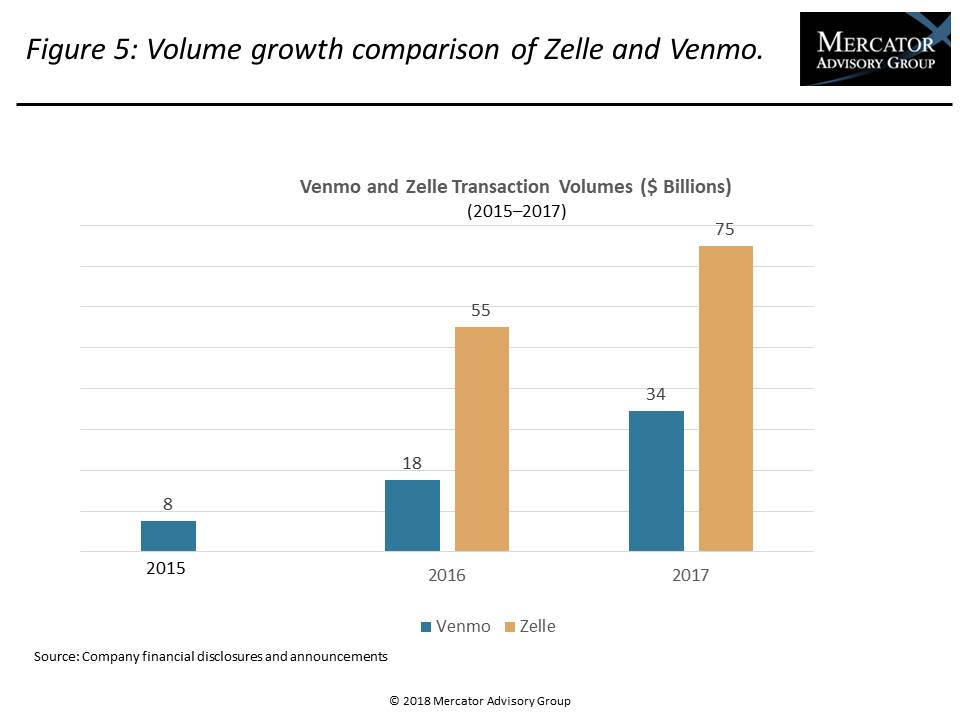 ---
Highlights of the report include:

Projected volumes for the U.S. P2P market through 2021.
Comparison of available solutions, including products that also facilitate mobile payments 
U.S. consumer use of P2P products by brand
Considerations for financial institutions making decisions regarding integration to Early Warning's Zelle P2P product
Analysis regarding the adoption of P2P for business-to-consumer disbursements
Interested In This Report