U.S. EMV Timeline Beyond the Road Maps: How Long Will Conversion Really Take?
Author(s):
David Kaminsky
Overview
In the spring of 2011, Visa issued a road map for the U.S. adoption of a smartcard-based payments ecosystem. Since then, the other three major U.S. payments networks have followed suit. These road maps provide milestones for merchants, acquirers, and processors, along with dates on which these milestones are expected to be met. In theory, the road maps should serve as a reasonable expectation for when the U.S. will fully adopt EMV, but judging by past experience, that likely won't be the case.
"The roadmaps laid out by the networks intend to convert the U.S. payments ecosystem to EMV by 2015, four years after the first road map was developed," says Dave Kaminsky, senior analyst in Mercator Advisory Group's Emerging Technologies Advisory Service and author of the report. "Judging by the experience of other countries in trying to implement EMV, as well as the experience of the networks' previous attempts to influence changes among U.S. merchants, that timeframe likely will not be met."
---
One of the exhibits included in this report: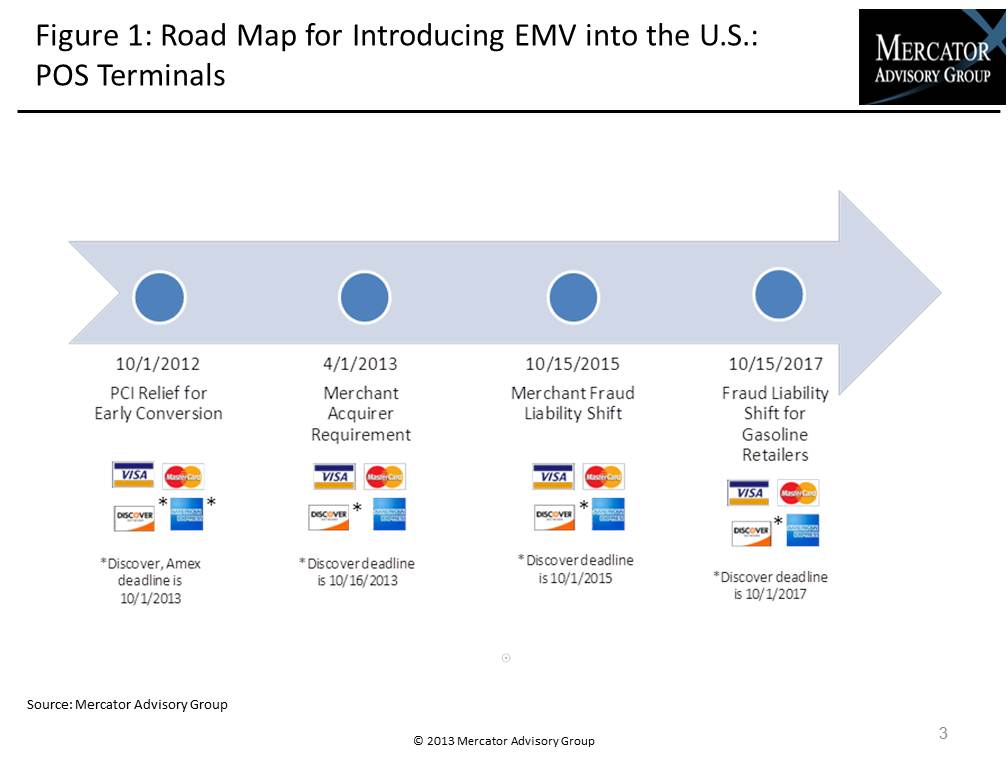 ---
Analysis of why the U.S. did not convert to EMV when many European countries did and why the U.S. is currently motivated to adopt EMV

Detailed breakdown of the current road map, including explanations of all major milestones, deadlines each network has set for each milestone, and penalties for noncompliance

Forecast of U.S. EMV conversion based on the networks' timeline and the actual adherence of merchants, financial institutions, payments service providers, and consumers to previous timelines in the U.S. and abroad 
 This report is 24 pages long with nine exhibits.
Companies mentioned in the report include: Visa, MasterCard, Discover, American Express, Europay, EMVco, and JCB.
Members of Mercator Advisory Group's Emerging Technology Advisory Service have access to this report as well as the upcoming research for the year ahead,
Interested In This Report
Related content
Generative artificial intelligence is not just hype. It is a high-impact technology that requires the attention of leaders in every industry. Payments and financial services produc...
With investment capital tighter in 2023, there's less interest in untested, unproven fintech startups and more of an emphasis on coming out of the chute with products that are read...
Wallet-based digital ID will create a wedge between universal wallets and payment apps, as embedded finance product offerings converge on feature parity over time.