The U.S. Commercial Card Market: A Growing Virtual Reality
Overview
The U.S. commercial card market continues to grow at rates higher than other business-to-business (B2B) payments types. According to Mercator Advisory Group estimates, between 2013 and 2015, U.S. commercial card purchase volume grew at a compound annual growth rate of 9%; we expect to see high-single-digit growth through the next several years. Spending volumes continue to be dominated by the traditional leading commercial card issuers, but share is shifting somewhat to emerging smaller issuers. The major industry growth driver is electronic accounts payable (EAP) as both buyers and suppliers have increasing awareness of the value of card-based products in the payables flow.

In a new research report, The U.S. Commercial Card Market: A Growing Virtual Reality Mercator Advisory Group reviews the corporate purchasing and virtual credit card landscape for the mid to large corporate market sectors. The report discusses how virtual card payments, led by single-use accounts (SUA), are driving the current growth trends.

"The increase in U.S. commercial card purchase volume in 2015 was largely driven by P-card-related spend, including virtual accounts in both reusable and single-use forms. Traditional commercial card accounts (walking plastics for both travel and procurement) continue to grow between 4% and 7% combined," commented Steve Murphy, Director of Mercator Advisory Group's Commercial and Enterprise Payments Advisory Service and author of the report. "That portion of the market is more heavily dependent on economic indicators like GDP. But double-digit growth in EAP has been the driving force behind the recent higher commercial card growth. Mercator Advisory Group expects that this trend will continue over the next four years".

The research report is 20 pages long and contains 7 exhibits.

Companies mentioned in this report include AOC, Bora Payment Systems, Comdata, CSI Enterprises, Verient, and WEX.
---
One of the exhibits included in this report: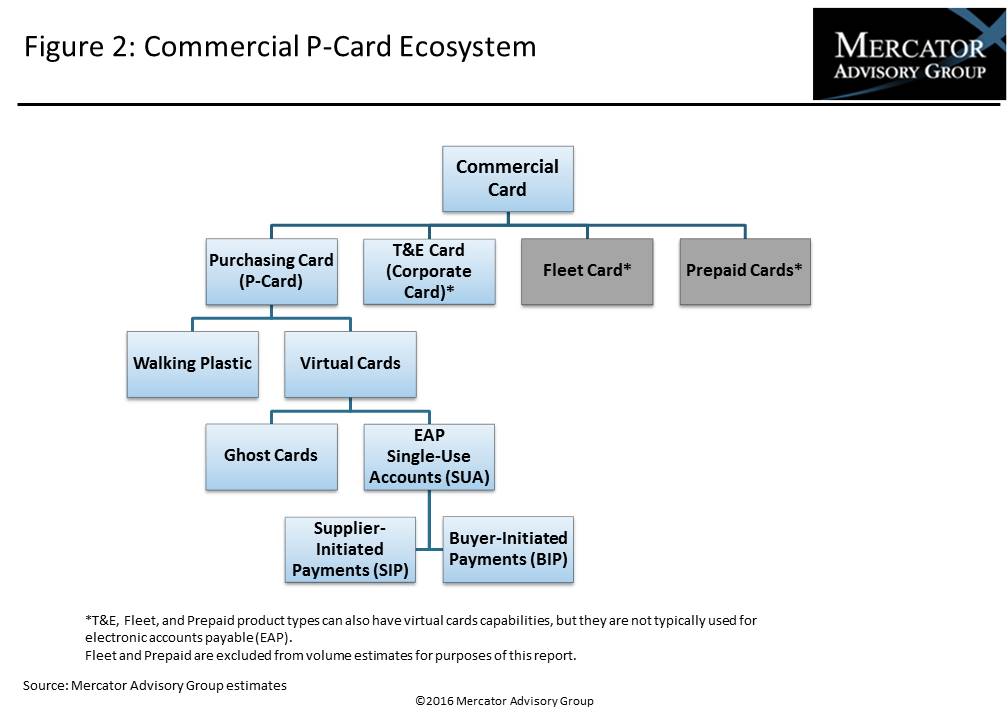 ---

Highlights of the research report include:

A review of the current factors contributing to the growth of business-to-business (B2B) payments overall and commercial cards specifically 

A detailed review of the products in the commercial cards space

Growth projections for commercial credit card product types through 2019

Detailed reviews of electronic accounts payable (EAP) and the factors behind surging single-use account (SUA) spend

Network, issuer, and market sector views and perspective

A discussion of the opportunities and potential threats in the U.S. commercial card industry
Interested In This Report