Overview
Until recently, competition among providers selling devices for payment card acceptance was shrinking. U.S. competition among point-of-sale (POS) terminal makers for the past few years essentially has been controlled by two large vendors, VeriFone Systems Inc. and Ingenico. Today, a plethora of newcomers is selling POS software for tablet-based solutions, and they are creating new competition for such legacy market players.
Disruption today at the point of sale is at its highest since stand-alone terminals displaced electronic cash registers some 30 years ago, and the focus is on tablets as merchants look for greater utility from their POS systems at a lower cost.
Mercator Advisory Group's new report, Tablets at Checkout: A True Disruptor, addresses the major drivers behind merchants choosing tablets over traditional card-acceptance systems. It also provides timelines describing when merchant segments will migrate to tablets first, and when legacy hardware vendors will most begin to feel the effects.
"Entrepreneurs have begun to identify more and more areas where tablet-based computers' easy user interface and vast computing power can be used for solutions that are more effective than traditional technology in use today. Payment acceptance at the point of sale is among the largest of those segments, and tablets will create disruption among various legacy players," according to the report.
This report is 22 pages long with 11 exhibits. 
Companies mentioned in the report include: Aereus, Apple, Apriva, Dwolla, E La Carte, First Data, Fiserv, Global Payments, Google, GoPago, Groupon, Heartland Payment Systems, Heckler Design, I Love Velvet, Ingenico, Intuit, Kodak, Lavu, Leaf, LevelUp, MagTek, MasterCard, Micros, Microsoft, NCR, One Step Retail, PayPal, Revel Systems, Roam Data, SalesVu.com, ShopKeep POS, Spindle, Square, Starbucks, TouchBistro, TSYS, Vantiv, Vend, VeriFone, and Visa.
Members of Mercator Advisory Group's Emerging Technology Advisory Servicehave access to this report as well as the upcoming research for the year ahead, presentations, analyst access and other membership benefits.
---
One of the exhibits included in this report: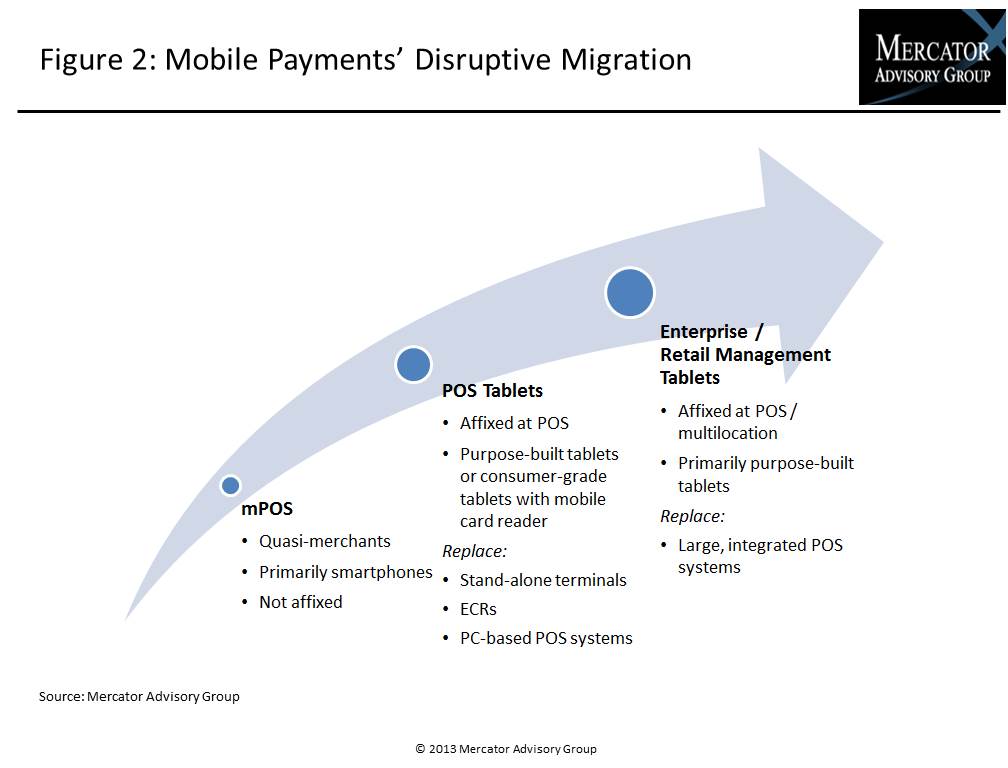 ---
-  An overview of developments stemming from acceptance of payment cards using computer tablets.
- Deployment projections for affixed POS tablets for the next three years based on shipment discussions with some 15 providers of tablet-based POS hardware and software systems, including legacy players and distributors of POS solutions.
- An analysis of the market factors influencing merchants to choose tablet-based POS solutions, along with a look at potential barriers that could impede growth in tablet use.
- An action checklist for companies wishing to stay in competition in the POS payments acceptance market or enter the market for tablet-based payments at the point of sale to plan their strategy and implementation.
Interested In This Report
Related content
With investment capital tighter in 2023, there's less interest in untested, unproven fintech startups and more of an emphasis on coming out of the chute with products that are read...
Wallet-based digital ID will create a wedge between universal wallets and payment apps, as embedded finance product offerings converge on feature parity over time.
For more than a decade, fintech startups and products have captured outsized attention and investment. In many ways, these companies have set the agenda for driving consumer expect...