Squares and Sleds: Wireless POS Plays a Smarter Game
Author(s):
George Peabody
Overview
Squares and Sleds: Wireless POS Plays a Smarter Game
Boston, MA - Payment-enabled smartphones are about to significantly increase the number of merchants taking card-based payments. Payment-enablement hardware also has the potential to drive consumer-based products like the iPad deeply into merchant operations and not just for small merchants. The impact of smartphone and tablets on traditional wireless point of sale equipment will not be trivial.
Mercator Advisory Group's new report Squares and Sleds: Wireless POS Plays a Smarter Game charts the rate of growth expected for smartphone-based payments, discusses the business model for new entrants such as Square and the long term negative impact on purpose-built wireless point of sale growth. The report also addresses the payments-enabled iPad as an economically rational alternative, for some applications, to dedicated point of sale terminals. Even in brick-and-mortar stores, mobility has its advantages.
Highlights of this report include:
Purpose-built wireless POS terminal growth has fallen precipitously and will decline into the low single digits by 2014.

The potential user base of mobile card acceptance exceeds 16.5 million merchants.

Smartphone-based mobile card acceptance will explode beyond 1.4 million by 2014.

The iPad, properly equipped with payment acceptance, makes a competitive and compelling alternative to some POS terminal applications.

Square's painful path up the payments fundamentals learning curve has still educated the market to the expanded potential for merchant card acceptance and how the competitive landscape may change.
"The smartphone's transformational power is starting to be felt in the payments world. These comparatively low cost devices are anchoring new transaction volume for both card not present and, in particular, card present transactions. Tablet devices such as the iPad represent an attractive point of sale alternative to forward thinking merchants and the cost of payment-enabling them is competitive with a high function, dedicated POS device. The effect of these consumer technologies on retailers, starting with the smallest merchants, is just beginning." states George Peabody, Director of Mercator Advisory Group's Emerging Technologies Advisory Service.
One of 7 exhibits in this report: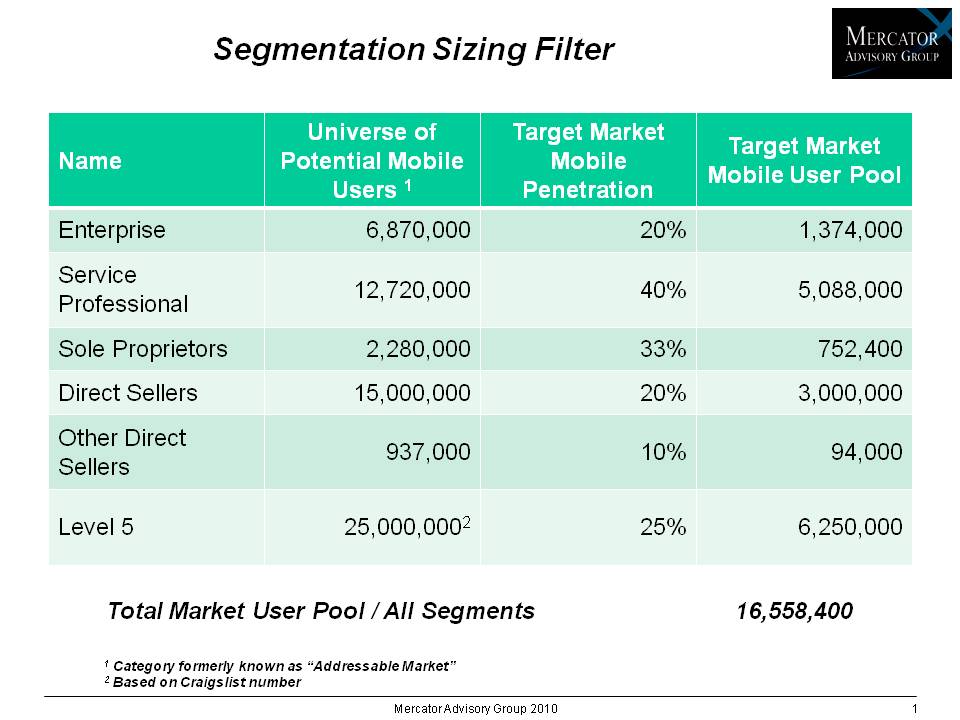 This report is 28 pages long and has 7 exhibits.
Companies mentioned in this report include: Hypercom, Apriva, VeriFone, ID Tech, MagTek, Square, Apple, ROAM Data, Global Tek Labs, Daily Systems, Intuit, RIM, Inner Fence, Amazon, PayPal, SoundPOS, Retail Cloud, Google, Dell, HP, First Data, Exadigm, Amtrak, Way Systems, Motorola, and Heartland Payment Systems.Members of Mercator Advisory Group have access to reports as well as research for the year ahead, presentations, analyst access and other membership benefits.
Please visit us online at www.mercatoradvisorygroup.com.
For more information and media inquiries, please call Mercator Advisory Group's main line: (781) 419-1700 or send E-mail to info@mercatoradvisorygroup.com
About Mercator Advisory Group:
Mercator Advisory Group is the leading, independent research and advisory services firm exclusively focused on the payments and banking industries. We deliver pragmatic and timely research and advice designed to help our clients uncover the most lucrative opportunities to maximize revenue growth and contain costs. Our clients range from the world's largest payment issuers, acquirers, processors, merchants and associations to leading technology providers and investors.
---
Learn More About This Report & Javelin