Small Business Credit Cards: Whetting Business Owners' Appetite for Borrowing
Author(s):
Michael Misasi
Overview
Boston, MA – December 10, 2013 – There are nearly 28 million small businesses in the U.S., which makes the market for business credit and charge products a critical one for issuers. There is plenty of room for cards to further penetrate business spending, but banks and issuers will both have to come to terms with the reality of economic uncertainty.
Mercator Advisory Group's newest report, Small Business Credit Cards: Whetting Business Owners' Appetite for Borrowing, updates key statistics and trends pertinent to the small business credit card market, including how businesses are using their cards, how they feel about debt, and what business owners perceive to be their biggest challenge to growth. The report also reviews recent developments in the major card networks' product platforms and provides an update on new features and benefits of leading issuers' small business offerings.
"It's very tempting to blame the weak recovery in small business lending on banks' overly tight lending standards", comments Michael Misasi, senior analyst at Mercator Advisory Group and author of the report. "However, our research finds that both small businesses' restricted access to credit and their depressed appetite for debt are at play. Neither banks' nor business' conservatism tell the whole story."
This report contains 24 pages and 12 exhibits.
Companies mentioned in this report include: Amazon, American Express, Bank of America, Capital One, Citibank, Discover, Google, JPMorgan Chase, MasterCard, PayPal, PNC, U.S. Bank, Visa, and Wells Fargo.
Members of Mercator Advisory Group's Credit Advisory Service have access to these reports as well as the upcoming research for the year ahead, presentations, analyst access, and other membership benefits.
---
One of the exhibits included in this report: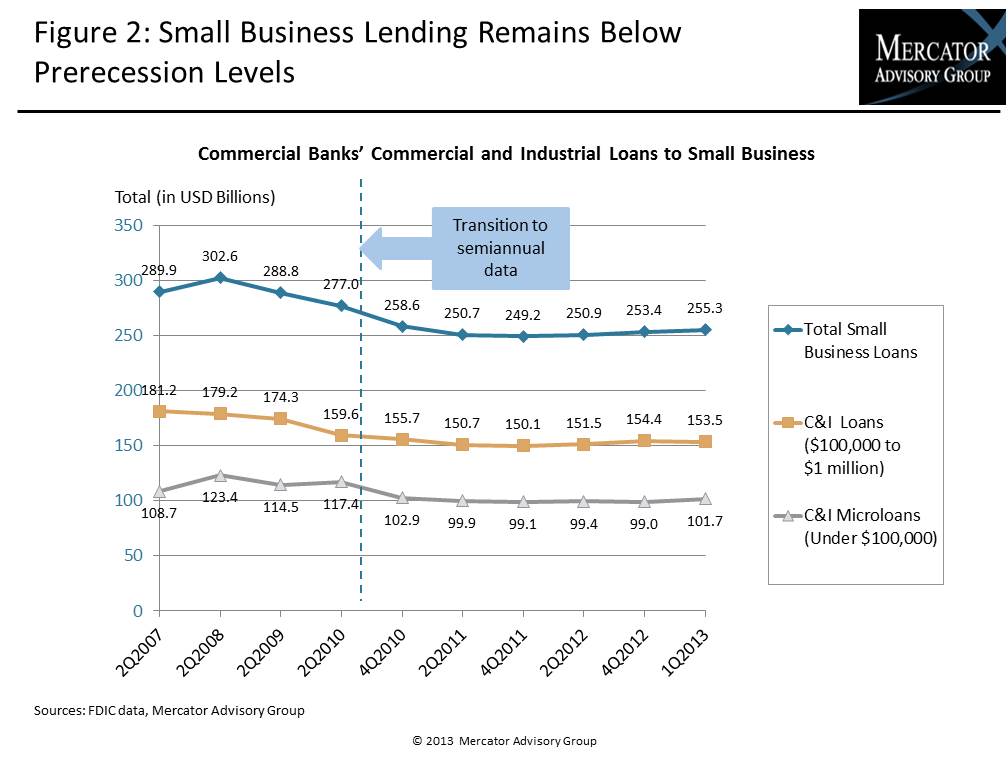 ---
Highlights of the report include:
Industry-level estimates for small business card purchase volumes, outstandings, and number of accounts.

 

A discussion of recent trends in preferences for making and accepting payments among small businesses.

 

A review of small business products and platforms offered by leading card issuers and networks.

 

Analysis of the challenges facing small business today and the ways they are impacting the market for small business loans.
Learn More About This Report & Javelin