Self-Service Kiosks, Bill Pay and Getting It Right
Author(s):
Mercator Research
Overview
Boston, MA
August 2008
Self-Service Kiosks, Bill Pay and Getting It Right
NEW RESEARCH REPORT BY MERCATOR ADVISORY GROUP
Mercator Advisory Group is pleased to announce the release of its latest report, "Self-Service Kiosks, Bill Pay and Getting It Right.
For C-level and operational leadership of financial institutions and operators of financial services for underserved markets, this new report reviews the self-service kiosk market, its role in bill payments and the operational considerations when employing these devices.
Highlights from this report include:
Self-service kiosks have captured the imagination of retailers and non-bank financial services providers with flexible development platforms, reliable components and providers of 24/7 network monitoring and system maintenance.

CAPEX constraints will slow development of bill payment kiosks from previous levels.

To avoid the CAPEX concern, kiosks deployers are shifting their business model toward large direct billers who take on the initial hardware cost.
To expand their footprint, kiosk deployers are using software interfaces to develop clerk-assisted transaction volume.
Bill payment and other financial transactions at self-service kiosks offer "underbanked" consumers an economically rational, if not efficient, alternative to banking relationships.
"Self-service kiosks have become a creative and effective means of reaching a range of consumers with a cost effective set of financial services," comments George Peabody, Director of Mercator Advisory Group's Emerging Technologies Advisory Service. "Tools like these extend the capabilities of those selling financial services. Now the race is to see who really picks them up."
Companies mentioned in the report include Pay-Ease, Vcom, IPP, Cardronics, 7-Eleven, Verizon Wireless, Infonox, TIO Networks, Metro PCS, Cricket Communications, NCR, Diebold, Wincor, Nixdorf, Nautilus Hyosung, MEI, UIC USA, VIVOtech, Hypercom, Source Technologies, Siemens, ArcaTech Systems, Interac, On the Run, Tigermarket, ExxonMobile, and Circle K Stores.
One of the 9 Figures included in this report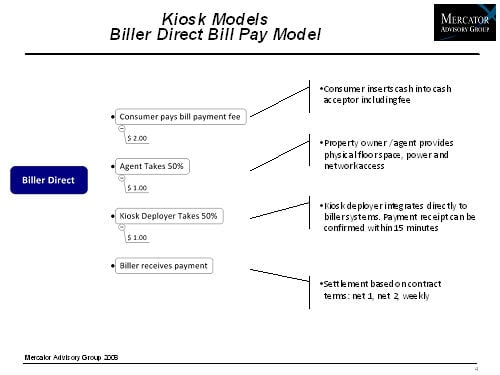 The report is 26 pages long and contains 9 exhibits.
Members of Mercator Advisory Group have access to this report as well as the upcoming research for the year ahead, presentations, analyst access and other membership benefits.
Please visit us online at http://www.mercatoradvisorygroup.com/.
For more information call Mercator Advisory Group's main line: 781-419-1700 or send email to info@mercatoradvisorygroup.com.
---
Interested In This Report