Response to Online Banking Crunch Demands New Technologies & Improved Segmentation
Author(s):
Mercator Research
Overview
Boston, MA
July 2004
Response to Online Banking Crunch Demands
New Technologies & Improved Segmentation
NEW RESEARCH REPORT BY MERCATOR ADVISORY GROUP

Online banking adoption is growing at more than 35% a year across all market segments; basic online access, Electronic Bill Presentment and Payment (EBPP) and Account Aggregation.  At the same time, the growth in the number of online adults is slowing as America approaches 80% saturation.  The market for online banking will become more competitive over the next four years and the ultimate market crunch is closer than assumed for the unprepared.  The online banking market will go through additional consolidation and online services more carefully designed to meet the needs of specific target customers.
The prime target of financial institutions will be the complex consumer; a segment that represents between 30-40% of Internet users.  A complex consumer is affluent, online, with multiple financial institutions.  Because the complex consumer is one of the most profitable for financial institutions, institutions should learn how to lock up this consumer segment as quickly as possible. ACH growth into non-recurring, low-value, consumer payment markets has wo
Tim Sloane, Director for the Debit Advisory Service for Mercator Advisory Group and author of the report suggests that financial institutions must develop a new way of looking at the market;

"Complex consumers have income deposited across multiple financial institutions and each family member is likely performing online functions at the financial institutions they favor.  Identifying these multibanked consumers is the critical first step in establishing a program that will better capture the financial bandwidth of these profitable consumers.  Providing services that satisfy the financial needs of these complex consumers is also critical and this starts with account-to-account transfers and EBPP.  Financial institutions that limit the complex consumer's fluidity by resisting A2A solutions are in danger of being fluid in only one direction -- OUT.  Relative to EBPP, current solutions need to be enhanced to make the process of selecting billers easier and aggregation will be an important tool by which the financial institution can better understand its position relative to all of the financial activities the complex consumer is involved in."
One of Five Exhibits included in this report: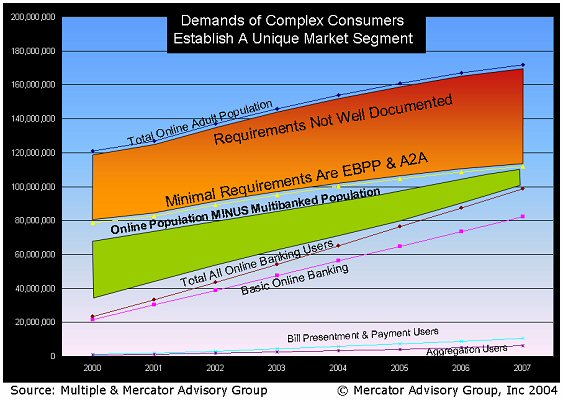 The report is 31 pages and contains 5 exhibits.
Members of Mercator Advisory Group have access to this report as well as the upcoming research for the year ahead, presentations, analyst access and other membership benefits. Please visit us online at www.mercatoradvisorygroup.com
For more information call Mercator Advisory Group's main line: 508-845-5400 or send email to info@mercatoradvisorygroup.com.
---
Interested In This Report