Processors React to Expanding Merchant Needs
Author(s):
Mercator Research
Overview
Boston, MA
December 2004
Processors React to Expanding Merchant Needs
NEW RESEARCH REPORT BY MERCATOR ADVISORY GROUP

Payment processors need to help merchants evaluate more payment options today than ever before, ranging from cash & checks to eChecks, debit, credit, and a myriad of new closed and open loop payment instruments based on prepaid and loyalty cards. 
At the same time, traditional credit and debit solutions have become more complex to manage.  There are interchange rates that depend on the process used at the point of acceptance, an opportunity to steer customers to the lowest cost payment instruments, new security requirements, new cards that can only be accepted if Level 3 data is provided, and the introduction of new tiered interchange rates.
New merchant requirements also complicate the role of payment processors.  Merchants are adopting payment solutions that also help merchandising and customer retention, including loyalty programs that can be linked to existing payment instruments, closed loop gift cards (store branded and affinity based), multiple different prepaid solutions, as well as payment cards issued by the merchant (Debitman).  Of course, all of the issues described so far need to be considered from multiple perspectives, since many merchants have multiple channels, including in-store, call center and Internet based solutions.
In short, the current payment systems are getting harder to manage while new payment systems are being introduced that offer compelling benefits to merchants.  In addition, the payment platform has become an integration point for a range of new services.  Some of these are closely related to the payment transaction, such as coupon generation.  Others are services that are almost independent of the payment transaction, such as time & attendance or payroll solutions.
Merchants, once driven solely by consumer choice, are now taking proactive steps designed to increase profitability.  These actions include:


Actively guiding the consumer's decision at the Point-of-Sale (POS) to a payment instrument that favors the merchant  (such as the guidance offered pushing PIN debit in the Wal-Mart training video introduced in the litigation in 2000 with MasterCard)

Managing the clerks at the POS to assure appropriate procedures are taken to qualify for the lowest possible interchange rate

Investing in technology specified by the card associations to qualify for lower interchange rates

Producing and offering customers loyalty cards that promote store visits which will increase the merchant's share of the consumer's wallet

Adding ACH debit capability to the loyalty card to displace more expensive payment instruments and lower the stores' cost of payments.

Producing and selling customer's prepaid solutions that lock-in consumer spending

Selling a variety of prepaid cards that increase revenue while utilizing minimum shelf space through POSA

Creating and selling a prepaid card at other merchant locations using POSA to capture consumer spending over a larger geographic area regardless of the time of day

One of the exhibits from the report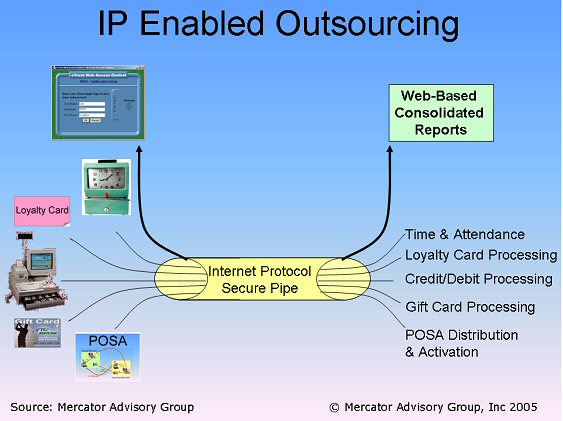 Tim Sloane, Director of the Debit Service for Mercator Advisory Group and the author of the report comments, "Traditional payment instruments continue to dominate the industry, but there is a significant shift in consumer preference among these.  If it were not for the success of signature debit, which incurs interchange that approximates credit, some banks would have serious trouble maintaining their revenue streams.  The payment industry is finding that the dominant instruments, i.e. cash, checks and credit cards, are being challenged by debit card usage and ACH transactions.  This suggests that consumers and merchants are having an impact on the payment instruments utilized and that the merchant oriented payment industry participants must embrace new solutions even as banks attempt to throttle back payment instruments that threaten their profitability."
The report is 44 pages and contains 8 exhibits.
Members of Mercator Advisory Group have access to this report as well as the upcoming research for the year ahead, presentations, analyst access and other membership benefits. Please visit us online at www.mercatoradvisorygroup.com
For more information call Mercator Advisory Group's main line: 508-845-5400 or send email to info@mercatoradvisorygroup.com.
---
Interested In This Report