Processing Recurring and Subscription Payments Without Friction: A Key to Unlocking Transactions from a Forecasted $830 Billion Card Market
Overview
Subscription and Recurring Payments Is a Large Market with Lots of Opportunity
Recurring payments is a high-growth market in the U.S. and is expected to generate $830 billion in transaction volume by 2025. In this report, we define recurring payments and analyze the U.S.
consumer market for various recurring payment types, with a particular emphasis on the subscription marketplace. Merchants need to find ways to optimize solutions for common payments
issues with chargebacks and involuntary cardholder churn. Issuers need to be paying attention to the developments in the subscription app marketplace. Furthermore, this research explores last year's regulatory changes to recurring payments in India.
"Reducing friction is the key to customer generation and retention," comments Ben Danner, Analyst, at Mercator Advisory Group, and the author of the research report. There are a number of opportunities that exist to develop and refine the recurring payments economy.
This report is 24 pages long and contains 11 exhibits.
Companies and Apps mentioned in this report include: Consumer Financial Protection Bureau (CFPB) ; Truebill, Hiatus, Billbot, BillGO, Bobby, Subby, Mint, First Performance, Chargebee, Recurly, Cash App, Netflix, Apple, Reserve Bank of India, Spotify, Visa, Mastercard, Subscribed Institute, GoCardless, American Express, Amazon, AT&T, Audible, CBS, Disney, ESPN, Fubo TV, HBO, Hulu, iHeartRadio, Luminary, MLB.TV, NBA League, NHL.TV, Pandora, Showtime, Sling TV, SiriusXM, Stitcher, YouTube, Vudu, Headspace, Inc., Verizon, US Bank, Wells Fargo, Prism, Mollie.
One of the exhibits included in this document: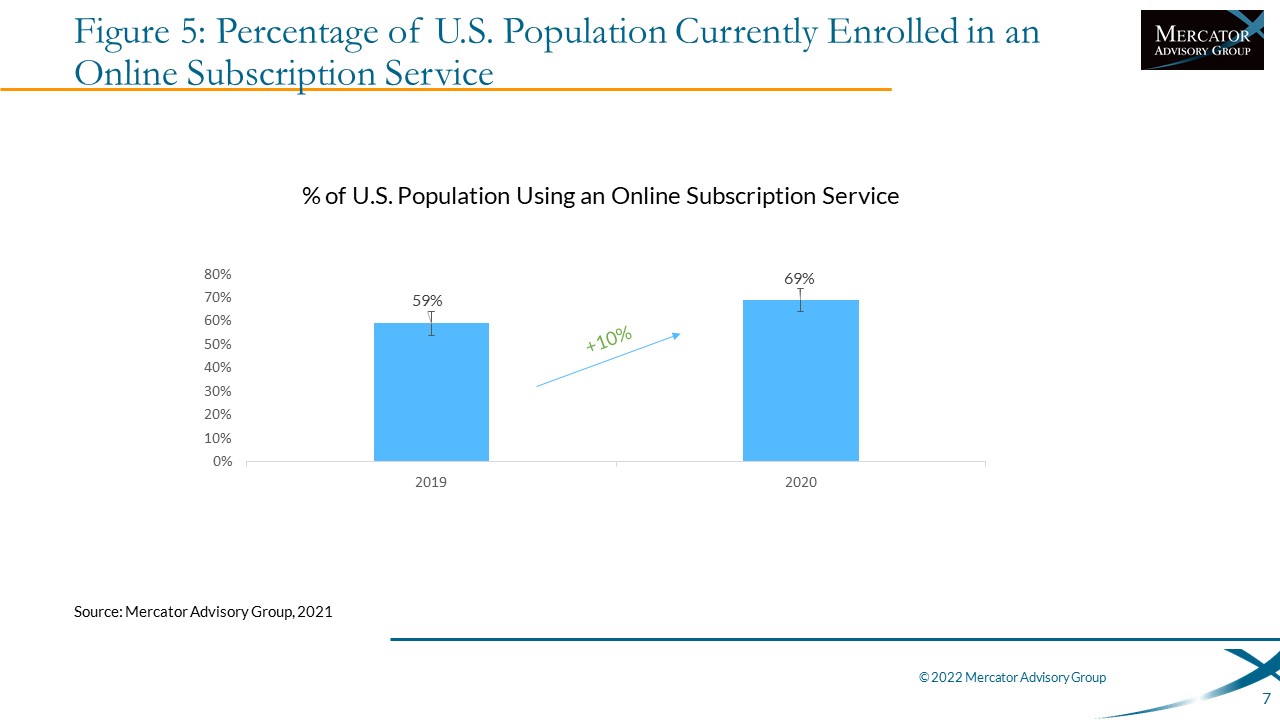 ---
Highlights of this document include:
Recurring payments market analysis and forecasting
Payment methods used for subscriptions services
How subscriptions effect credit cards and rewards
Optimizing churn rate, payments failures, and chargebacks
Personal finance apps and the subscription marketplace
Interested In This Report
Related content
Private-label credit cards are an essential part of the U.S. card market, but they are a product in slow decline and face several threats, including instant point-of-sale financing...
The cobranded card market is a way to generate loyalty, scale your portfolio, and service the next generation of cardholders.
The Credit Card Data Book is a two-part annual publication that covers the internal and external factors affecting the U.S. credit card market. The first part focuses on environmen...