Off-Premise ATM Deployment: Fighting for Merchant Floor Space in the Age of Cash Back
Author(s):
Mercator Research
Overview
Boston, MA
January 2004
Off-Premise ATMs: Fighting for Merchant Floor Space in the Age of Cash Back
NEW RESEARCH REPORT BY MERCATOR ADVISORY GROUP

Off-premise ATM Deployment: Fighting for Merchant Floor Space in the Age of Cash Back provides the reader facts that demonstrate how ISO organizations have broken the unwritten law that states ATMs cannot be profitable below 300 transactions a month.  Additional facts in the research report show that the ATM market is not saturated from too many ATMs, but is instead suffering from a major shift in consumer behavior, away from the ATM and towards cash back at the point-of-sale.  This trend reduces the consumer need for ATMs and effectively shrinks the ATM market.  Tim Sloane, Director of the Debit Advisory Service, states that "Financial Institutions are deploying off-premise ATMs that incorporate new services that include ticket printing, couplons, and mobile phone top-ups, that generate additional ATM revenue but fail to address the merchant's larger need for increased foot traffic and repeat business.  If ATM suppliers allow the point-of-sale device to become the exclusive channel for loyalty programs then the ATM market will continue to shrink."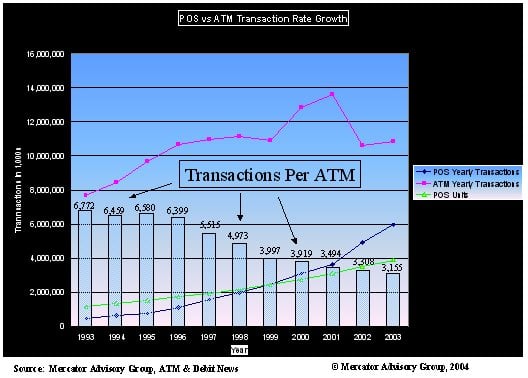 To counter this trend towards cash back at the point-of-sale, ATM deployers must provide more loyalty and self-service solutions to merchants, and this report identifies several such solutions.  While the research data cannot provide "the answer", the report argues that a focus on innovative merchant solutions, not just cash back, will be pivotal going forward.  But self-service and loyalty programs require modifications in: the network, ATM, ATM driving, transaction processing, applications, business contracts and business relationships, so implementation of these programs will evolve over years, and likely on a regional and vertical basis.
The report is 24 pages long and contains 14 exhibits.
Members of Mercator Advisory Group have access to these reports as well as the upcoming research for the year ahead, presentations, analyst access and other membership benefits. Please visit us online at www.mercatoradvisorygroup.com.
For more information call Mercator Advisory Group's main line: 508-845-5400 or send email to info@mercatoradvisorygroup.com.
---
Learn More About This Report & Javelin