Predictions for the U.S. Migration to EMV Debit Cards
Overview
As the countdown clocks remind us every day, the EMV October 2015 liability shift in the United States is quickly approaching. For debit card issuers, a series of sizable market and technical obstacles have prevented issuance projects from getting off the ground. Available solutions were not compliant with regulations, interchange rates were further threatened by a lawsuit tied up in federal court, and resources became scarce as credit card issuers, not faced with these problems unique to debit issuance, got to the market first to claim production resources as well as personnel with EMV knowledge to guide projects. 
 
Mercator Advisory Group's research note, Predictions for the U.S. Migration to EMV Debit Cards, explores how the issuance of EMV debit cards is progressing in the United States now that many of the barriers have been removed. Financial institutions are taking different approaches that will create a variety of experiences for consumers at the point of sale. A mix of magnetic-stripe and EMV chip debit cards will coexist and merchants too will be in various stages of their EMV conversion for some time.
"The variety of approaches to EMV debit deployment is as varied as there are issuers. Some are reissuing on an expedited timetable, some will include EMV with their already planned reissue schedule, and others will issue only to customers who are international travelers and those who request chip cards. What is certain is that the majority of debit cards will not be EMV capable for years," comments Sarah Grotta, Director, Debit Advisory Service at Mercator Advisory Group and author of the research note.
This research note has 12 pages and 5 exhibits.
Organizations mentioned in this research note include: EMVCo, JP Morgan Chase, MasterCard, Secure Remote Payment Council, Smart Card Alliance, Target, and Visa.
Members of Mercator Advisory Group's Debit Advisory Service have access to these notes as well as the upcoming research for the year ahead, presentations, analyst access, and other membership benefits.
---
One of the exhibits included in this report: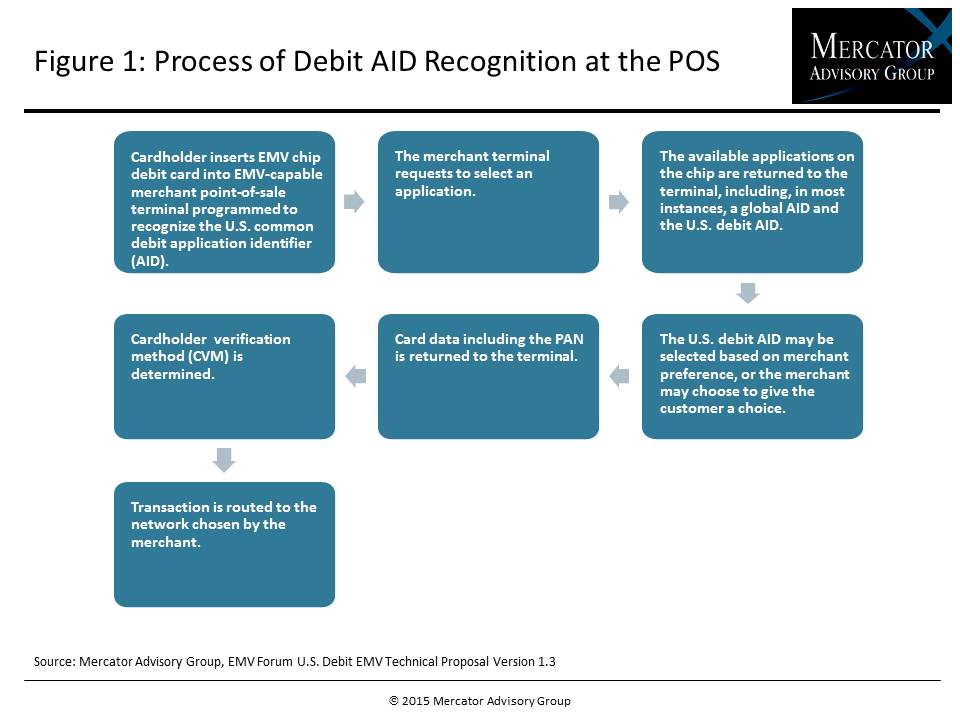 ---
Highlights of this research note include:
  
The series of events that transpired to slow the adoption of EMV for debit in the United States 

U.S. debit issuers' approaches to EMV issuance

How the common debit application identifier (AID) is deployed and selected at the point of sale 

Types of interactions cardholders and merchants will experience as a mix of payment technologies are present in the marketplace 

Mercator Advisory Group's predictions for EMV debit card volume predictions for the roll-out of EMV cards, 2015–2018
Interested In This Report