POSsibilities: The Point of Sale Industry Global Markets and Players
Author(s):
Mercator Research
Overview
Boston, MA
June 2004
POSsibilities: The Point of Sale Industry
Global Markets and Players
NEW RESEARCH REPORT BY MERCATOR ADVISORY GROUP
The world is rapidly shifting from cash and checks to electronic payments.  POS terminals, as the interface between the consumer and the banking networks, are at the core of the movement.  Prior Mercator Advisory Group research investigated a variety of technologies driving the evolution of the black box at the checkout such as IP enablement, Contactless Cards, and RFID Tags.  This report delves into the Global marketplace for POS Terminals and analyzes the regions and vendors that are implementing changes that are radically altering the shape of retail payments.
Nick Holland, Director of the Emerging Technologies Advisory Service at Mercator Advisory Group and co-author of the report comments:
"This Brave New World is happening now and the vendors of POS hardware and software are preparing for the innovations that lie just around the corner.  The definition of what a POS terminal is and does is being stretched.  POS vendors are offering far more holistic solutions than ever before and are clearly thinking outside the restrictive box of pure consumer payment applications for their products."
One of Thirty-Nine Exhibits included in this report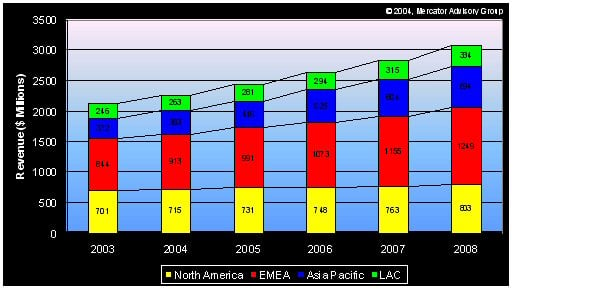 The report exploresissues affecting the industry in each of the major regions as well as in-depth coverage of significant developments from the major POS vendors.  The report concludes with some observations based on the state of the payments industry as a whole.  Holland states:
"The world of  consumer payments is clearly evolving fast.  We are seeing the begining of the end of cash and checks and it could be the dawn of a golden age for the vendors of POS systems, with one proviso... keeping abreast of developments in the industry will be ever more crucial to survival.  Vendors with vision beyond current solutions will be the ones that ultimately win out -- the revolution is far from over."
The report contains 39 exhibits and is 50 pages.
Members of Mercator Advisory Group have access to these reports as well as the upcoming research for the year ahead, presentations, analyst access and other membership benefits. Please visit us online at www.mercatoradvisorygroup.com.
For more information call Mercator Advisory Group's main line: 508-845-5400 or send email to info@mercatoradvisorygroup.com.
---
Interested In This Report