POS Terminals: On the Cusp of Change
Author(s):
David Kaminsky
Overview
POS Terminals: On the Cusp of Change
Boston, MA --The POS terminal industry has entered a period of dramatic change and development. Terminals have been steadily moving to a digital format, with electronic signature capture and e-mailed receipts enabling paper free transactions. Simultaneously VeriFone and Ingenico (the two largest terminal manufacturers) have grown and a number of previously unknown companies have emerged as dominant providers in various niche markets. However, with the anticipated integration of the terminal with EMV, NFC and non-payment technologies on the horizon, the next few years in the industry promise to be a period of even greater change and development than the last.
Mercator's new report, POS Terminals: On the Cusp of Change, examines the POS terminal industry by providing an overview of recent major events and the current landscape and analyzing economic, geographic and technologic developments. In addition, the report forecasts anticipated developments for the POS terminal itself, both for the near term and further into the future. The report then compares the most advanced, currently available terminals on the market to Mercator's concept of an ideal terminal to meet all merchant needs in the next three to five years, labeled the "Canonical POS Terminal."

Highlights of the Report Include:
A timeline of all VeriFone and Ingenico acquisitions in the past two years, with analysis of the most significant and their effects on both manufacturers
Breakdown of POS industry developments including changes in geographical demand and an explanation for the success of some recent newcomers
Forecast of anticipated developments over the next few years regarding the capabilities of the POS terminal, including EMV, NFC and non-payment capabilities
Analysis of how well today's terminals will meet the future forecasted needs of merchants
Forecasted schedule of when U.S. merchants will convert their terminals to include EMV capability

"As a result of both technological development and business model evolution, the payment transaction is losing its primacy as the most important, discrete step in the commerce transaction cycle. It is becoming embedded in the entire customer experience," says Dave Kaminsky, analyst in Mercator's Emerging Technologies Service and author of the report. "The impact...at the merchant's POS terminal will be profound and must become a major planning concern for retailing and acquiring industries. Against this background, the role of the POS terminal, and those who build them, is shifting."
One of the five exhibits in this report: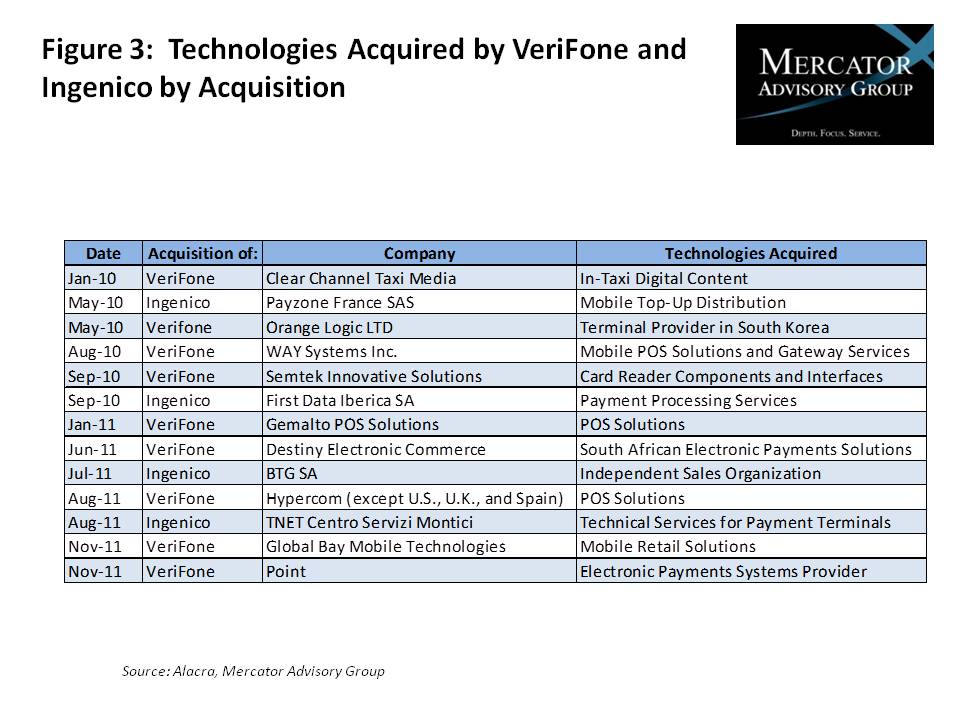 This report is 31 pages long with five exhibits.
Companies mentioned in the report include: Ingenico, VeriFone, Hypercom, SZZT Electronics, Spire Payments, Equinox Payments, Gemalto, PAX Technology, Bitel, Xinguodu Technology, Visa, MasterCard, Google, Isis, AT&T, T-Mobile, Verizon, Groupon, LivingSocial, FourSquare, Facebook, Square, Intuit, Erply, Starbucks, MICROS Systems, Radiant Systems, and Squirrel Systems.
Members of Mercator Advisory Group's Emerging Technologies Service have access to this report as well as the upcoming research for the year ahead, presentations, analyst access and other membership benefits.
Please visit us online at www.mercatoradvisorygroup.com.
For more information and media inquiries, please call Mercator Advisory Group's main line: (781) 419-1700, send E-mail to info@mercatoradvisorygroup.com.
For free industry news, opinions, research, company information and more visit us at www.PaymentsJournal.com.
Follow us on Twitter @ http://twitter.com/MercatorAdvisor.
About Mercator Advisory Group
Mercator Advisory Group is the leading, independent research and advisory services firm exclusively focused on the payments and banking industries. We deliver pragmatic and timely research and advice designed to help our clients uncover the most lucrative opportunities to maximize revenue growth and contain costs. Our clients range from the world's largest payment issuers, acquirers, processors, merchants and associations to leading technology providers and investors. Mercator Advisory Group is also the publisher of the online payments and banking news and information portal PaymentsJournal.com.
---
Learn More About This Report & Javelin