Payment Services Directive 2: Worldwide Industry Implications
Overview
The European Union, now facing the United Kingdom's upcoming "Brexit," still faces the monumental task of fully uniting the Single Euro Payment Area (SEPA). The Payment Services Directive (PSD) created a competent legal body to regulate the market. A revision—PSD2—broadens its reach to include payment transactions that either originate or end in the eurozone and deepens its coverage in an effort to increase competition and reduce costs.

Mercator Advisory Group's latest research, Payment Services Directive 2: Worldwide Industry Implications, explains how PSD2 pushes the limits of account access, security, and competition. According to the report, credit card banks will feel the financial impact of the European cost-cutting measures, which will likely reduce non-interest bank revenue by €1 billion. The report advises that keeping pace with the mandates will require credit card banks to think ahead of the curve and maintain their control of the market or be ready to cede their revenue streams since PSD2 defines two new roles that eliminate financial institutions' exclusive control of customer data. The Account Information Service Provider (AISP) and the Payment Initiation Service Provider (PISP) roles are intended to improve consumers' access to their accounts, but opening access brings a new layer of financial technology risk.

"The Payment Services Directives have noble intentions, but regulators must be careful not to open the doors to loosely regulated nonbanks simply to spawn innovation and reduce costs," commented Brian Riley, Director, Credit Advisory Service, Mercator Advisory Group. "PSD2 in some ways is a logical progression, particularly as it commands tighter point-of-sale control and better consumer protections. For financial institutions, opening up proprietary data channels is potentially risky, though. The benefits remain to be seen: Will this new access help? And, will Europe create an even market for pricing, so that fees and interest are consistent throughout the area?"

This research note contains 19 pages and 9 exhibits.

Companies mentioned in this report include: Aldi, American Express, BNP Paribas, Deutsche Telekom, Electric Ireland, iDeal, La Banque Postale, MasterCard, Société Générale, Trustly, Visa, and Yodlee.
---
One of the exhibits included in this report: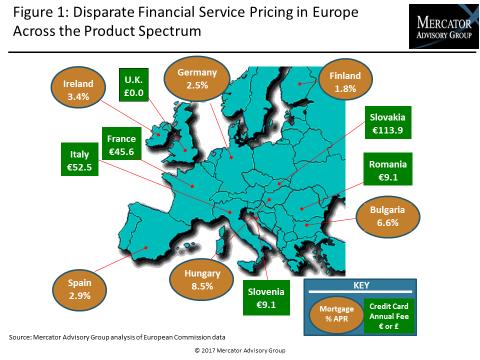 ---
Highlights of the research report include:
A review of both the original Payment Services Directive, the new PSD2, and an expectation for PSD3 for the next decade
Application Program Interfaces (API) and the stress of legacy systems
Discussion of the new functions called Account Information Service Provider (AISP) and the Payment Initiation Service Provider (PISP) and why they add a new layer of risk to financial services
A review of Access to Accounts (XS2A) suggesting that regulators wearing rose-tinted glasses might be on a quest for a viable pan-European payment solution 
The impact of extending PSD beyond two-sided eurozone parties
Interested In This Report
Related content
Private-label credit cards are an essential part of the U.S. card market, but they are a product in slow decline and face several threats, including instant point-of-sale financing...
The cobranded card market is a way to generate loyalty, scale your portfolio, and service the next generation of cardholders.
The Credit Card Data Book is a two-part annual publication that covers the internal and external factors affecting the U.S. credit card market. The first part focuses on environmen...