Overview
Pay Now, Pay How? National Selection and the
Alternative Debit Payment
New Research Examines the Impact Alternative
Debit Payments Are Having on the Market
Boston, MA - June 10, 2009 -- Alternative debit products have gained ground in online payments, but have yet to gain any real traction at brick and mortar locations. Decoupled debit may be finding a home in certain retail markets, but has not proved to be the success once feared by traditional debit card issuers. It's obvious that financial institutions are exploring how they can leverage some of these new payment types to regain online purchases and consumer connections lost to these new payment forms, but they may be better served by paying closer attention to the mobile financial market. This growing market is the realization of card-less payments that presents the long-term threat to traditional debit card-based strategies. Simultaneously, the ACH is working hard to react to their new-found popularity.
Pay Now, Pay How? Natural Selection and the Alternative Debit Payment is a report by the Mercator Advisory Group that attempts to define the alternative debit payment schemes, such as decoupled debit, currently operating in the United States in the context of their market sustainability. In this report, we review the primary alternative debit payment models from the point of view of each of the major stakeholders in the transaction stream, including issuer, merchant, network, and consumer. Included in the study is a discussion of the market dynamics that are driving adoption, the impact to traditional debit issuers and the challenges in building an entirely new form of payment scheme. This report is designed to more closely examine the impact that alternative debit payments may be having on the market by the manner in which they are offered, selected, and adopted.
"This bifurcation between the physical buying world and the virtual buying world is just one of the challenges alternative payment types are facing as they consider their market opportunity from a consumer's point of view," says Patricia Hewitt, Director of Debit Advisory Services, and author of the report. "Those payment methods that are quickly becoming a standard part of the Internet buying experience don't translate easily or perhaps at all into the physical world."
Highlights of this report include:
Alternative debit payment schemes are proliferating and finding real traction in the e-commerce market as ???payments as a service???, but the physical retail market is still waiting for a proven success.

Decoupled debit cards have not delivered on the anticipated market disruption, but did pave the way for new thinking and new payment product development.

Financial institutions are cautiously beginning to enter the market with alternative debit products through direct sales or marketing alliances.

Regulatory and economic conditions should motivate even higher adoption rates, which may provide the economic stimulus needed for further infrastructure investments.

No one scheme of this type has all the stakeholder attributes of a successful new payment type, but subsequent developmental cycles should help separate products in their competitive markets.

One of 17 Exhibits included in this report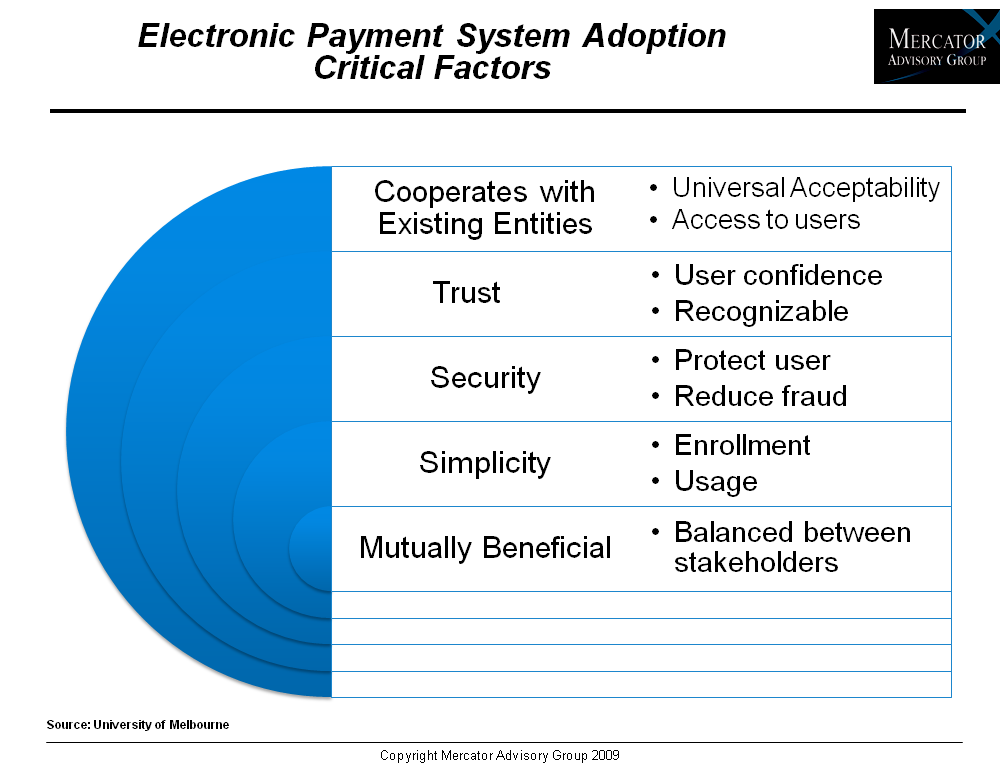 This report is 43 pages long and has 19 exhibits.
Companies mentioned in this report include: EPN, Moneta, Mazooma, NACHA, National Payment Card, Noca, PaySimple, Secure Vault Payment
Members of Mercator Advisory Group have access to these reports as well as the upcoming research for the year ahead, presentations, analyst access and other membership benefits. Please visit us online at www.mercatoradvisorygroup.com.
For more information and media inquiries, please call Mercator Advisory Group's main line: (781) 419-1700 or send E-mail to info@mercatoradvisorygroup.com
About Mercator Advisory Group
Mercator Advisory Group is the leading, independent research and advisory services firm exclusively focused on the payments industry. We deliver pragmatic and timely research and advice designed to help our clients uncover the most lucrative opportunities to maximize revenue growth and contain costs. Our clients range from the world's largest payment issuers, acquirers, processors, merchants and associations to leading technology providers and investors.
---
Interested In This Report