Overdraft Fees at an Inflection Point, Not a Cliff
Overview
Overdraft Fees: A Holistic Approach is Needed
The checking account, in concert with supporting technologies of debit cards, ATMs, check processing, ACH, money transfer, and compliance management, is arguably the most operationally complex consumer financial product. It is also the main indicator for defining a household as banked, underbanked, or unbanked. It is this latter lifeline characteristic that makes the checking account a lightning rod, perhaps appropriately, for regulatory scrutiny.
The checking account is no stranger to pricing regulation, and ongoing conflicts regarding the pricing and operation of overdrafts and NSFs are now redefining the overall revenue streams associated with it. While dramatic in their revenue implications for banks, these changes are occurring bank by bank rather than by an immediate regulatory edict across all banks (although that could still happen). The net effect will be a gradual but ongoing decline. A new research report from Mercator Advisory Group titled Overdraft Fees at an Inflection Point, Not a Cliff  looks at the current state of overdraft and insufficient funds fees and the shift that is occurring.
"Overdraft and insufficient funds (OD/NSF) fees have been on the regulatory radar for over a decade, but they are again high on the regulatory agenda. The Consumer Financial Protection Bureau (CFPB) has announced an initiative aimed at 'reducing exploitative junk fees charged by banks,' including OD/NSF fees as well as late and other punitive fees in credit card programs," comments Sarah Grotta, Director, Debit and Alternative Products Advisory Service at Mercator Advisory Group and author of the report.
This research report has 16 pages and 4 exhibits.
Companies mentioned in this report include: Bank of America, Capital One, Chase Bank, Netspend, USAA
---
One of the exhibits included in this report: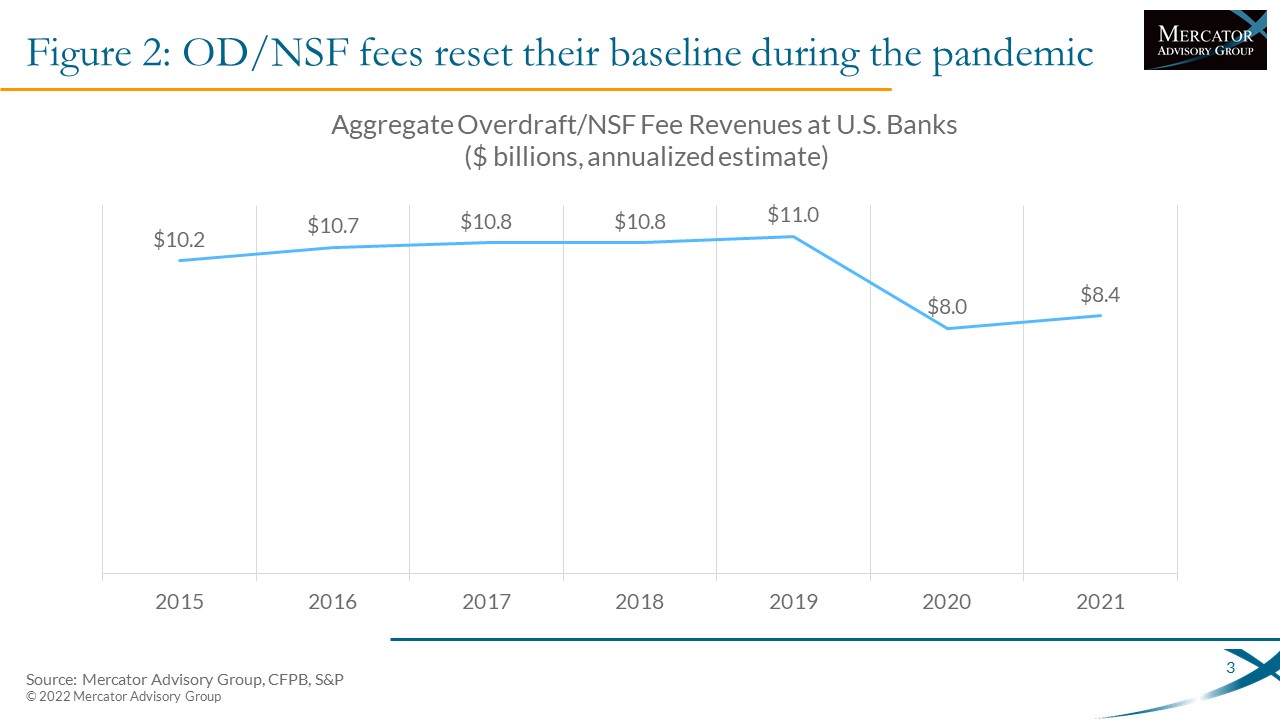 ---
Highlights of the research report include:
Competing narratives for the same trends
Shifts that are occurring
The outlook for fees
Overdraft policies and pricing
Interested In This Report