The Online Debit Opportunity for PIN-Based and 'PIN-Less' Debit
Author(s):
Mercator Research
Overview
Boston, MA
April 2006
The Online Opportunity for PIN-Based and "PIN-Less" Debit
NEW RESEARCH REPORT BY MERCATOR ADVISORY GROUP
This report identifies market opportunities to expand usage of PIN-based debit cards in the online environment.  Today's lack of a widely accepted solution for using PINs online has limited the use of EFT debit in this rapidly expanding market.  The most immediate growth opportunities are in the payment of recurring household bills, where a "PIN-less" version of EFT debit has taken hold, primarily in the expedited/late pay segment.  Longer-term opportunities in the fast-growing e-commerce segment must await the deployment of a proven online PIN technology.
Growth in consumers' use of both signature and PIN debit at the point-of-sale has grown rapidly, and consumers often favor the use of PIN over signature debit for its perceived security and ease of use.  The report tracks debit's growth and key consumer attitudes driving its growth.  In the world of e-commerce, debit usage, essentially restricted to signature debit usage, has also grown impressively.  While the e-commerce segment its modest in sales volume today when compared with the total consumer spending market, its rapid growth makes it strategically important as a source of future payment volume.  Mercator's analysis suggest that in 2005 dollars, PIN debit's "fair share" of the e-commerce segment would be $12 billion in sales volume, if a suitable authentication solution were available to ATM cardholders (see exhibit below).  A number of potential online PIN technologies are received as potential solutions.
This report also evaluates opportunities for EFT debit in the recurring payments segment.  Estimated to be $1.4 trillion in annual payment volume, the bill payment segment has given PIN debit a foothold using a "PIN-less" solution enabled by EFT network rules.  The inherently low fraud associated with payments to utilities, educational institutions, financial institutions and other selected categories ensures that transactions authorized by billers and ATM card issuers result in very low fraud rates, even though they are not PIN-secured.  These transactions are supported in both online and telephone/VRU environments.  Most of these PIN-less payments are for expedited/late pay consumer bills, and miss the huge volume opportunity of pre-authorized recurring payments.  The report estimates the potential market opportunity that could be addressed if PIN debit were allowed as a competitive payment option for recurring bills.
Ken Paterson, Research Director for Mercator Advisory Group and author of this report, indicates that:
"PIN-less debit, while it is a limited solution and restricted to the bill payment segment, still has significant growth opportunities.  Moving beyond expedited payments to recurring payments more broadly opens up significant volume potential.  EFT network rules for recurring payments using PIN-less debit, which are currently under development, could open this market opportunity.  Beyond consumer bills, selected online retailers, with modest average ticket sizes and robust customer authentication data, might also be considered low fraud risk merchants that could fit within expanded PIN-less debit rules.  While we wait for a proven online PIN solution, PIN-less debit still has room to grow."
One of the 18 Exhibits in this report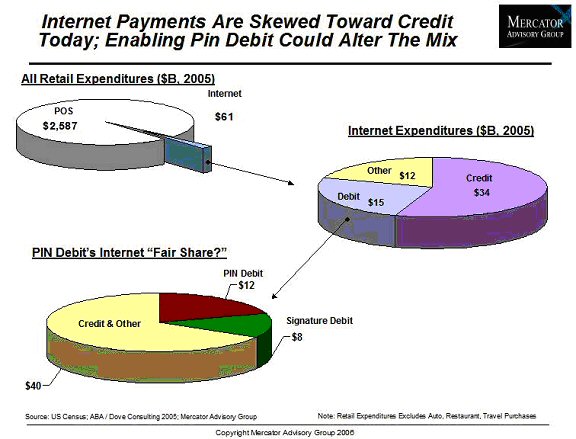 Figure 13: Internet Payments are Skewed Toward Credit Today; Enabling PIN Debit Could Alter the Mix
The report is 31 pages and contains 18 exhibits.
Members of Mercator Advisory Group have access to these reports as well as the upcoming research for the year ahead, presentations, analyst access and other membership benefits. Please visit us online at www.mercatoradvisorygroup.com.
For more information call Mercator Advisory Group's main line: 781-419-1700 or send email to info@mercatoradvisorygroup.com.
---
Interested In This Report