National Debit Networks: When Global Goes Local
Author(s):
Ronald Mazursky
Overview
Boston, MA – December 27, 2013 – As consumers increasingly turn to electronic payments, especially debit cards, for everyday purchases, the importance of the networks that carry these transactions increases. While cross-border transactions are largely carried by MasterCard and Visa, the majority of these transactions occur intracountry. New competition is heating up between the national debit networks created by local banks and the international payment networks such as MasterCard and Visa. Mercator Advisory Group's latest report, National Debit Networks: When Global Goes Local, provides an understanding of national debit networks, the rationale for their creation, and the threats and benefits they pose to the existing global payment networks.
Debit card usage has continued to grow globally, and debit card networks have taken hold in both developed and developing markets. Intracountry debit networks have been created to reduce costs, allow for better customized product development, offer more controls for local banks, and protect customer data. Over 20 national debit networks are in existence, the majority located in Europe.
Recently, some national debit networks claim their networks can be used for better financial inclusion of underserved customers. A new national debit network has been created in India, and others are being considered in Europe, Asia, Africa, and Latin America. Growing interest in new national and regional networks might cause long-lasting changes to the payments landscape.
"A prime example of a recent national debit network that differs from some earlier national debit networks along the lines of financial inclusion is RuPay in India. At the heart of this difference is the combination of a large underserved population with a need for financial inclusion and a governmental need for cost-effective electronic benefits disbursement. This could be indicative of future developing markets and the needs a national debit network can serve," comments Ron Mazursky, Director, Debit Advisory Service at Mercator Advisory Group and the primary author of the report.
This report contains 25 pages and 9 exhibits.
Companies mentioned in this report include: MasterCard, Visa, Discover, Pulse, Diners Club International, Interac, Cartes Bancaires, RuPay, Dankort, NETS, Borica, China UnionPay, BankAxept, Girocard, Electronic Payment Services (EPS), Zolotaya Korona, Multicaixa, EFTPOS, Bancontact, PostFinance CardDirect, MBCARD, Shetab Banking System, DinaCard, Euro6000, Sistema 4B, ServiRed, The Benefit Company, Interswitch, Anthemis Group
Members of Mercator Advisory Group's Debit Advisory Service have access to these reports as well as the upcoming research for the year ahead, presentations, analyst access, and other membership benefits.
---
One of the exhibits included in this report: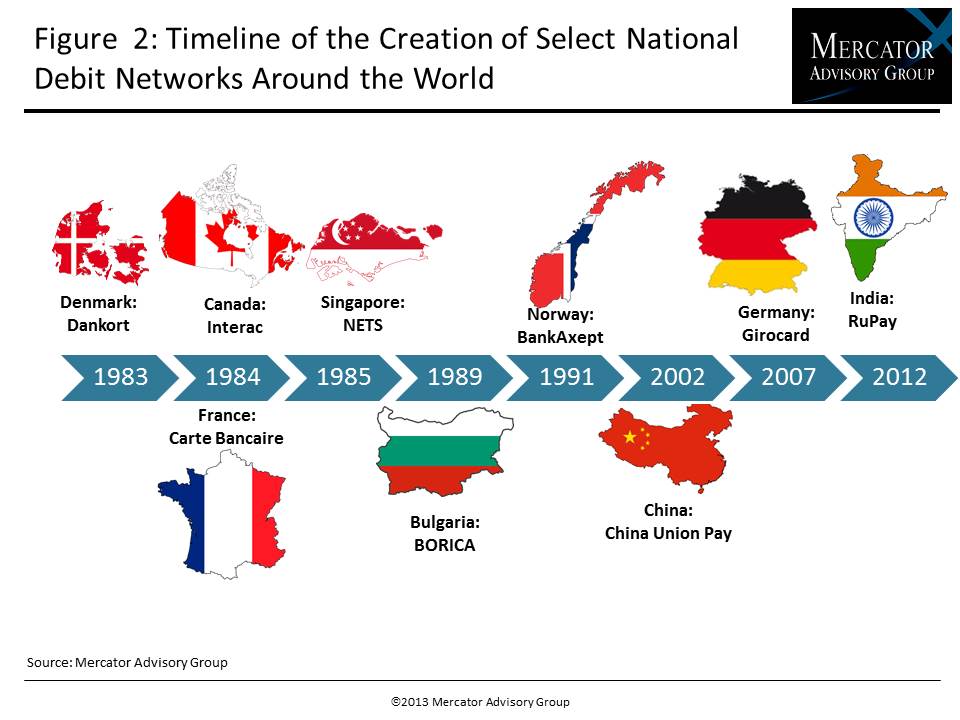 ---
Highlights of the report include:
An overview of global debit card trends

A history and listing of national debit networks


Comparison of network operating models

 

Three case studies of national debit networks, in Canada, France, and India

 

Expanding the scope of network participation

 

The ongoing role of international acceptance of national debit card
Learn More About This Report & Javelin