Mobile Banking as a Hub: Redefining Service Delivery
Overview
A new report from Mercator Advisory Group titled Mobile Banking as a Hub: Redefining Service Delivery provides an analysis of the growing influence of mobile banking, not just as a leading customer platform, but as a dominant factor in service design, user experience, and organizational priorities.
Among customers, mobile banking is rapidly overtaking face-to-face interaction in a bank branch as a preferred means of doing business. From the customers' viewpoint, mobile banking is already a hub, defining the functionality and look/feel of competitive financial services. And with this growing influence, mobile banking is increasingly playing other hub roles at FIs: as a lead design channel, as a lead customer experience channel, as a defining IT approach, as a driver of organizational structure/leadership, and as an innovation hub.
"Due to its fast-growing importance and high implementation priority, mobile banking is a politically/organizationally important function. Mobile banking is increasingly influential in how banking products and services are defined and delivered. As our report title suggests, mobile banking's place as a hub of service redefinition simplifies some issues for FIs by providing a strategic focus and priority, but within the context of very complex IT, compliance, organizational, and competitive environments," commented the author of the report, Ken Paterson, VP, Special Projects, and Director of Mercator Advisory Group's Customer Interaction Advisory Service.
This report is 21 pages long and has 9 exhibits.
Companies mentioned include: ACI, Bank of America, D3 Banking Technology, FIS, Fiserv, Wells Fargo.
---
One of the exhibits included in this report: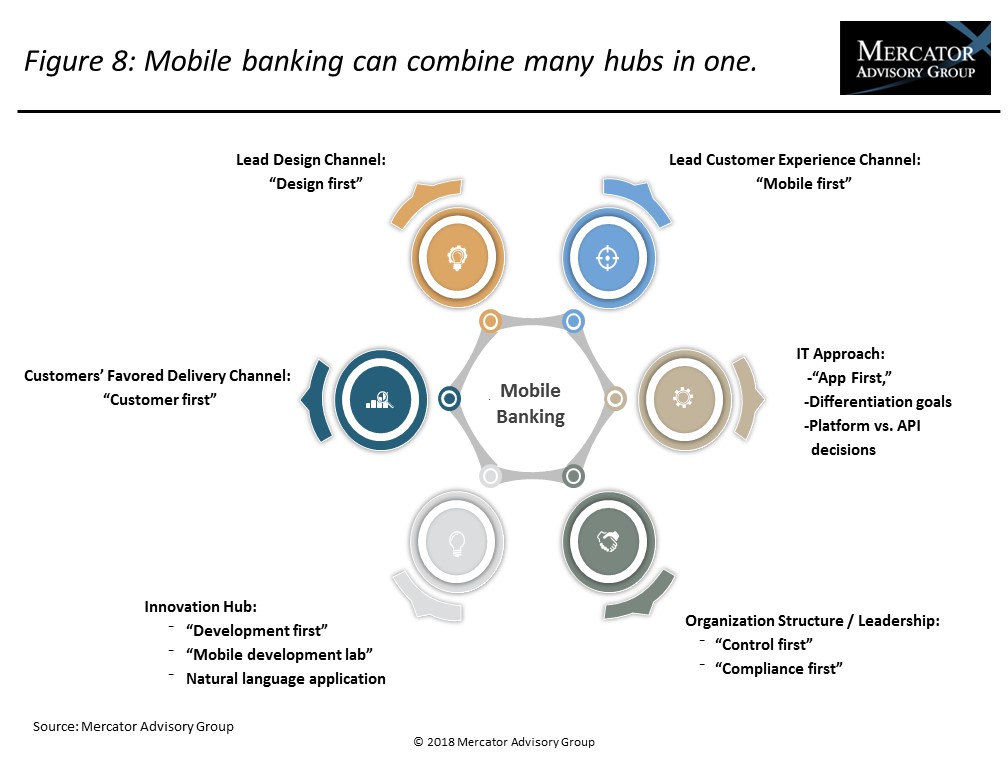 ---
Highlights of the report include:

Mobile banking plays six organizationally driven roles: as a (1) a preferred integrating hub function for customers; (2) lead design channel, (3) lead customer experience channel, (4) defining IT approach, (5) organizational structure/leadership influence, and (6) innovation hub. These roles increasingly influence the design, delivery, and mix of banking services to end users.
As FIs deploy competitive mobile apps as part of their digital transformation process, the overall strategy and final implementation must navigate a series of organizational filters, including organizational structure and control functions, establishing compliance/disclosure requirements, segmenting app capabilities by selected customer segments, optimizing navigation/flow of the app, and developing/implementing design standards.
A series of vendor examples of app design and best practices are included in the analysis.
Mobile banking adoption growth among consumers over the last five years has been remarkable, nearly tripling its overall market penetration from 23% to 64% of adults in the U.S.
Learn More About This Report & Javelin