Mobile Banking and Financial Services Transformation
Author(s):
Pradeep Moudgal
Overview
Boston, MA – April 28, 2014 – Mobile banking services are helping financial institutions retain customers and gain new ones as well as reduce costs. New self-service tools and other emerging technologies are transforming the lives of consumers around the world. The ability to provision mobile payments via new technologies such as Host Card Emulation, offer cash access via cardless ATMs, and provide personal financial management tools will keep FIs in the forefront of innovation.
Mercator Advisory Group's new Research Note, Mobile Banking and Financial Services Transformation, reviews the current state of mobile banking and highlights key considerations in building a mobile payments platform within Mobile Banking. The document briefly reviews forthcoming technology infrastructure changes such as EMV and contactless payments via Near Field Communication (NFC), Host Card Emulation, photo bill-pay, and Quick Response (QR) codes. The technologies are discussed in detail in a companion Mercator Advisory Group Research Note that will be released shortly, titled Enabling Host Card Emulation for Mobile Payments via the Cloud.
"The next phase in the evolution of mobile financial services to include mobile payments is in a nascent stage at most institutions in the global financial services industry. These organizations are ready to transition their current mobile service offering by providing additional payment services to their customers", comments Pradeep Moudgal, Director, Emerging Technologies Advisory at Mercator Advisory Group and author of the Research Note.
Companies mentioned in this Research Note include: Android, Apple, Bank of America, BlackBerry, Capital One, Credit Karma, Credit Sesame, Discover, FIS, Google, Merchant Customer Exchange, Microsoft, Mitek, and Quizzle.
This Research Note contains 11 pages and 5 exhibits.
Members of Mercator Advisory Group's Emerging Technologies Advisory Service have access to these reports as well as the upcoming research for the year ahead, presentations, analyst access, and other membership benefits.
---
One of the exhibits included in this report: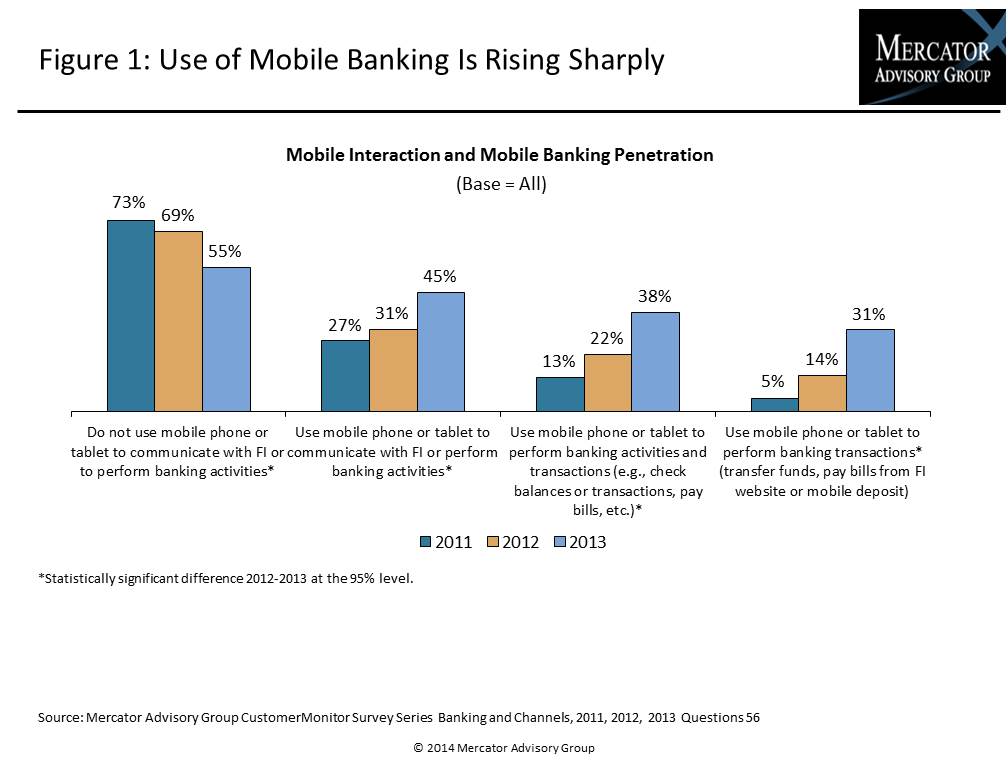 ---
Highlights of this Research Note include:

Current state of mobile banking with some results from Mercator Advisory Group's latest CustomerMonitor Survey Series on digital banking trends among U.S. consumers

 

Key considerations for building a mobile payments platform within mobile banking

 

Other mobile banking features to consider for development such as cash access via cardless ATMs, photo bill-pay, mobile marketing and personalization, and more
Interested In This Report