Merchant Acquiring in 2014: Integration, Integration, Integration
Author(s):
Michael Misasi
Overview
The statement "The merchant services business isn't really about payments" is truer today than ever. Developers of integrated payments software have rapidly broadened the availability of sophisticated processing solutions across industry verticals. And firms that would never before have been considered "payments" companies are now earning substantial payments revenue. Leading merchant acquirers have already set the course for their integrated payment strategies, but independent sales organizations are looking increasingly vulnerable to this new competition.
Mercator Advisory Group's research note, Merchant Acquiring in 2014: Integration, Integration, Integration, discusses how acquirers and ISOs should be responding to the integrated payments revolution occurring in the United States.
"Integrated point-of-sale solutions are expanding the market for merchant services in the United States," comments Michael Misasi, Senior Analyst, Credit Advisory Service at Mercator Advisory Group and the author of the research note. "These solutions help small businesses justify the cost of payment acceptance and are facilitating card acceptance in industries with relatively low rates of bank card acceptance. The firms that successfully manage the transition to integrated payment applications will be rewarded with larger payment volumes and more profitable business."
This note contains 12 pages and 5 exhibits.
Companies mentioned in this research note include: APT, Bank of America Merchant Services, Blackbaud, CardConnect, Chase Paymentech, Century Payments, Clover, Cynergy Data, Elavon, Element Payment Technologies, EVO Payments International, First Data, Global Payments, Heartland, Leaf, Mercury Payments, MCS, Merchant Warehouse, Micros, NCR, Oracle, PayPros, ProPay, Priority Payments, Phreesia, TouchNet, TransFirst, TSYS, Vantiv, WorldPay, and Xpient.
Members of Mercator Advisory Group's Credit Advisory Service have access to these reports as well as the upcoming research for the year ahead, presentations, analyst access, and other membership benefits.
---
One of the exhibits included in this report: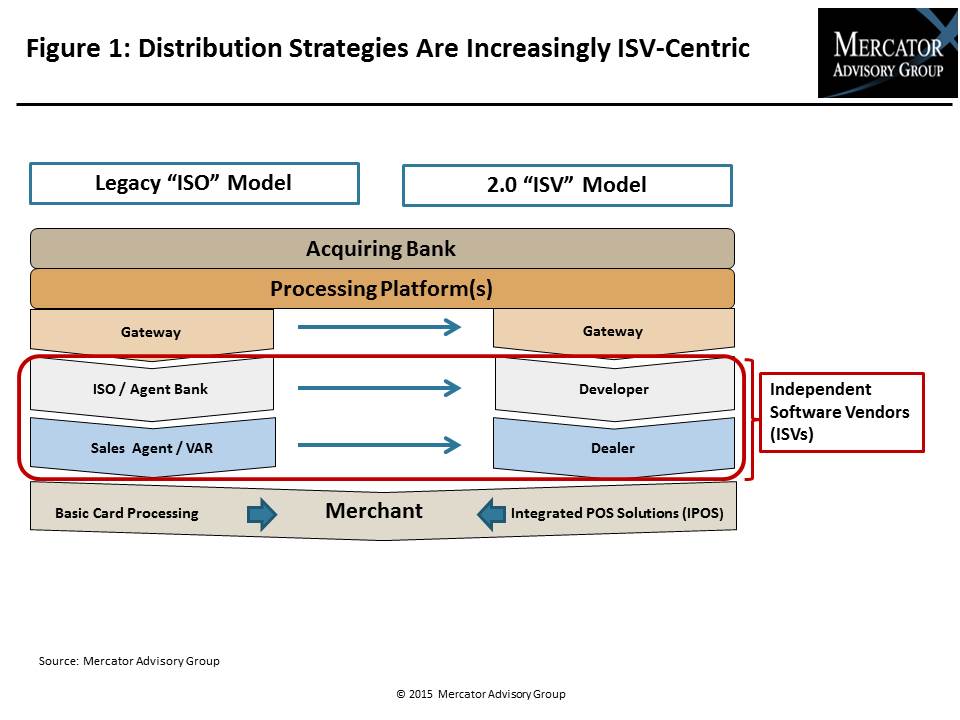 ---
Highlights of the research note include:

Estimated 2014 market shares of leading acquirer processors

 

An explanation of the emergence of independent software vendors as a delivery channel for merchant services and what that means for acquirers' industry vertical strategies

 

Analysis of how ISOs, acquiring banks, and processors can respond to the new integrated payments environment

 

An overview of integrated payment offers from leading acquirer processors

 

Examples of software companies successfully delivering payments as a service
Interested In This Report
Related content
Private-label credit cards are an essential part of the U.S. card market, but they are a product in slow decline and face several threats, including instant point-of-sale financing...
The cobranded card market is a way to generate loyalty, scale your portfolio, and service the next generation of cardholders.
The Credit Card Data Book is a two-part annual publication that covers the internal and external factors affecting the U.S. credit card market. The first part focuses on environmen...