Overview
Boston, MA
April 2005
Improving the Effectiveness of Credit Card Websites
Recommendations Based on 10 Trends in Online Development
NEW RESEARCH REPORT BY MERCATOR ADVISORY GROUP
Card issuers have spent enormous time and money developing their customer facing websites into usable service channels.  The overall results have been dramatic, and several issuers now offer robust and useful sites that support almost every aspect of the account lifecycle.  The development of the Internet as a service channel is far from complete, however.  In this report, Mercator Advisory Group looks past the current state of the industry to identify the key changes we will see from issuers throughout the next stage of website development.
Based on discussions with issuers, interviews with vendors and first hand observation of customer service sites, Mercator Advisory Group has identified 10 key trends that we believe will be prominent in site development going forward.  The trends include broad movements, like the constantly expanding functionality of sites, as well as specific ideas, like the growing focus on security and privacy.  In addition the report discusses issues that stretch off the issuers' sites, including the use of email and integration with partner websites.
The report identifies some of the top challenges issuers will face going forward and highlights early efforts by issuers to solve these problems.  In addition, the report offers other potential solutions to problems as diverse as collecting cardholder email addresses, getting more productivity out of online and email marketing, moving towards paperless accounts, and assuring customers that their data is safe with the issuer (below).
A Comparison of Real vs. Perceived Security
(One of Ten Exhibits included in this report)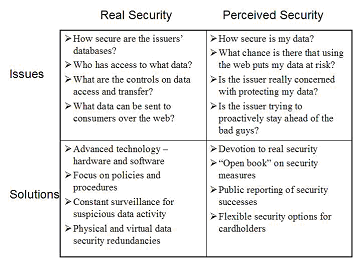 "The first wave of website development is almost over for many issuers.  More than simply building sites that can cut down on the number of phone calls an issuer receives, the focus of the next phase of development will be on exploiting the ability of the web to do things that are either not possible, or not economically feasible in an offline world.  Transaction databases, custom reporting, expanded data provision and unique marketing campaigns based on cardholders' spending patterns are all powerful ideas that have barely been explored, but clearly will be," says Brian O'Keeffe, Director of Mercator Advisory Group's Credit Advisory Service.
Combined with another current Mercator Advisory Group report, "Capturing the Online Customer: Current and Future Investments in Online Self-Service," this report provides a complete and forward-thinking review of the development of card websites, and their role in the customer-issuer relationship of the future.
The report is 28 pages and contains 10 exhibits.
Members of Mercator Advisory Group have access to these reports as well as the upcoming research for the year ahead, presentations, analyst access and other membership benefits. Please visit us online at www.mercatoradvisorygroup.com.
For more information call Mercator Advisory Group's main line: 781-419-1700 or send email to info@mercatoradvisorygroup.com.
---
Interested In This Report
Related content
The cobranded card market is a way to generate loyalty, scale your portfolio, and service the next generation of cardholders.
The Credit Card Data Book is a two-part annual publication that covers the internal and external factors affecting the U.S. credit card market. The first part focuses on environmen...
The U.S. credit market continued its path toward stabilization in 2022 but faced several hurdles, including rising interest rates, strained household budgets, and a highly competit...