Overview
How Close Is Proximity? Part II:
Alternative Proximity Mobile Payments in 2009
Boston, MA -- Jan. 07, 2010 - Plagued by unresolved technical and business issues, the global NFC market has been moving slowing over the past several years. The finalization of the NFC implementation standards, together with other technical issues, took much longer than people had expected, largely due to the business struggles between different industry groups. The global economic crisis started in 2007 also slowed down the industry's effort to come up with a workable solution acceptable to different parties in the ecosystem.
Even so, significant progresses are made on the technology front over the past two years. As NFC standards were finalized when the Single Wire Protocol (SWP) was adopted by ETSI in 2008, manufacturers of NFC chips, SIM cards, and handsets are finally able to move forward in developing the new generation of NFC solutions. But viable business model remains elusive and no major commercial roll-outs have been announced.
"NFC has come a long way. And different industry groups recently made some encouraging progress in finalizing the technical standard issues for mass production. But mobile operators and financial institutions are running out of patience as the market drags on and major commercial roll-outs worldwide not expected until 2012." Terry Xie, Director of Mercator Advisory Group's International Advisory Service and principal analyst on the report, comments. "Though NFC solutions are still considered the best long-term solutions for offering proximity mobile payment and other services, some industry players are seriously considering other options that allow them to move quickly in the market with some simpler technology and less business issues to resolve. The next two years will be very important for kick starting market initiatives in proximity mobile services. And various vendors are working hard to offer different innovative solutions."
Mercator Advisory Group's International Advisory Service (IAS) covers this much discussed indsutry topic in two reports:
How Close Is Proximity? Part I: NFC Proximity Mobile Payments in 2009
&
How Close Is Proximity? Part II: Alternative Proximity Mobile Payments in 2009
This second report in the series reviews a variety of solutions which provide MNOs, FIs, and the like with alternative mobile options, and which may allow them to seek different routes towards offering proximity mobile payment services without being held up by the progress in NFC hardware and the elusive business model. Passive mobile attachments and accessories, Bluetooth NFC stickers, SIM/antenna solutions, NFC SIM card adapters, microSD-based integrated NFC Solution, and proximity mobile payment solutions not compatible with the NFC or the ISO14443 standards are discussed. A comparison of the technology, features, costs, and business flexibilities of different alternative solutions is provided. The report also looks at the prospects of alternative proximity mobile payment solutions in the near future as well as over a longer period.
Highlights of the report include
The delay in NFC deployment has frustrated ambitious MNOs and FIs worldwide whose plans for offering proximity mobile payment services have been held up for a long time.
MNOs and FIs have yet to find a final solution to solve their disagreements on business models. And tremendous work still needs to be done to resolve implementation issues remaining before mass deployment of NFC-proximity mobile payments.
In the mean time, various parties are considering alternative options that don't require intensive up-front investment and complicated negotiation with business partners, which have been the central barriers to NFC deployment.
Though many of these options under consideration are deemed temporary solutions, some actually have the potential for success over a longer period.
The next 2 years will be a critical time for both NFC and alternative proximity mobile payment solutions, which are competing for attention and investment from MNOs and FIs. Though NFC is still considered the ultimate solution, alternatives might prevail in a prolonged period with any further delays in NFC.
One of the 5 Exhibits included in this report: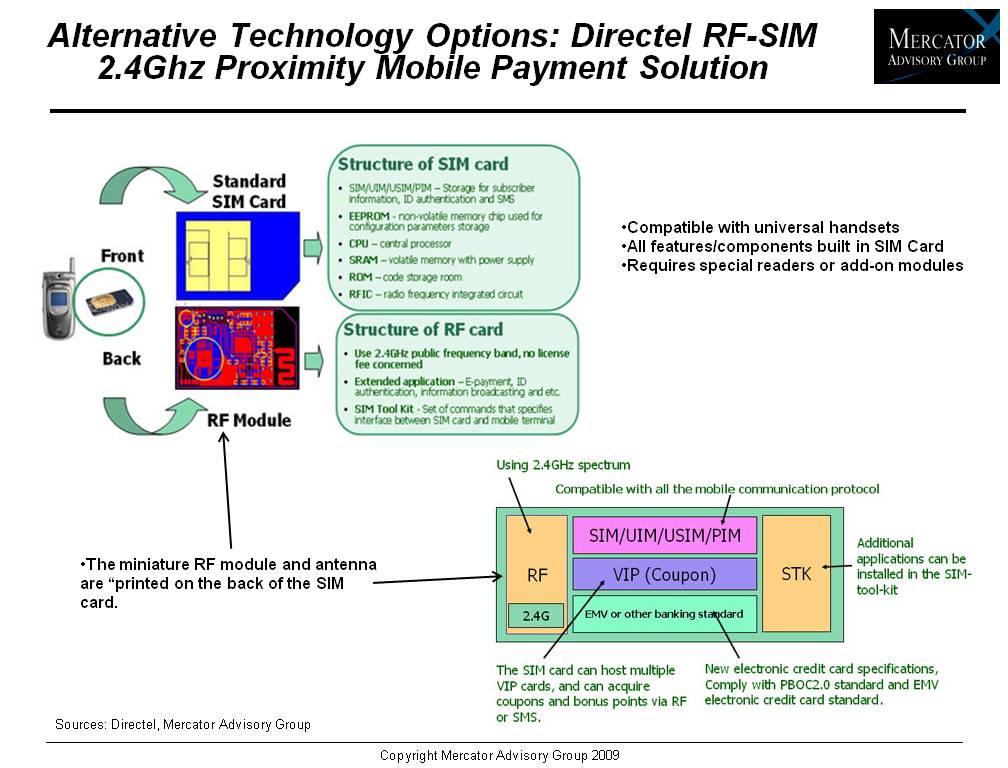 This report contains 26 pages and 5 exhibits.Companies covered in this report series include: Watch Data, Bladox, Zenius Solutions , TWINLINX, Tyfone, DeviceFidelity, INSIDE Contactless, NXP, Sagem Orga, Motorola, Sony, Nokia, Apple, Research In Motion, Fonelabs, Visa, MasterCard, First Data, NationZ, and China Mobile, among others.
Members of Mercator Advisory Group have access to these reports as well as the upcoming research for the year ahead, presentations, analyst access and other membership benefits.
Please visit us online at www.mercatoradvisorygroup.com.
For more information, please call Mercator Advisory Group's main line: 781-419-1700 or send email to info@mercatoradvisorygroup.com.
About Mercator Advisory Group
Mercator Advisory Group is the leading, independent research and advisory services firm exclusively focused on the payments and banking industries. We deliver pragmatic and timely research and advice designed to help our clients uncover the most lucrative opportunities to maximize revenue growth and contain costs. Our clients range from the world's largest payment issuers, acquirers, processors, merchants and associations to leading technology providers and investors.
---
Interested In This Report
Related content
With investment capital tighter in 2023, there's less interest in untested, unproven fintech startups and more of an emphasis on coming out of the chute with products that are read...
Wallet-based digital ID will create a wedge between universal wallets and payment apps, as embedded finance product offerings converge on feature parity over time.
For more than a decade, fintech startups and products have captured outsized attention and investment. In many ways, these companies have set the agenda for driving consumer expect...