Overview
Healthcare-related expenses are nearing 20% of GDP in the U.S. and the rise in costs show no signs of slowing. The persistent trend has left employers of all sizes to figure out how to offer meaningful healthcare benefits to attract good employees while keeping insurance costs at reasonable levels. The answer for many employers and consumers has be a reliance on healthcare plans with higher deductibles but lower premiums than traditional plans, coupled with a tax-advantaged account that the consumer uses to pay for healthcare-related expenses not covered by their health insurance plan. The dependency on consumer-driven accounts represents an opportunity for issuers and new market entrants that can amass scale and offer efficient, differentiated services, according to Mercator Advisory Group's latest research, The Growing Importance of Healthcare Accounts.
The increase in healthcare costs and the impact of the Affordable Care Act are the primary drivers leading consumers and employers to embrace healthcare accounts. HRA (Health Reimbursement Accounts (HRAs), Health Savings Accounts (HSAs), and Flexible Spending Accounts (FSAs) have been in use for years, but the influx of new users is profoundly changing the way these accounts are being used. In the past, account users were primarily savers seeking to take advantage of the tax savings these accounts afford since contributions to fund the accounts are not taxed if withdrawals are for expenses permitted by the IRS. In contrast, the new users tend to be heavily reliant on their accounts to pay healthcare expenses and frequently they draw down their balances.
"The new users are active spenders, involved in how their healthcare dollars are spent and looking for the most effective way to use their healthcare account balances. The Affordable Care Act (ACA) is in part responsible for the wave of new users. Survival of the ACA is in question after the presidential election, but the use of healthcare accounts has been considered positive and will likely be front and center as new healthcare policies emerge," commented Sarah Grotta, Director, Debit Advisory Service, author of the report.
This research report contains 17 pages and 6 exhibits. 
Keywords: healthcare, HSA, HRA, FSA, debit, prepaid, Affordable Care Act, ACA 
Companies mentioned in this report include: Bank of America, ConnectYourCare, Devenir, Evolution Benefits, HSA Bank, J.P. Morgan Chase Bank, Kaiser Family Foundation, M&T Bank, Optum Bank, The Bancorp Bank, UMB, Wage Works, and Wells Fargo Bank.
---
One of the exhibits included in this report: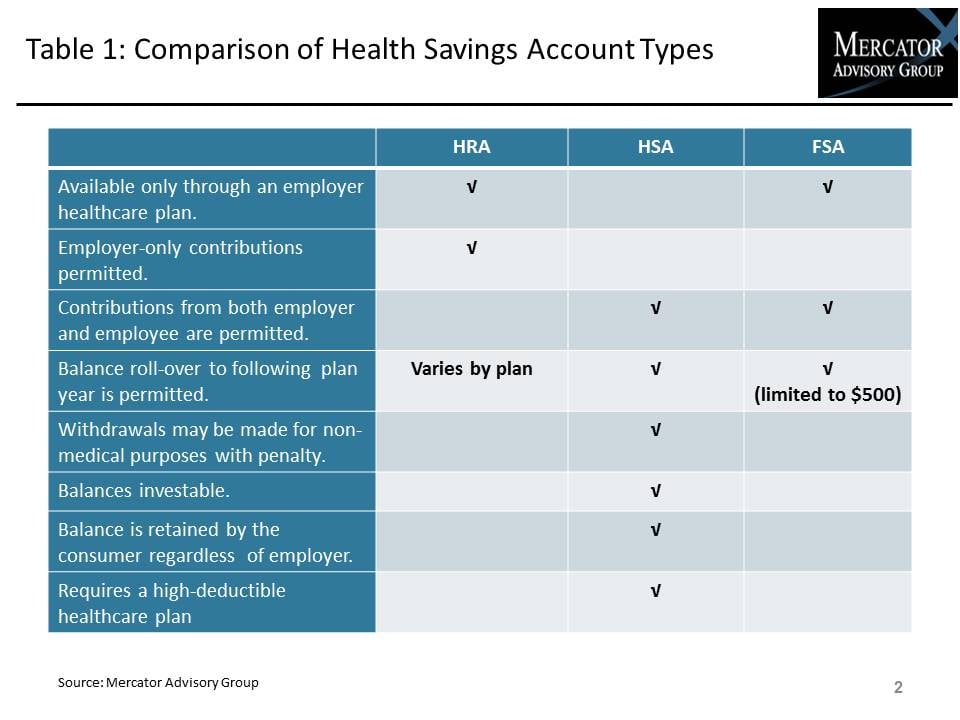 ---
Highlights of the research report include:
Market trends boosting the growth of healthcare accounts
The ways that employers are incorporating health savings accounts (HSAs) into their employee benefit plans
The impact of government policy on the way health care accounts are being used 
Why the influx of new users is driving some providers to exit the market
Consideration of new capabilities or feature to help consumers maximize their healthcare account balances 
Interested In This Report