Financial Services Smart Cards in the US: Where are they Now?
Author(s):
Mercator Research
Overview
Boston, MA
January 2004
Financial Services Smart Cards in the US: Where are they Now?
NEW RESEARCH REPORT BY MERCATOR ADVISORY GROUP

What is the current state of Financial Services Industry smart cards in the US, and what will it cost to get to where we want to go?  In this, latest Mercator Advisory Group Report from the Emerging Technologies Advisory Service, the answer to the above question is investigated.  Nick Holland, the report's principal analyst and Director for service, sees the smart card rollout as more of a trickly than a flood in the United States:
"The compelling single argument just doesn't apply to a technology as flexible as a smart card...what we are likely to see instead is a slow and gradual groundswell of movement towards the chip card as the benefits of secure data storage in a portable, multiple application environment steadily creep into acceptance.  There'll be no great fanfare; we'll just start noticing them more and more in our everyday lives..."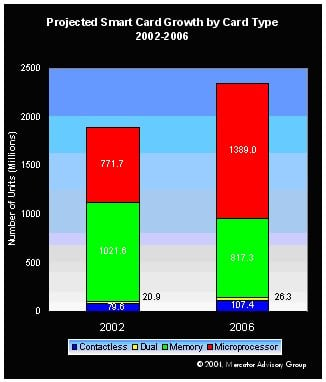 The report presents an overview of the global smart card picture, including growth projections per sector to 2006 and investigates US Financial Services Industry smart card initiatives to date and the regionally specific models that are evolving in the United States.  This leads to the business case and the various factors that make up the argument for transitioning from magnetic stripe cards.  Nick sees loyalty applications coupled with increasing customer paranoia relating to identity theft as significant drivers for adoption in the US:
"You don't have to watch much TV to discover that identity theft is a hot topic right now.  Fraud in the US is tolerable, but that might well change as other regions lock out fraudsters with chip and PIN programs.  'Fraud Tourism; to the States could be just over the horizon..."
The report goes on to quantify the cost of a transition to smart cards for all credit and debit cards in the US before making suggestions of the way forward for stakeholders, including key questions that need to be addressed before smart card 'buy-in' can be assured.
The report is 26 pages long and contains 12 exhibits.
Members of Mercator Advisory Group have access to these reports as well as the upcoming research for the year ahead, presentations, analyst access and other membership benefits. Please visit us online at www.mercatoradvisorygroup.com.
For more information call Mercator Advisory Group's main line: 508-845-5400 or send email to info@mercatoradvisorygroup.com.
---
Interested In This Report