Overview
Lack of affordable formal banking solutions affects over 15 million adults in the United States. Even as employment numbers improve domestically, the number of unbanked individuals remains stubbornly high.
Financial inclusion has long been a goal in countries around the world. Finding ways to offer solutions that provide financial inclusion for the unbanked and underbanked—and do so profitably for the providers—is the topic of a new research report from Mercator Advisory Group titled Doing Well by Doing Good: Delivery Models and Channels Serving the Financially Underserved. Solutions that are succeeding in several developing economies are reviewed, and selected solutions in the United States are profiled.
"In the U.S., access to banking services is not the problem that it is in many of the developing countries. Financial services products are readily available, but not always at a price affordable by potential users or with the right fee structure to meet their needs. The 'unbanked' are often faced with unpredictable financial balances and can't always pay the price necessary to keep an account open and current. At the same time, financial institutions need recurring revenue to be able to support technology and regulatory infrastructure, creating a friction that impedes product adoption," commented Sarah Grotta, Director, Debit and Alternative Products Advisory Service at Mercator Advisory Group, author of the report.
This report has 18 pages and 6 exhibits.
Companies mentioned in this report include: Amazon, Apple, BB&T, Green Dot, InComm, J.P. Morgan Chase, Mango, Millicom, Money on Mobile, NetSpend, PayPal, PayTM Payments Bank, Reserve Bank of India, Safaricom, Vodafone, Walmart, and Wing Limited Specialized Bank.
---
One of the exhibits included in this report: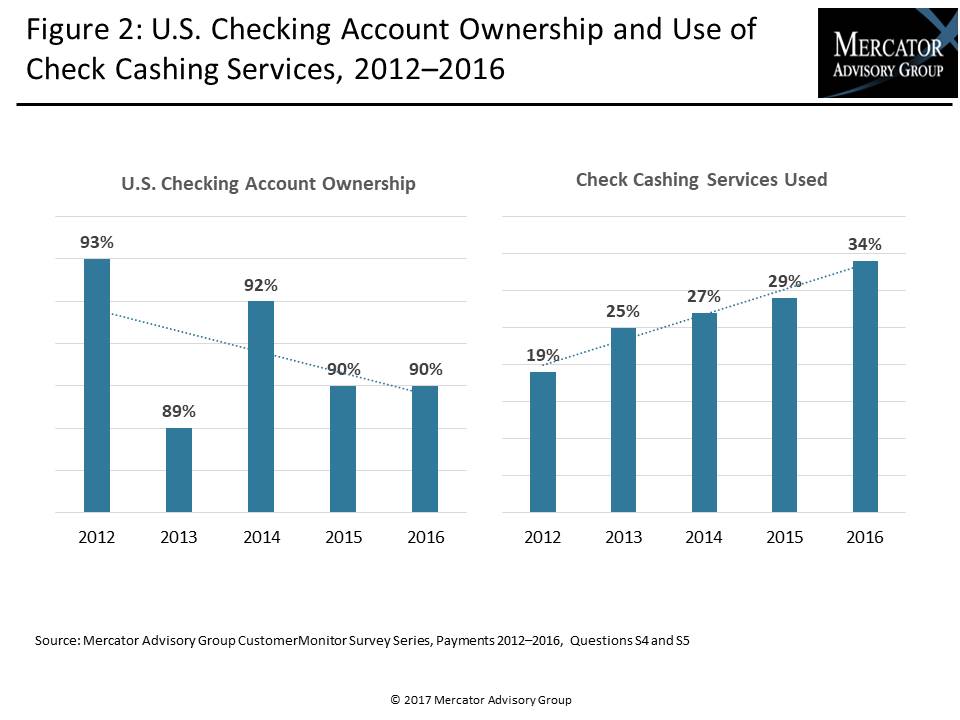 ---
Highlights of the report include:

The reasons why individuals are unbanked and the difficulties in supplying banking services to affect the population of unbanked in the U.S. materially
A look at some noted solutions around that world that have been highly successful in their outreach to the unbanked population
The commonalities of product features and business models among these products
A discussion of the product and customer experience approach domestically in the U.S. and how that contrasts with examples outside the U.S.
A comparison of providers in the U.S. categorized as bank providers, program managers or alternative financial services providers.
Interested In This Report