A Deep Dive into Chase Pay
Overview
In October 2015, Chase announced Chase Pay, a new mobile payment service that will be made available in mid-2016 to the roughly 94 million Chase debit, credit, and prepaid cardholders interested to the roughly 94 million Chase debit, credit, and prepaid cardholders interested in making in-store, in-app, and online purchases. The Chase website described the solution as a new "closed loop network with access to credit and debit customers."

In a new research note titled A Deep Dive into Chase Pay, Mercator Advisory Group analyzes the probable structure and workings of the new payments solution and considers its likely prospects among consumers and merchants and its likely impact on the payments industry.

"Clearly Chase has decided that ChaseNet is a success and has doubled down by announcing Chase Pay, which adds a mobile wallet to its alternative payment network that implements a collapsed interchange model and promises to better align with merchant needs. Chase Pay has already partnered with the MCX consortium," comments," said Tim Sloane, VP, Payments Innovation, and author of research note.

This research note is 17 pages long and contains 4 exhibits.|

Companies mentioned in this document include: Apple, Google, JPMorgan Chase, PayPal, Samsung, Starbucks, and Visa as well as 18 technology vendors identified by Chase as partners in Chase Pay.
---
One of the exhibits included in this report: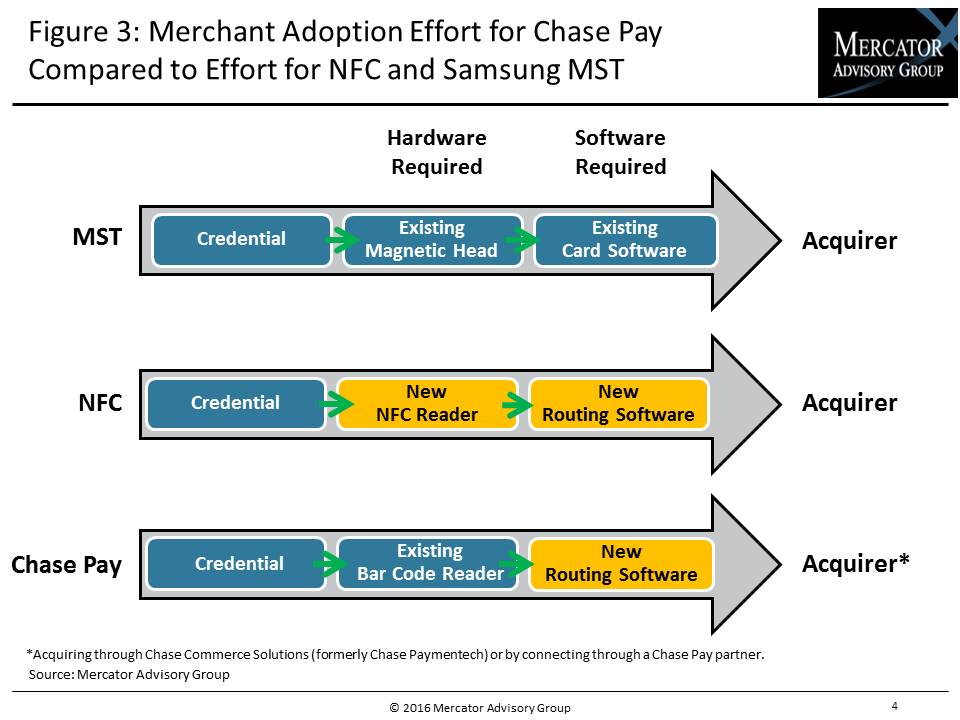 ---
Highlights of the research note:

Description of the probable components of the solution

Analysis of benefits to merchants

Routing and regulatory considerations

MCX wildcard

Potential effects on merchants acquirers' 

Profiles of 18 technology vendors designated by Chase as "helping merchants to accept Chase Pay"
Interested In This Report
Related content
Generative artificial intelligence is not just hype. It is a high-impact technology that requires the attention of leaders in every industry. Payments and financial services produc...
With investment capital tighter in 2023, there's less interest in untested, unproven fintech startups and more of an emphasis on coming out of the chute with products that are read...
Wallet-based digital ID will create a wedge between universal wallets and payment apps, as embedded finance product offerings converge on feature parity over time.