Overview
In the continuing cycle of firsts and "unprecedented" events experienced during the global pandemic and the associated economic recession of 2020, the U.S. card market is currently experiencing a first of its own. Mastercard and Visa debit card transactions and dollar volumes are greater than those conducted on credit cards as explored in a new report, Debit Card Abruptly Finds Itself Top of Wallet. As consumers stare down potentially months of necessary household spending restrictions, they are relying on their debit cards much more, putting issuers in a new operating environment.
"We anticipate that changes in consumers' payment habits, largely driven by the COVID-19 pandemic, are likely to continue long term, if not become permanent routines. While the credit card market is being challenged, debit cards are now at an advantage and debit issuers will want to take steps to insure they retain this position," comments Sarah Grotta, Director, Debit and Alternative Products Advisory Service at Mercator Advisory Group and author of the report.
This report has 16 pages and 9 exhibits.
Companies mentioned in this report include: American Express, Discover, Mastercard, Visa.
---
One of the exhibits included in this report: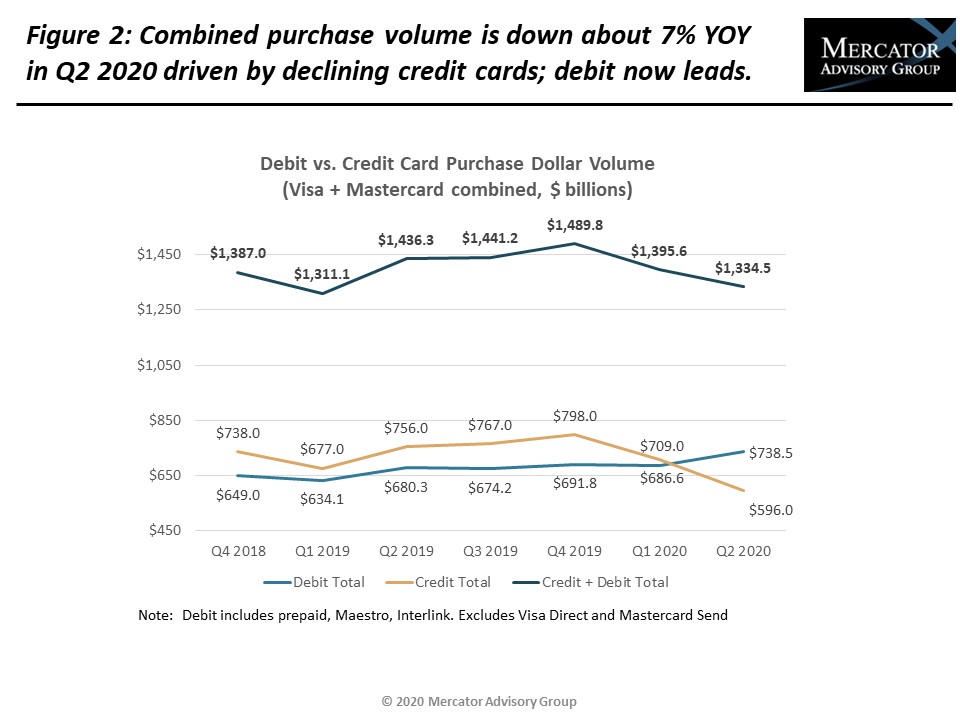 ---
Highlights of the report include:

Review of Mastercard and Visa debit and credit data for the U.S., that finds purchase volumes in total were down 7% in Q2 2020 over Q2 2019. The decline was attributable solely to the 21.2% decline in credit purchase volume, compared with debit's 8.6% increase.
Analysis of data compiled over the last several years showing that debit card and credit card growth often reflect opposite trends. Recent data reveal a very stark reaction to the two primary card products. In just the space of two quarters (Q4 2019 to Q2 2020), debit cards went from a 46.4% share of purchase volume to 55.3% share.
Mercator survey data finds the use of a single preferred payment method has been increasing since 2018, with cardholders concentrating their payment loyalty to either credit or debit and a declining number choosing to use multiple payment options.
Activities that debit issuers will want to consider to hold on to loyal debit card users for the long term.
Learn More About This Report & Javelin