Data Protection and Privacy: Primer For A Challenging Issue
Author(s):
Patricia McGinnis
Overview
Data Protection and Privacy: Primer For A Challenging Issue
Boston, MA -- With U.S. Congressional hearings in progress, can new legislation or regulations be far behind? Major privacy breaches, including data thefts and surreptitious data gathering by vendors of all kinds, have been widely reported in the media. The U.S. Federal Trade Commission (FTC) has launched a stepped-up enhancement of what it views as unfair or deceptive business practices, and has also made it clear that if the digital advertising industry fails to regulate itself, the FTC will fill the vacuum.

Mercator Advisory Group's new report Data Protection and Privacy: Primer For A Challenging Issue discusses the challenges facing financial firms with respect to both managing privacy risks and maintaining strong customer relationships. It presents evidence of consumer attitudes, and insights about the multiple complicated dimensions of the word "privacy." The report also recommends four major initiatives that financial firms must undertake in order to minimize their risks, satisfy their customers, and protect their reputations.
"Against a background of generalized and growing consumer anxiety about privacy, financial firms continue to believe they are among the most highly trusted entities on the Internet. For the time being, they may still be right," states Patricia McGinnis, director of Mercator Advisory Group's Banking Group."However, that trust may be undermined by the combination of a steady stream of data breach notices, the observable evidence of targeted offers, and the absence of meaningful choice in many FSI privacy notices."
Highlights of this report include:
Factors causing U.S. consumers to revolt against the unquenchable appetites of the data collection and data analysis industries.

The rights U.S. individuals have to access or correct errors in, massive files of personally-identifiable, collected, and mashed-together data.

The industries with the largest appetite for targeted data, their funding sources, and an outlook on their overall impact on personal privacy.

Which new technologies will raise the privacy risks faced by individuals, and the challenges faced by financial firm compliance officers.
One of 10 exhibits in this report: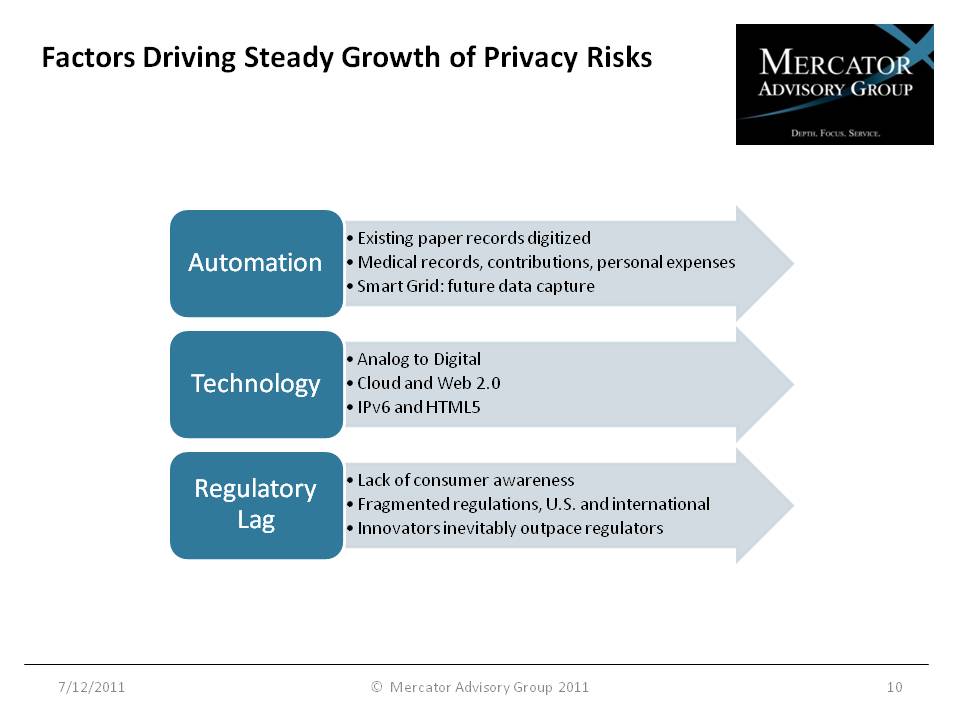 This report is 34 pages long and has nine exhibits.
Companies mentioned in this report include: Actiance, Adobe, Apple, Bank of America, Bank of the West, BBVA Compass, Facebook, Fifth Third, Google, McAfee, Microsoft, Mozilla, PrivacyByDesign, ReputationDefender, Selectout.org, Spokeo.com, TRUSTe, Trusteer, and Verisign Authentication.
Members of Mercator Advisory Group have access to this report as well as the upcoming research for the year ahead, presentations, analyst access and other membership benefits.
Please visit us online at www.mercatoradvisorygroup.com.
For more information and media inquiries, please call Mercator Advisory Group's main line: (781) 419-1700, send E-mail to info@mercatoradvisorygroup.com.
For free industry news, opinions, research, company information and more visit us at www.PaymentsJournal.com.
Follow us on Twitter @ http://twitter.com/MercatorAdvisor.

About Mercator Advisory Group
Mercator Advisory Group is the leading, independent research and advisory services firm exclusively focused on the payments and banking industries. We deliver pragmatic and timely research and advice designed to help our clients uncover the most lucrative opportunities to maximize revenue growth and contain costs. Our clients range from the world's largest payment issuers, acquirers, processors, merchants and associations to leading technology providers and investors. Mercator Advisory Group is also the publisher of the online payments and banking news and information portal PaymentsJournal.com.
---
Interested In This Report