Overview
Boston, MA
January 2005
Customer Loyalty and Retention:
Systems and Vendor Review
NEW RESEARCH REPORT BY MERCATOR ADVISORY GROUP

The proliferation of loyalty programs has made it more challenging than ever to develop programs that are appealing to consumers and that can also create loyalty in a cost-effective manner.  Prospect cardholders are getting bombarded with so many rewards program offers that it makes setting the value of loyalty programs in customers' minds a difficult task.  Properly segmenting customers and making sure that the best customers get the best rewards comprised of both hard and soft benefits through a hassle-free process is no easy job either.
 One of Seven Exhibits in this Report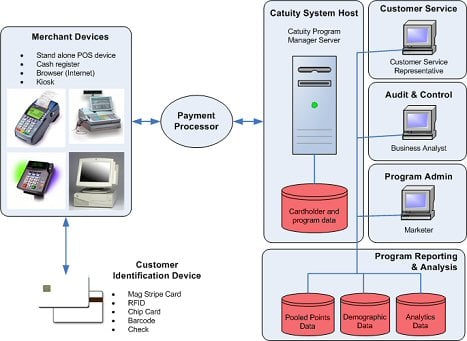 Evren Bayri, Director of Mercator Advisory Group's Credit Advisory Service and author of the report comments, "Technology and analytics, combined with creative program design, effective marketing, and solid execution can help companies create loyalty in thoday's highly competitive environment."
There are a large number of companies providing products and services around loyalty themes.  The market is fragmented; and vendors typically specialize on industry verticals or industry subsegments, or focus on specific functions along the loyalty value chain. 
The report provides a discussion on loyalty technology and the latest trends in the industry, a list of factors to consider when choosing a loyalty solution, a framework to classify loyalty vendors, an extensive list of industry participants. and detailed profiles of loyalty vendors including: Catuity, ESC Loyalty, Ernex, Frequency Marketing Inc., and Maritz Loyalty Marketing.
The report contains 23 pages and 7 exhibits.
Members of Mercator Advisory Group have access to this report as well as the upcoming research for the year ahead, presentations, analyst access and other membership benefits.  Please visit us online at www.mercatoradvisorygroup.com.

For more information call Mercator Advisory Group's main line: 508-845-5400 or send email to info@mercatoradvisorygroup.com.
---
Interested In This Report
Related content
The cobranded card market is a way to generate loyalty, scale your portfolio, and service the next generation of cardholders.
The Credit Card Data Book is a two-part annual publication that covers the internal and external factors affecting the U.S. credit card market. The first part focuses on environmen...
The U.S. credit market continued its path toward stabilization in 2022 but faced several hurdles, including rising interest rates, strained household budgets, and a highly competit...