Overview
Boston, MA
November 2003
Credit Scoring and Analytic Technologies:
ROI Better than Ever

NEW RESEARCH REPORT BY MERCATOR ADVISORY GROUP

In the U.S. fraud as a percentage of total volume is not growing (and recently is even on the decline). Absolute fraud and absolute charge-offs are at record levels. These recent trends point to an environment where the importance of risk prediction software and analytics is growing. These systems now have the opportunity to deliver unprecedented Return on Investment to those who employ them.

This report builds a compelling analysis of the current state of growth in credit portfolios in the US. It shows a compelling macro-environment where there is no longer any available consumer debt to shift over to cards. As a result, future growth will be determined by the ability to convert cash-based transactions to card-based transaction and will be determined by competitive dynamics and stealing (or acquiring) market share from rivals.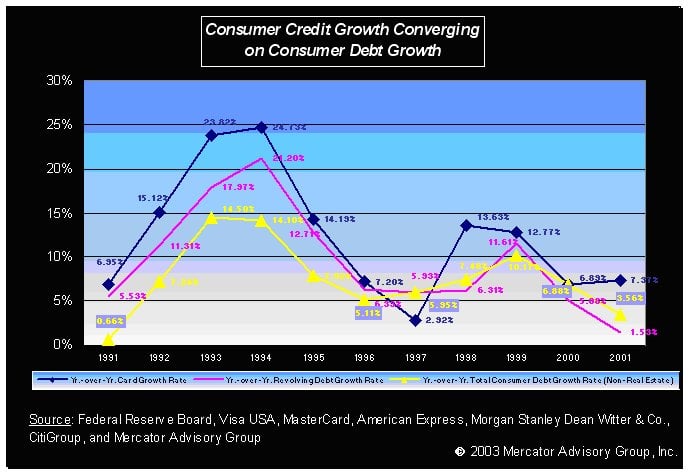 In this competitive setting, it is increasingly difficult to make the margins that were once possible through credit portfolios and it may be a good time to look at the other side of the income statement at fraud losses. While often dismissed as a decreasing percentage of total volume (due in part to the tremendous growth in credit volume over the past decade), the absolute fraud and absolute charge-offs are at record levels. Analytic systems provide the best means of recapturing substantial value and protecting margin.
Evren Bayri, Director for the Credit Advisory Service practice, adds "Advances in credit scoring and analytic modeling have increased the effectiveness of these tools at each point in the account cycle." The report also includes a catalog of vendors, processor and credit bureaus that offer scoring solutions mapping the solutions to the stage of the account lifecycle and/or the type of fraud detection served by the solution.
Evren Bayri also warns, "Now is the time to reconsider the potential of these solutions. Recent advances and newer solutions, such as those brought to market by Fair Isaac Corporation's Strategy Science division are incredibly powerful tools worthy of serious consideration particularly in the areas of credit line management and customer acquisition strategies."
This report contains 56 pages and 19 exhibits.
Members of Mercator Advisory Group have access to this report as well as the upcoming research for the year ahead, presentations, analyst access and other membership benefits.  Please visit us online at www.mercatoradvisorygroup.com.

For more information call Mercator Advisory Group's main line: 508-845-5400 or send email to info@mercatoradvisorygroup.com.
---
Interested In This Report
Related content
The cobranded card market is a way to generate loyalty, scale your portfolio, and service the next generation of cardholders.
The Credit Card Data Book is a two-part annual publication that covers the internal and external factors affecting the U.S. credit card market. The first part focuses on environmen...
The U.S. credit market continued its path toward stabilization in 2022 but faced several hurdles, including rising interest rates, strained household budgets, and a highly competit...