Credit Card Rewards: Another Day, Another Crossroads
Author(s):
Mercator Research
Overview
Boston, MA
March  2007
Credit Card Rewards:  Another Day, Another Crossroads
NEW RESEARCH REPORT BY MERCATOR ADVISORY GROUP
This report examines recent realignments in credit card rewards programs, and more importantly where reward programs are going from here, given the ongoing need to activate and retain cardholders - and to compete with other reward programs.  This crossroads opportunity offers many choices to issuers as they plan new products and marketing strategy, as well as some major decisions regarding where to invest in new product development.  Topics explored include:  


Today's realignment in credit card rewards programs is an economic necessity, but just another iteration in ongoing program development.


Efforts to scale-back rewards programs, however necessary from an economic standpoint, will take some heat due to raised consumer expectations.


New rewards tools for issuers include turnkey rewards programs, cross-product relationship rewards, and consumer-directed features.


Cash back is undergoing a renaissance in rewards programs, with new earning and disbursement features.


High-value targeted discount programs are increasingly linked to rewards.
This report covers developments in traditional rewards programs:  miles and cash/rebates.  The report also examines discounts, which are undergoing some critical development separate from cash/rebates.  The report also highlights new options in rewards delivery, namely:


Availability of turnkey rewards programs for issuers who could not otherwise afford (or who can no longer afford) a competitive proprietary program.


Developments of relationship-based rewards programs, which can incent usage of a broad array of a bank's products, encourage pooling of individual relationships, or even involve marketing partner firms.


Evolution of consumer-directed features which engage the consumer in managing the rewards program to meet their own segment needs.
Ken Paterson, Director of the Credit Advisory Service at Mercator Advisory Group and the author of this report comments that, "what is especially interesting is that industry accounts have focused on rewards realignment as an industry-changing and uncommon occurrence.  APR's and credit terms change all the time; but consumers may actually pay more attention to rewards.  Of course, rewards programs are designed to both attract and retain customers, so any re-alignment that jeopardizes retention runs a real business risk.  But in this competitive environment, reports of the death of credit card rewards have definitely been exaggerated".
One of the 8 Exhibits included in this report: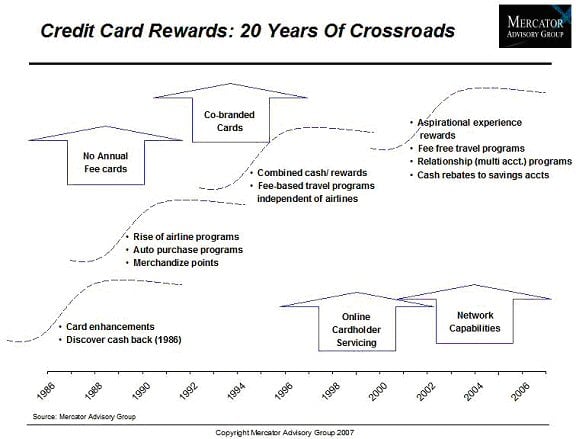 The report is 32 pages long and contains 8 exhibits
Members of Mercator Advisory Group have access to these reports as well as the upcoming research for the year ahead, presentations, analyst access and other membership benefits. Please visit us online at www.mercatoradvisorygroup.com.
For more information call Mercator Advisory Group's main line: 781-419-1700 or send email to info@mercatoradvisorygroup.com.
---
Learn More About This Report & Javelin