Credit Card Charge-off Collections Takes Brains not Brawn
Overview
The Consumer Finance Protection Bureau is in the process of modernizing the Fair Debt Collection Practices Act (FDCPA), which is an appropriate move for the credit card industry. It is the perfect time for credit card issuers to consider their current collections strategies while the economy is performing well. Mercator Advisory Group's latest research report, Credit Card Charge-Off Collections Takes Brains not Brawn The report explains the importance of third-party collection agents and why proposed regulatory updates are appropriate for the U.S. credit card business.
Readers will learn how the credit card aging process works, why third-party agencies help manage financial institution account overflow, and how the FDCPA creates guard rails for the industry.
"The timing of the original Fair Debt Collection Practices Act was perfect. Revolving debt in the U.S. hit $50 billion," comments the author of the research report, Brian Riley, Director, Credit Advisory Service at Mercator Advisory Group. "Today, the U.S. credit card market has more than $1 trillion of revolving debt. Loss rates are at normal levels, yet more than 1 million U.S. cardholders end up at collection agencies each year. FDCPA was born in a world before cellphones, email, and texts. FDCPA 2.0 addresses all these functions and curtails litigation in zombie debt. Both are appropriate next steps," says Riley.
This research report contains 22 pages and 11 exhibits.
Companies and other organizations mentioned in this research report include: ACI Alorica, Banco Bradesco, Citi, Encore Capital Group, Equifax, Experian, Expert Global Solutions,FICO, NCO, Portfoliio Recovery Associates, PRA Group, TransUnion
---
One of the exhibits included in this report: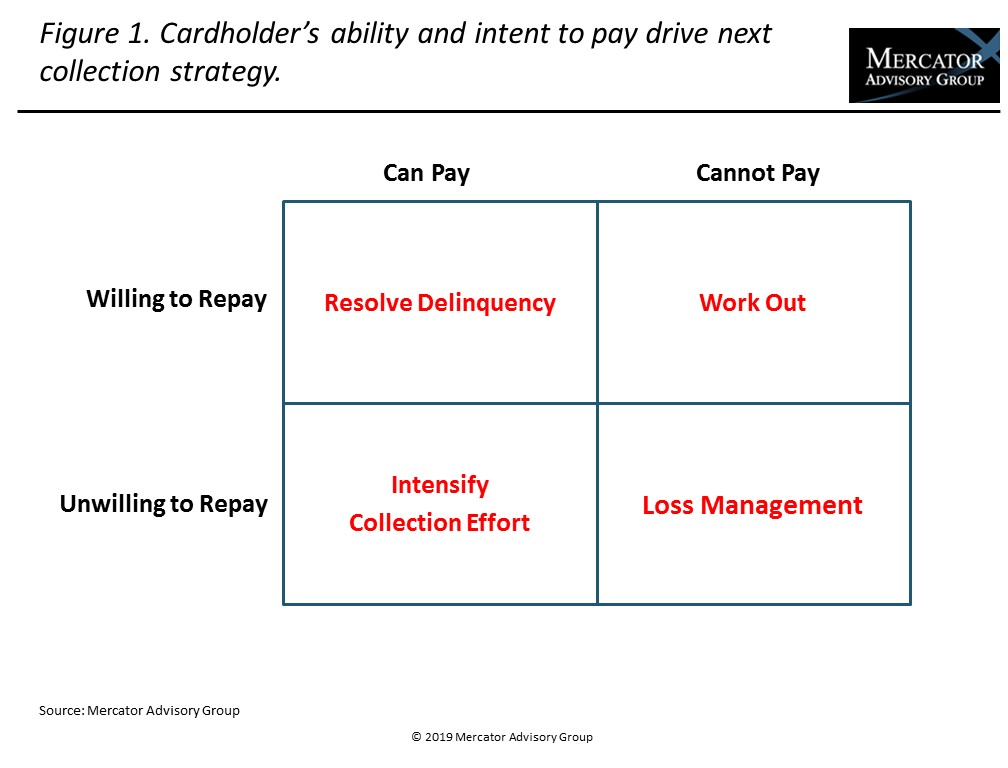 ---
Highlights of the research report include:
A thorough explanation of credit card aging
Bankrupcy trends (2006–2019F)
Revolving debt trends in the U.S. (1968–2027F)
Charge-off rates for U.S. credit cards (2006–2023F)
Percentage of U.S. consumer accounts placed at collection agencies (2006–2018)
Regulatory controls impacting third-party collections
Customer complaints about collections by type
Collection process flow
Interested In This Report
Related content
The cobranded card market is a way to generate loyalty, scale your portfolio, and service the next generation of cardholders.
The Credit Card Data Book is a two-part annual publication that covers the internal and external factors affecting the U.S. credit card market. The first part focuses on environmen...
The U.S. credit market continued its path toward stabilization in 2022 but faced several hurdles, including rising interest rates, strained household budgets, and a highly competit...