Collections and Recovery Solutions: Pushing an Ocean Liner Toward Warp Speed
Author(s):
Mercator Research
Overview
Collections and Recovery Solutions: Pushing an Ocean Liner Toward Warp Speed
New Research Examines Challenges and Solutions of Today's Credit Card Collections Environment
Boston, MA - July, 8 2009 -- By varying measures, the volumes of collections and recovery cases that must be handled by credit card issuers have increased 40%-50% just since the start of the recession. New technology offerings available to issuers hold the promise of increased productivity and the ability to optimize treatments within constrained in-house and outsourced capacity.
The latest report by Mercator Advisory Group, Collections and Recovery Solutions; Pushing an Ocean Liner Toward Warp Speed, examines the challenges of the current credit card collections environment, and the technology solutions available to major card issuers.
Highlights of the report include:
Today's economic environment is putting added pressure on issuers' collections operations to increase productivity and results, while handling greatly increased volumes.

While advanced technology solutions and outsourcing partners are providing assistance, issuers' major challenge in collections and recovery operations is to ramp up capacity quickly where feasible, but to retain the flexibility to ramp down when conditions return to "normal."

Updated solutions and new capabilities are addressing issuer needs in three key areas: capacity management, data management, and technology management.

As solutions proliferate in specialization and serve multiple cardholder delivery
channels, solution providers are responding with new approaches to integrating control across these three delivery needs.
"Issuers are building greater "segment-of-one" case treatment capabilities based on improved integrative analytics plus the multi-channel controls mentioned above. In spite of the rapidly growing demand for capacity, most collections shops must be conservative in their practices, retaining well-tested processes, and integrating any change into staff training and the ongoing flow of work," Ken Paterson, Director of the Credit Advisory Service at Mercator Advisory Group and the author of the report comments. "How do you push a large "ocean liner" capability to warp speed quickly to meet today's critical demand "then slow down to "normal" at some unknown point in the future? Today's technology solutions are providing added productivity, control over multiplying delivery channels, and the flexibility to right-size operations."
One of the 11 Exhibits included in this report: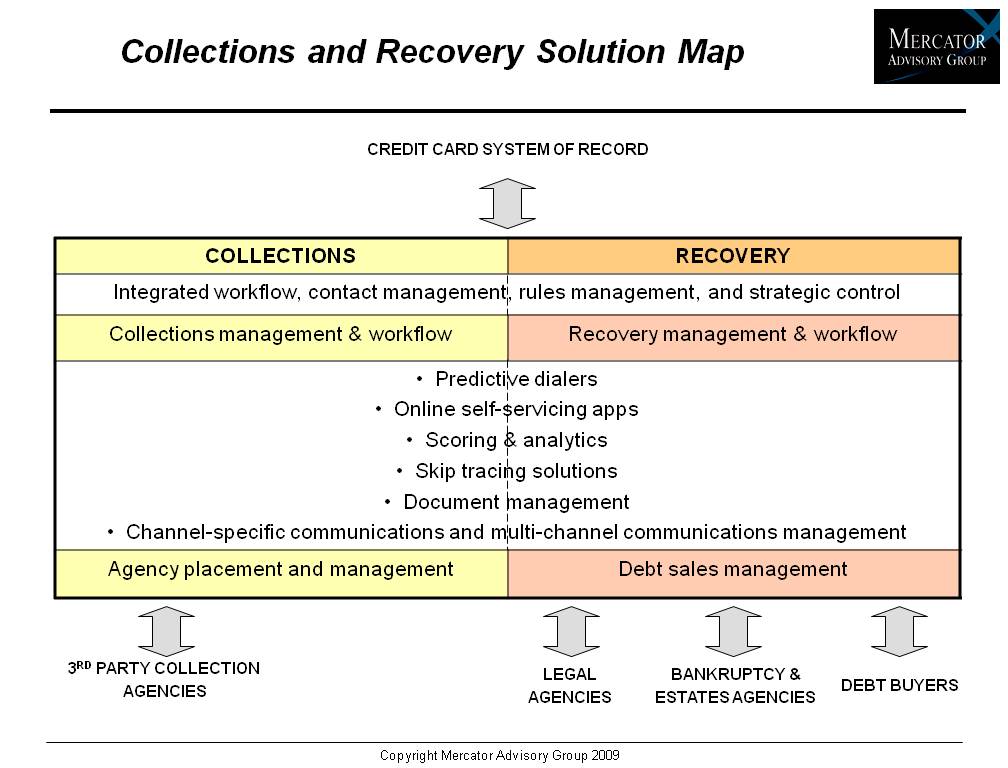 The report is 28 pages long and contains 11 exhibits
Firms mentioned in this report include: CGI, FICO, First Data Corporation, SAS, and TSYS/CMC.
Members of Mercator Advisory Group have access to these reports as well as the upcoming research for the year ahead, presentations, analyst access and other membership benefits. Please visit us online at www.mercatoradvisorygroup.com.
For more information call Mercator Advisory Group's main line: 781-419-1700 or send email to info@mercatoradvisorygroup.com.
Mercator Advisory Group is the leading, independent research and advisory services firm exclusively focused on the payments and banking industries. We deliver pragmatic and timely research and advice designed to help our clients uncover the most lucrative opportunities to maximize revenue growth and contain costs. Our clients range from the world's largest payment issuers, acquirers, processors, merchants and associations to leading technology providers and investors.
---
Learn More About This Report & Javelin