Overview
A new research report from Mercator Advisory Group titled Bringing AI into the Enterprise: A Machine Learning Primer provides an analysis of the impact machine learning will have on bank operations and payments and how it is already shifting consumer behavior. Consumers increasingly expect their smartphone will answer their questions, give them directions, and warn them when accidents will slow them down. Over time, machine learning will become as prevalent within banks as software systems are today. Eventually every software application will be reconstructed to accommodate machine learning — it's simply a matter of time.

This report provides an analysis of the current state of machine learning with a deep dive into existing technologies and breakthroughs that represent new deployment opportunities, such as deep learning, adversarial networks, and transfer learning. The report identifies the incredible breadth of business processes that are impacted by machine learning and recommends areas that should be targeted first. It recommends an approach to enterprise deployment and identifies the important differences between deploying a machine learning solution and deploying traditional software and provides recommendations that will prevent silos of machine learning that would limit the ability of machine learning tools to collaborate.

"The impact of machine learning on the enterprise is breathtaking. It is lowering costs, creating amazing new market opportunities for those willing to innovate, and altering the ways in which consumers behave. As consumers become familiar with an environment that responds to their needs, they will increasingly expect their service providers (including their financial services providers) to become more proactive. Authentication and fraud management have already been affected by machine learning and can save the institution several basis points in fraud costs. But financial institutions should evaluate the impact of machine learning much more broadly," commented Tim Sloane, Vice President of Payments Innovation and Director of Mercator Advisory Group's Emerging Technology Advisory Service, who is the author of the report. "It took software decades to escape the water-cooled computer room, but the evolution of machine learning will be much faster. Mobile phones and cloud computing will enable machine learning to impact a much broader range of processes in a much shorter time, and even computing hardware and the cloud itself will feel the impact."

This report is 41 pages long and has 13 exhibits.

Companies mentioned are: Amazon, Cisco, Clinc, Facebook, FIS, Google, IBM, Microsoft, OpenAI, Oracle, Salesforce, Slack, Twilio, Unit 4, USAA, and x.ai.
---
One of the exhibits included in this report: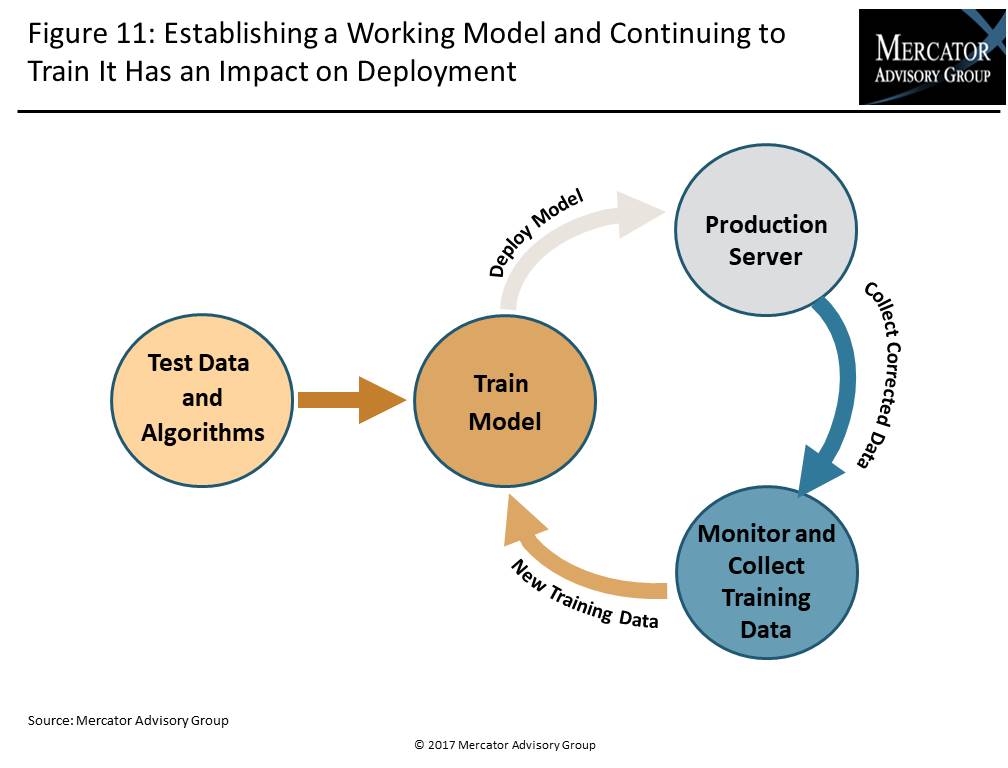 ---
Highlights of the report include:

Like software, machine learning can be applied to an extremely wide range of specific problems across all business domains. Although the technology can be used in a defensive fashion to lower costs, understanding how to use machine learning in offense to expand business opportunities is far more important.
Machine learning is used today to greatly improve fraud detection while simultaneously reducing false positives, it has changed how consumer behavior is predicted, and it is fundamental to behavioral biometrics, which is disrupting the traditional authentication market.
Perhaps most important, machine learning has changed how consumers interact with their smartphone and service providers by enabling natural language interfaces, contextual commerce, and automated agents.
Mercator Advisory Group suggests that the most productive and accurate way to think of machine learning is as a software savant that is "a software system designed specifically to analyze and act on data and signals within a specialized domain (as in transactional fraud, detection of emotional state, or discovering objects or faces in a picture)." 
The cloud infrastructure will be a battleground for machine learning dominance, demanding an entirely new infrastructure for building, training, deploying, and managing these new general-purpose platforms. 
Interested In This Report