Brazil, Russia, India, and China: Payment Developments in the BRIC Countries
Overview
When the acronym "BRIC" was coined in 2001, the BRIC nations (Brazil, Russia, India, and China) were the darlings of world economists, who projected that the four developing economies would mature during the 21st century and surpass the economic output of many developed markets. Growth has been uneven, however, and China now dominates this economic grouping in terms of economic growth, income per capita, and payments implementation. China's point-of-sale terminal installations and cards outstanding are now more than double U.S. deployment. India, though similar in size, lags China. Inflation and shortfalls in growth of gross domestic product have had a particularly strong impact on Brazil and Russia. India is well intentioned but the process is moving slowly.

A new research report from Mercator Advisory, Brazil, Russia, India and China: Payment Developments in the BRIC Countries, discusses how the BRIC nations, while similar in their long-term potential, face unique challenges based on economic, political, and social issues. The report also identifies how each country, in its own ways, is moving toward a more country-driven payments model rather than just integrating the universal branded payments scheme.

"In about 15 years, China UnionPay has built out a payments function that dwarfs the U.S. market in terms of deployed credit and debit cards, plus terminal installations," commented Brian Riley, Director, Credit Advisory Service and author of the report. "Another interesting facet of the BRIC markets is their use of domestic payment schemes, such as ELO in Brazil, Mir Card in Russia, RuPay in India, and UnionPay in China. These will not eliminate the need for international payment cards, but they will certainly divert transaction volume."

This research report contains 22 pages and 11 exhibits.

Companies mentioned in this report include: Alfa-Bank, American Express, Banco Santander, Citi, Deutsche Bank, Discover, Elo, Equifax, Experian, FICO, First Data, Goldman Sachs, HDFC Bank, HSBC, ICICI Bank, Itaú Unibanco, Mastercard, Standard Chartered Bank, TransUnion, TSYS, Visa, and VTB 24.
---
One of the exhibits included in this report: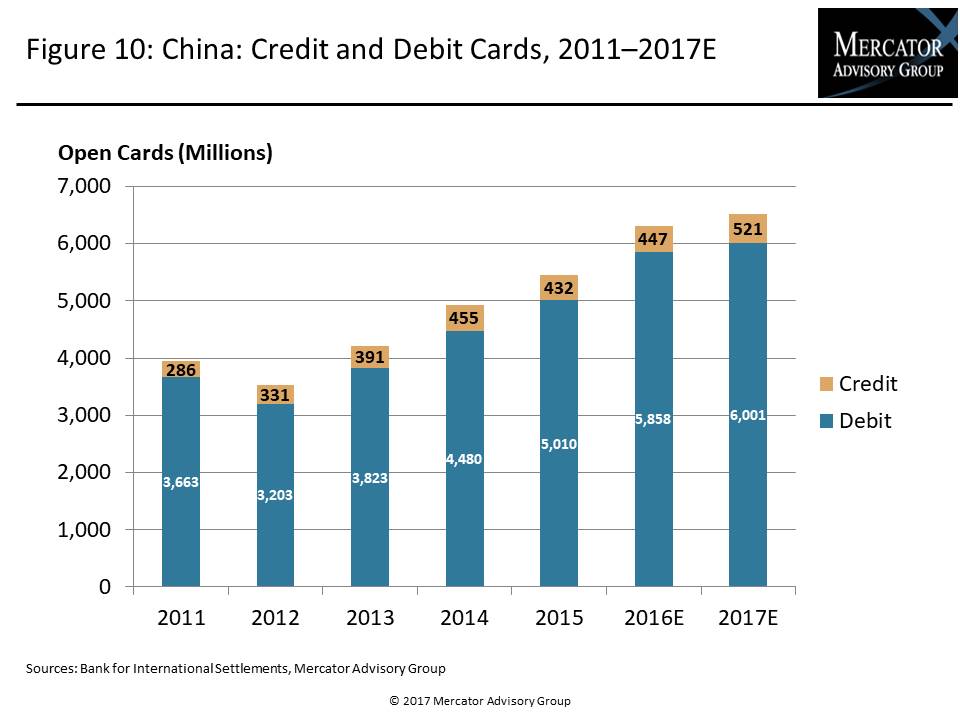 ---
Highlights of the research report include:

Key economic indicators in the BRIC markets
Projected credit and debit card volumes
The implications of indigenous payment networks that run outside or in tandem with global payment systems
Discussion of why China payments flourish and India payments languish
Long-range implications to the payments industry
Interested In This Report