Overview
U.S. consumers continue to seek convenience and immediacy in their daily shopping habits, whether in person or online. Self-service shopping strikes a chord with consumers especially in convenience stores and small grocery venues. Mobile scan and pay apps or hands-free, autonomous point-of-sale (POS) checkout systems are becoming more available across the retail landscape. A new research report from Mercator Advisory Group, Autonomous Checkouts: Brick-and-Mortar Retail Goes Full Digital, provides analysis and insight on the current state of autonomous POS checkout systems, supported by results from Mercator's primary survey data on consumer behavior in the United States.
"Amazon Go has achieved a proof of concept for autonomous checkout since its start in January 2018. Now other systems developers are entering the market anticipating growing acceptance of auto checkout by both merchants and consumers. Rising store labor and overhead costs, and now consumers' changing shopping habits driven by the COVID-19 pandemic, can position autonomous checkout on a rising path to higher market presence," commented Raymond Pucci, Director, Merchant Services at Mercator Advisory Group, the author of this report.

This report is 18 pages long and has 8 exhibits.
Companies and other organizations mentioned in this report: Ahold Delhaize, AiFi, Albert Heijn, Amazon, Carrefour, Giant Eagle, Grabango, Lojas Americanas, Loop Neighborhood, Standard Cognition, Trigo, Valora, Zabka, and Zippin.
---
One of the exhibits included in this report: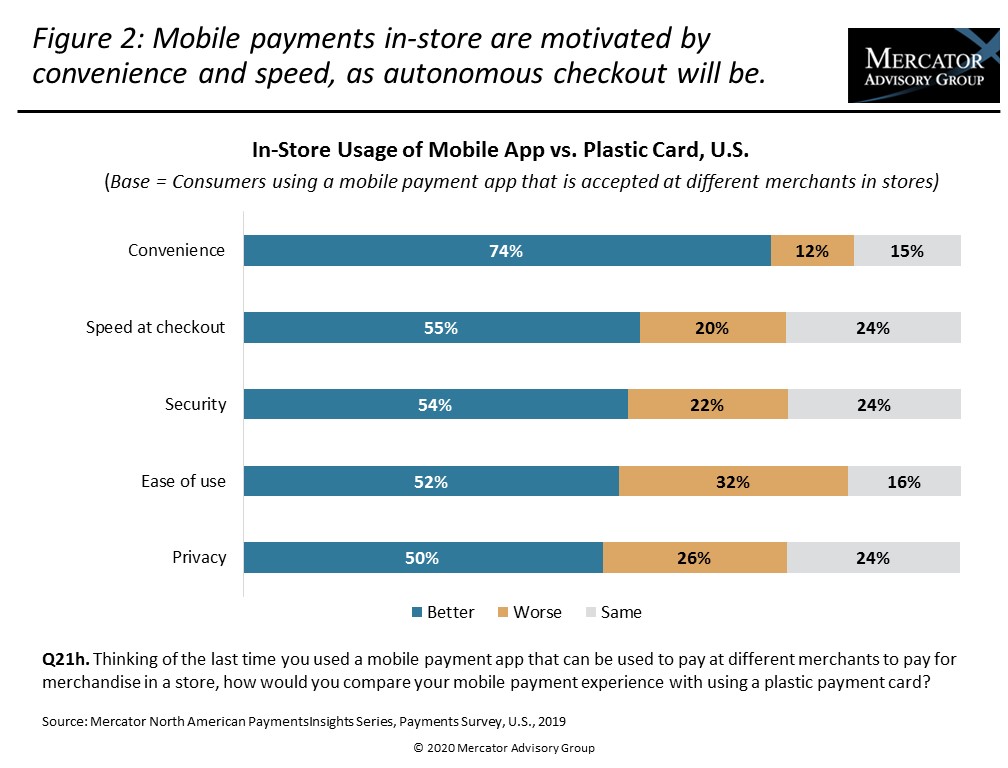 ---
Highlights of this research report include:

Mercator's definition of autonomous store checkout, which explain the elements that distinguish it from self-checkout
U.S. consumer behavior and the mobile payment experience
Expansion of autonomous checkout developers beyond Amazon Go
Strategic checklist for merchants considering autonomous checkout
Future direction of autonomous checkout systems
Interested In This Report