Asset-Backed Securities: A Primer for Credit Card Managers
Overview
Mercator Advisory Group has released its latest research report. Titled Asset-Backed Securities: A Primer for Credit Card Managers, this report is the first analysis of the asset-backed securities (ABS) market since the recession that focuses on the credit card industry.

Readers will learn about the logical and legal flows of credit card asset-backed securities (ABS), an important financing tool used by many top issuers. Asset-backed securitization enables lenders to originate credit card accounts, season their portfolios, and then sell the receivables to bank-owned trusts that enable investors to buy future revenue streams. Credit card issuers can generate servicing fees and then use the funds to reinvest in new accounts. One top-tier bank has 50 percent of its portfolio securitized, which is a key component of its growth strategy.

"The report presents a case study of the asset-backed securitization of a credit card portfolio of a major global bank to illustrate the level of analytics covered in an ABS prospectus. One important facet that is apparent is the importance of the FICO® Score and the way it is used throughout the credit cycle from origination to credit cycle management and ultimately through securitization," notes the author of the report, Brian Riley, Director, Credit Advisory Service at Mercator Advisory Group. He adds: "Dodd-Frank brought discipline to the ABS process, and issuers have a requirement to effectively manage their portfolios, particularly as they place blocks of accounts into the capital markets."

This document contains 29 pages and 17 exhibits.

Companies and other organizations mentioned in this research report include: Alliance Data Services, A.M. Best, American Express, Bank of America, Barclays Bank of Delaware, Barclays Capital, Capital One, Chase, Citi, DBRS, Discover, FICO, Fitch, KBRA, Mastercard, Moody's, Morningstar, Scotiabank, Securities and Exchange Commission, Sperry Corporation, Standard & Poor's, Synchrony, TD Securities, US Bank, and Wells Fargo Securities.
---
One of the exhibits included in this report: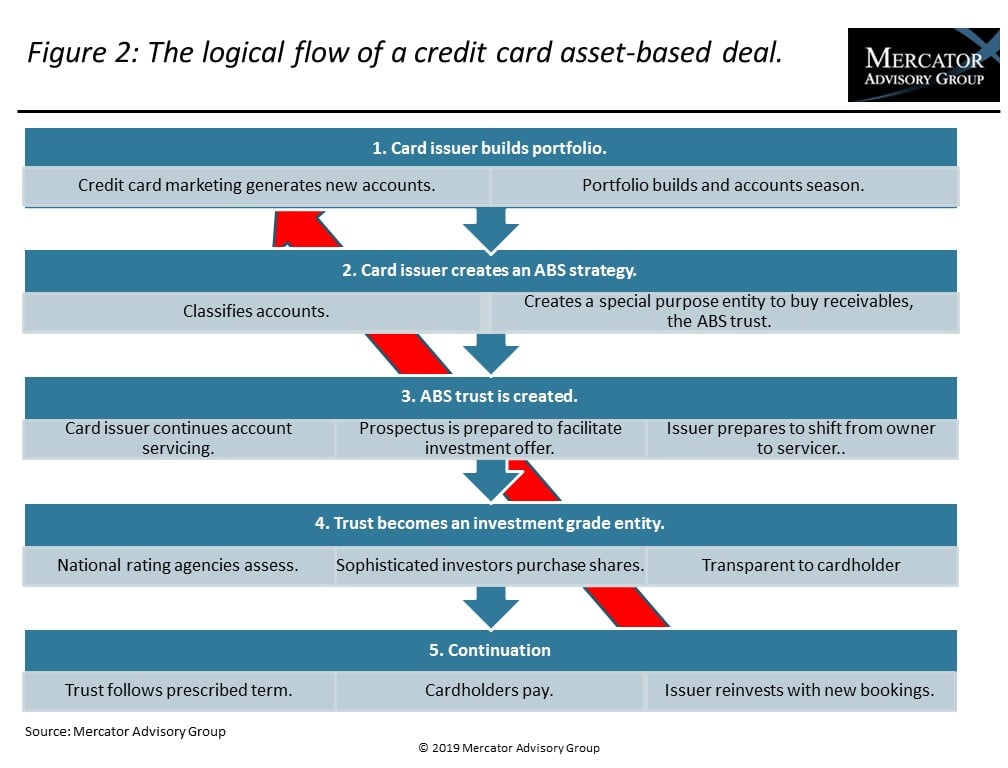 ---
Highlights of the research report include:

Asset-backed securitization volumes by issuing bank since the Great Recession
Forecasted market projections through 2023
A view of asset-backed security pricing strategies
An explanation of how funds disperse based on revenue streams|
A review of the credit rating process
How credit managers play an important role in the success of ABS
A case study drawn from a major global bank that illustrates the seven key elements of an ABS prospectus
Interested In This Report
Related content
Private-label credit cards are an essential part of the U.S. card market, but they are a product in slow decline and face several threats, including instant point-of-sale financing...
The cobranded card market is a way to generate loyalty, scale your portfolio, and service the next generation of cardholders.
The Credit Card Data Book is a two-part annual publication that covers the internal and external factors affecting the U.S. credit card market. The first part focuses on environmen...