The 2021 Credit Card Data Book Part Two: Consumer Behaviors, Profitability, and the Larger Economy
Overview
External factors will shape dynamics in the credit card industry as COVID-19 subsides.
In part one of the 2021 Credit Card Data Book report, Mercator Advisory Group identified the important internal dynamics in the credit card industry, noting that, while there are some warning signs, the industry avoided a catastrophe. In Mercator's follow-up report, The 2021 Credit Card Data Book Part Two: Consumer Behaviors, Profitability, and the Larger Economy, the external factors that are influencing how the credit industry will recover are examined. In particular, the report focuses on how unemployment rates, vaccination efforts, and developments in the auto, mortgage, and student loan industries will impact the near future of the credit industry.
"As last year demonstrated, external factors can have a significant impact on the credit card industry," comments Brian Riley, Director, Credit Advisory Service, at Mercator Advisory Group, co-author of this research report. "The pandemic is still ongoing, so it remains the most important variable in determining how the economy will recover and how the credit card industry will fare in the future," Riley continues. "How well the credit industry does in 2021 will be largely tied to how quickly the unemployment rate continues to drop. If the drop in unemployment rates stalls, economic conditions would worsen, leading to rises in charge-offs, foreclosures, and bankruptcies. However, barring setbacks on the vaccine front, we anticipate unemployment will continue to drop as normalcy is restored," concludes Riley.
This document contains 17 pages and 8 exhibits.
Companies and other organizations mentioned in this research report include: Black Knight, Federal Reserve System, and FICO.
---
One of the exhibits included in this report: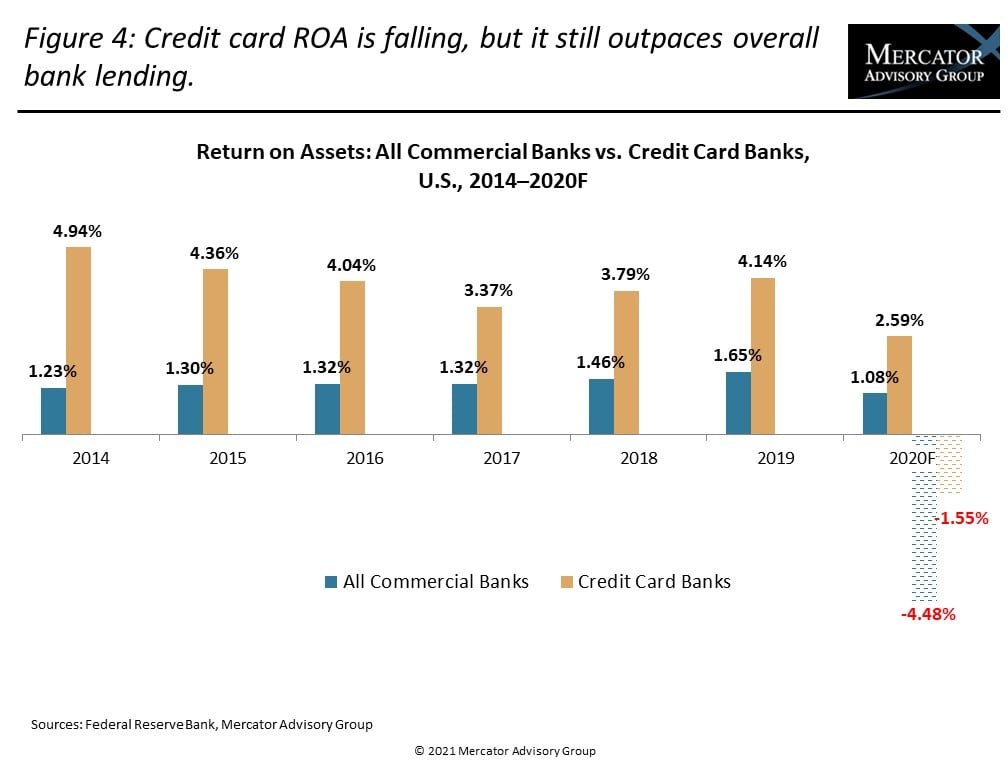 ---
Highlights of the research report include:
Key industry metrics to watch in 2021
Where unemployment goes, the credit industry follows
Developments to keep track of in the auto, mortgage, and student loan industries
Return on Assets (ROA) is dropping
Interest rates stagnate
Consumers are less interested in credit lines, lenders are more strict in lending
Interested In This Report