Overview
The slow but steady climb that the U.S. consumer credit card industry has made back to prerecession performance levels will continue in 2016. Purchase volumes on general purpose credit cards will continue to increase, along with delinquency and charge-off rates, as issuers loosen their underwriting standards and consumers take on greater levels of debt. The massive investments made by issuers and merchants in chip card technology in 2014 and 2015 will bear significant fruit in 2016 as the penetration rates for EMV cards and payment terminals reach meaningful levels.
The coming year will mark a continuation of these long-standing trends and strategic initiatives. However, 2016 will also mark the breakthrough moment for at least one of the disruptive digital innovations that have been looming over the U.S. consumer credit card industry. Whether it's the mass market adoption of third-party mobile wallets from Apple, Google, and Samsung or the launch of a merchant-friendly mobile payments alternative or the wholesale digitization of the credit card acquisition process, it seems likely that this year will see the promise of at least one of these innovations actually realized.
Mercator Advisory Group's latest research note, 2016 Outlook In-Depth: U.S. Consumer Credit Cards examines the continuing trends and emerging innovations that are expected to shape the profitability and strategic plans of U.S. credit card issuers in 2016.
"Despite steady growth metrics and a surprisingly successful chip card transition, issuers cannot take their foot of the gas in 2016. Payment security is not going away and the ongoing digitization of the credit card, both in acquisition and utilization, will give issuers plenty to work on in the coming year," comments Alex Johnson, Senior Analyst, Credit Advisory Service at Mercator Advisory Group and the author of the research note.
This document contains 11 pages and 5 exhibits.
Companies mentioned in this research note include: Apple, Chase, Discover, Google, Lending Club, NerdWallet, OnDeck Capital, Prosper, Samsung, Starbucks, Target, Wallaby, and Walmart.
---
One of the exhibits included in this report: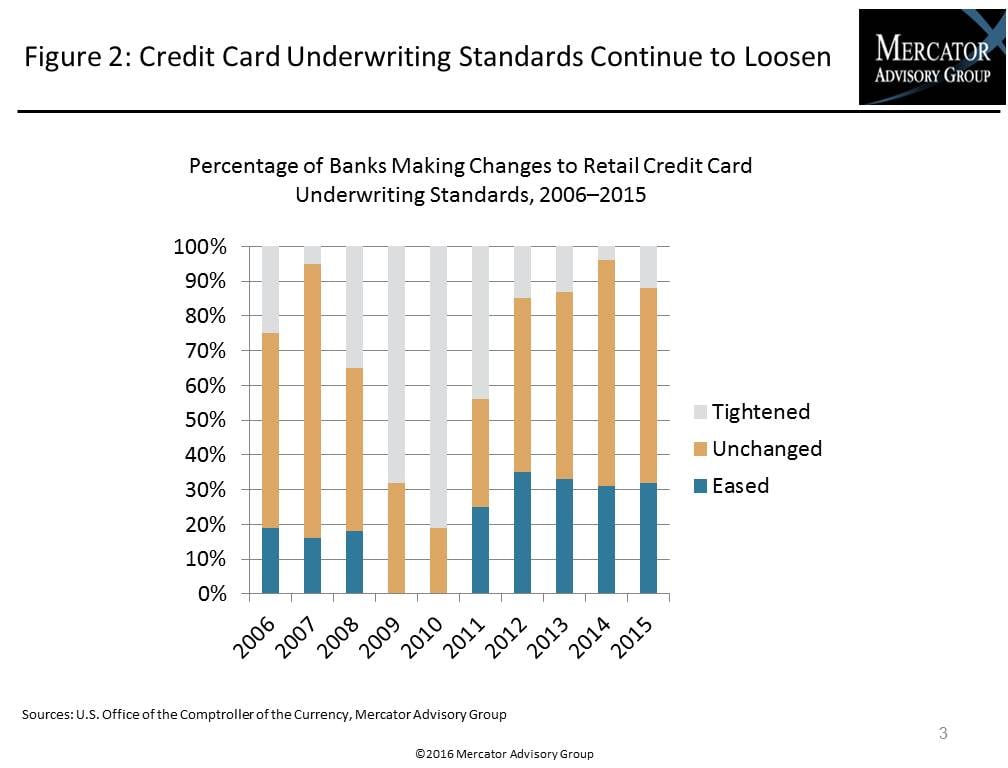 ---
Highlights of the research note include:
Projections for the U.S. consumer credit card market's primary profitability and risk metrics

Predictions for the U.S. consumer credit card market based on new competitive dynamics, changing consumer behaviors, and emerging technologies observed by Mercator Advisory Group


 

Recommendations for how U.S. credit card issuers and merchants should respond to the trends identified in this research note
Interested In This Report
Related content
The cobranded card market is a way to generate loyalty, scale your portfolio, and service the next generation of cardholders.
The Credit Card Data Book is a two-part annual publication that covers the internal and external factors affecting the U.S. credit card market. The first part focuses on environmen...
The U.S. credit market continued its path toward stabilization in 2022 but faced several hurdles, including rising interest rates, strained household budgets, and a highly competit...