U.S. Consumers and Social Media: Banking's Social Revolution - Cross Tabs
Overview
U.S. Consumers and Social Media: Banking's Social Revolution
SIXTH OF EIGHT REPORTS FROM THE MERCATOR
CUSTOMERMONITOR SURVEY SERIES
Boston, MA -- Sixth in a series of eight topical consumer survey reports examining payment and banking topics, this report highlights consumers' complex relationships with retail banking delivery channels. Based on a national sample of 1,010 online consumer survey panel survey responses focused on banking channel topics completed between September 9-13, 2010, the report outlines consumer patterns of social media usage, and how that relates to use of banking delivery channels.
Highlights of the report include the following:
A majority of the survey's U.S. adult respondents visit a social network website at least once a month, and heavy, "power" users that visit social networks and also participate in other user-generated content sites are a distinct segment.
Over half of survey respondents visit Facebook monthly and a majority do not use any other social network website.
Over one in four social media users wrote a complaint online about their bank or credit union in the last year.
Very few social media users follow their primary financial institution online due, in large part, to a lack of awareness of their institution???s presence in social media.
Twitter users are more likely than others to follow financial services companies they do business with.
Ken Paterson, VP for Research Operations at Mercator Advisory Group and the author of the report comments that; "Social media users already represent the majority of bank customers, and the "power users" of social media represent a very distinctive customer sub-segment. Heavy users already have distinct patterns of service use, with a propensity to use online banks and mobile delivery channels. These customers in particular have high service delivery expectations, and have the ready forum to talk about their experiences, good or bad. In some respects, consumer behavior is evolving rapidly, in some respects more quickly than banking delivery channels can evolve."
One of the 24 exhibits included in this report.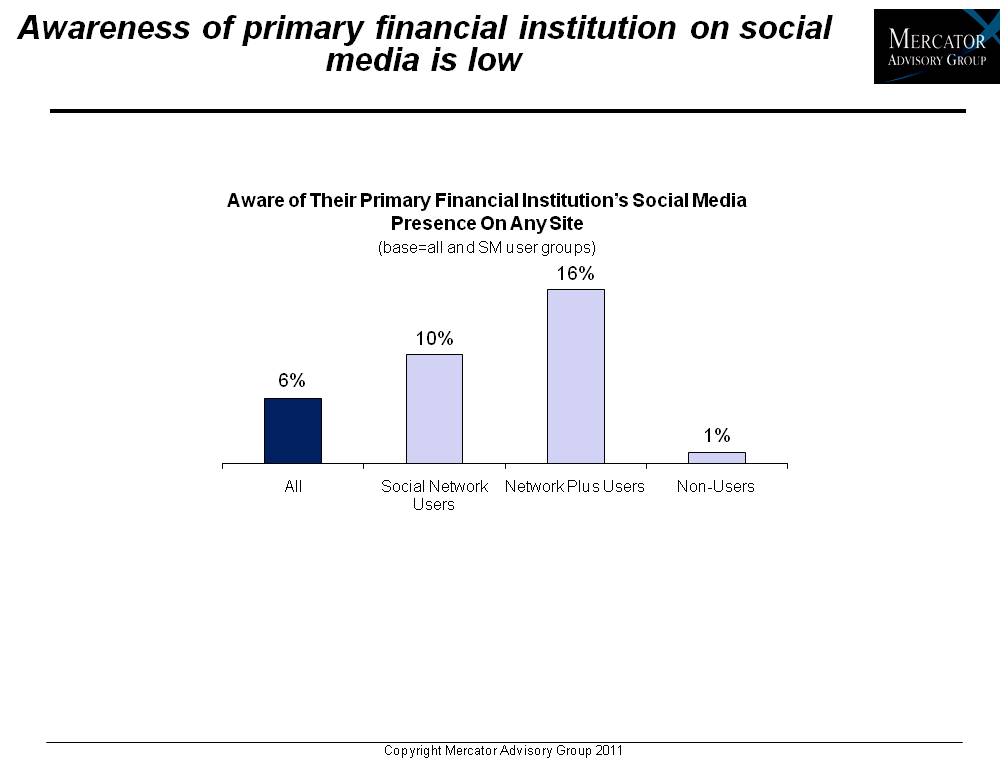 The report is 44 pages long and contains 24 exhibits.
Members of Mercator Advisory Group have access to this report as well as the upcoming research for the year ahead, presentations, analyst access and other membership benefits.
Please visit us online at www.mercatoradvisorygroup.com.
For more information and media inquiries, please call Mercator Advisory Group's main line: (781) 419-1700, send E-mail to info@mercatoradvisorygroup.com.
Follow us on Twitter @ http://twitter.com/MercatorAdvisor.
About Mercator Advisory Group
Mercator Advisory Group is the leading, independent research and advisory services firm exclusively focused on the payments and banking industries. We deliver pragmatic and timely research and advice designed to help our clients uncover the most lucrative opportunities to maximize revenue growth and contain costs. Our clients range from the world's largest payment issuers, acquirers, processors, merchants and associations to leading technology providers and investors. Mercator Advisory Group is also the publisher of the online payments and banking news and information portal PaymentsJournal.com.
---
Interested In This Report