U.S. Commercial Credit Cards Market Forecast, 2016–2022: Growing at a Healthy Pace
Overview
The U.S. market for commercial credit cards in the mid-to-large corporate market space continues to grow at a healthy pace. The growth in usage of commercial cards is associated with several interrelated factors. Certainly questions remain around broader adoption of cards as a primary payables tool, but generally all the factors are converging in a positive direction. In a new research report, U.S. Commercial Credit Cards Market Forecast, 2016–2022: Growing at a Healthy Pace, Mercator Advisory Group examines factors driving the growth, along with opportunities to gain greater share of business-to-business (B2B) spending.
This research report examines the state of the U.S. commercial card market, including market size, changing dynamics, emerging trends, and continued growth channels.
"Factors contributing to results include macro trends such as corporate travel budgets and general business activity (GDP), along with more focused developments around technology innovation and the pace of corporate adoption," commented Steve Murphy, Director of Mercator Advisory Group's Commercial and Enterprise Payments Advisory Service, author of the report. "Increased business activity leads to more domestic and international travel, an increased demand for goods and services, while simultaneous technology innovations create a more digital payment environment. During 2017 and continuing into 2018 and coming years, factors are converging into positive tailwinds, which results in healthy commercial card growth trends."
This report is 18 pages long and contains 5 exhibits.
Companies mentioned in this report include: American Express, AvidXchange, Billtrust, Boost Payment Solutions, Bora Payments, Comdata, Conferma, Greensky, Mastercard, Mineral Tree, Nvoicepay, Regal Software, Strands, UATP, U.S. Bank, Visa, Vocalink, Wells Fargo
---
One of the exhibits included in this report: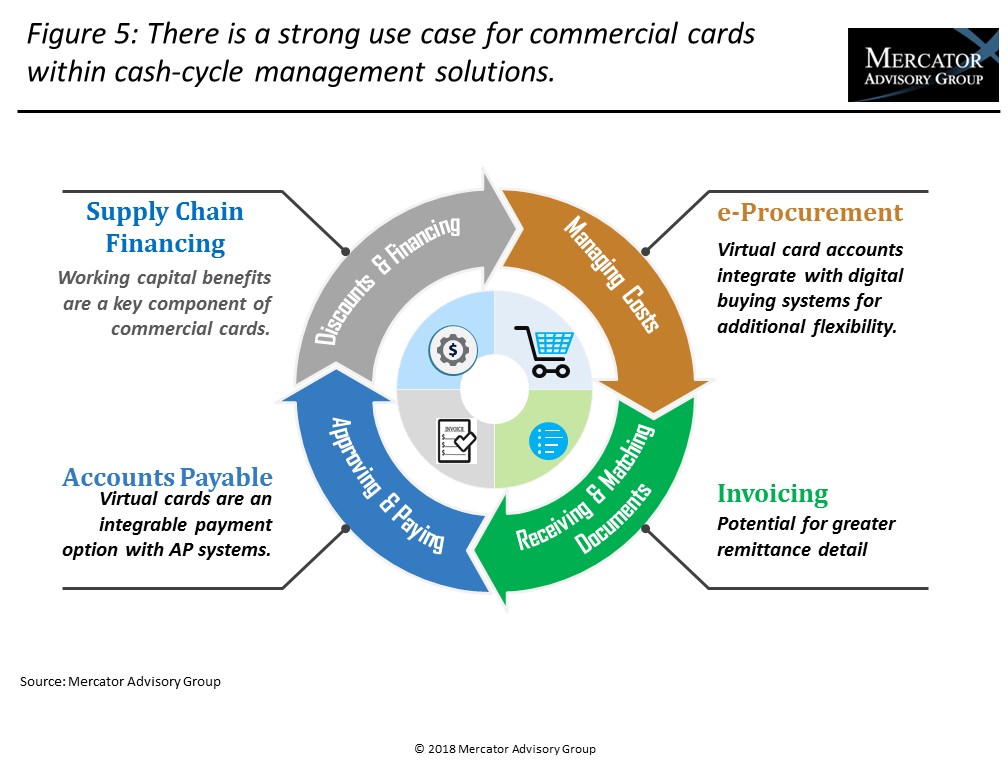 ---
Highlights of the research report include:

An overview of shifting technology capabilities and how payments services providers are adapting to these changes
A detailed discussion of the changing patterns in B2B payments and how the industry can capture greater share
Case summaries describing both innovation to remove friction from the traditional supplier conversion challenges and a solution designed to create a better corporate client travel spend experience
Chart and text presenting Mercator Advisory Group's forecast for U.S. commercial credit card spend by product type through the year 2022
Sensitivity analysis for card spend along with estimated network share
Strategic considerations around emerging technology and new payments systems
Interested In This Report