Supply Chain Finance Market Review
Overview

The global economy in 2018 is projected by Mercator Advisory Group to be roughly $80 trillion, with the export of merchandise and services expected to be around $24 trillion. So trade finance is clearly a major indicator of how interdependent economic activity has become. International trade finance historically has been dependent on traditional methods (documentary collections and letters of credit), which have been heavily burdened by paper-based processes and industry esoterica. The move to open account types of trade financing, including supply chain finance, is still relatively new but is accelerating since the financial crisis. This trend is being driven by a combination of factors which are addressed as part of this research report.

In a new research report from Mercator Advisory Group, Supply Chain Finance Market Review, various drivers of the continued global expansion of alternative financing tools across the corporate landscape are examined.

"Trade finance as an industry supports the exchange of goods and services between business counterparties across both international boundaries and domestic business activity. It is quite an involved ecosystem that helps to drive global economic growth by creating liquidity for businesses who seek to reach the widest possible market" commented Steve Murphy, Director of Mercator Advisory Group's Commercial and Enterprise Payments Advisory Service, author of the report. "Due to communications gains and recent technology advances, modern trade finance is going digital, led by banks and fintechs that are broadening access to supply chain finance capabilities through innovative approaches."

The document is 20 pages long and contains 9 exhibits.

Companies mentioned in this report include: ACI, Asian Development Bank, Basware, C2FO, CGI, Citi, Corcentric, Coupa, Demica, Finastra, Funding Circle, GT Treasury, HSBC, Kabbage, Kyriba, OnDeck, Oracle, Orbian, PrimeRevenue, SAP Ariba, Surecomp, SWIFT, Temenos, Tradeshift, and World Bank.
---
One of the exhibits included in this report: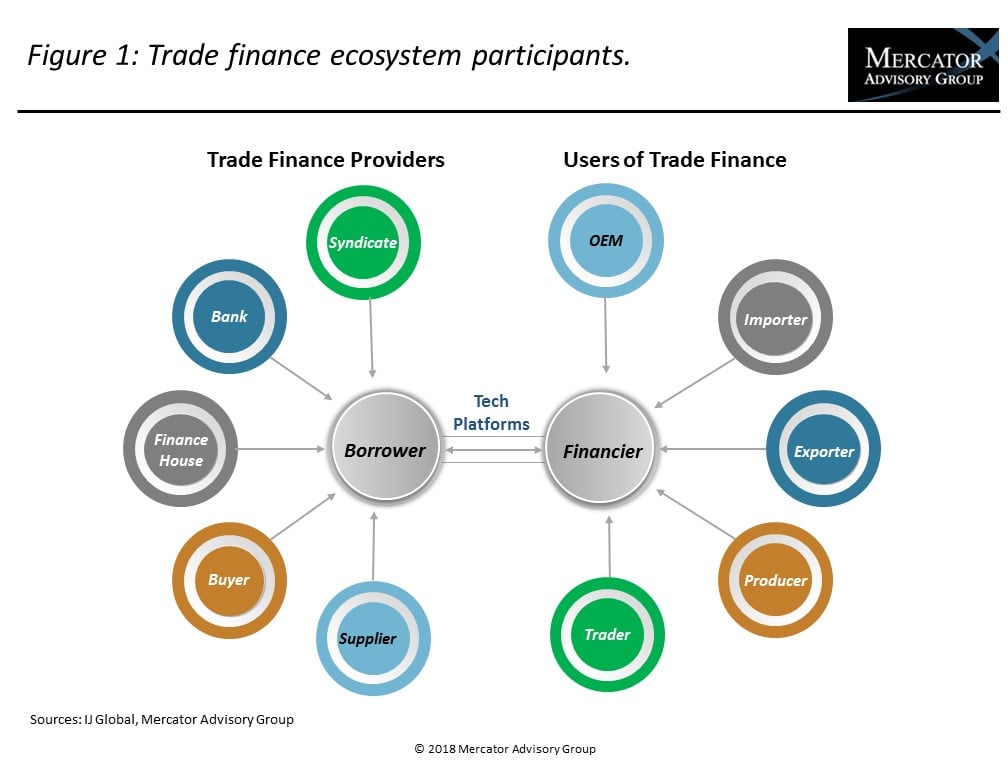 ---
Highlights of the report include:

A detailed review of how trade finance market participants interact across the technology ecosystem
Charts that gauge the size of the global trade market for both goods and services, along with growth trajectories for traditional and open account trade financing
An estimate of the 2018 U.S. domestic trade financing market size, along with analysis of funding gaps and opportunities
Drill-down analysis into key factors driving the growth of supply chain finance
Analysis and supporting graphics describing the supply chain finance business and technology approaches being taken by the various solution providers
A detailed review of the operational triggers that create financing opportunities and how modern technology will help to drive further adoption
Interested In This Report