Supplier Enablement of Cards in B2B E-Payments Requires Persistence, Data, and Technology
Overview
Historical difficulties in gaining mass-scale adoption of commercial cards for use in corporate payables have been rooted in friction around pricing and technical requirements for acceptance. Issuers, buyers, and financial technology firms (fintechs) are now approaching this challenge from several angles, using the rising popularity of virtual card accounts as the catalyst for achieving the long-sought broad acceptance of card-based payments among suppliers. The commercial card industry is an integral and growing portion of the broader business-to-business (B2B) payments landscape. Mercator estimates that the overall noncash value transfer between U.S. businesses within the B2B payments ecosystem was close to $24 trillion during 2015. This includes payments by check, ACH, cards, and wires.

In a new research report, Supplier Enablement of Cards in B2B E-Payments Requires Persistence, Data and Technology, Mercator Advisory Group discusses supplier enablement, recommending fundamental approaches for success, suggesting tools to enhance suppliers' recognition of the value proposition of B2B e-payments, and reviewing innovative business/technology trends that will have an impact on the industry.

"While the commercial card industry continues to benefit from the ongoing shift away from cash and checks and the increase in purchase volume, vast opportunities still exist for growth in cards as payables tools," commented Steve Murphy, Director of Mercator Advisory Group's Commercial and Enterprise Payments Advisory Service and author of the report. "There is substantial untapped potential, given the size of the market. The effort to drive further adoption of virtual cards among suppliers is one of the key activities of commercial card issuers and their corporate clients."

The note is 24 pages long and contains 10 exhibits.
---
One of the exhibits included in this report: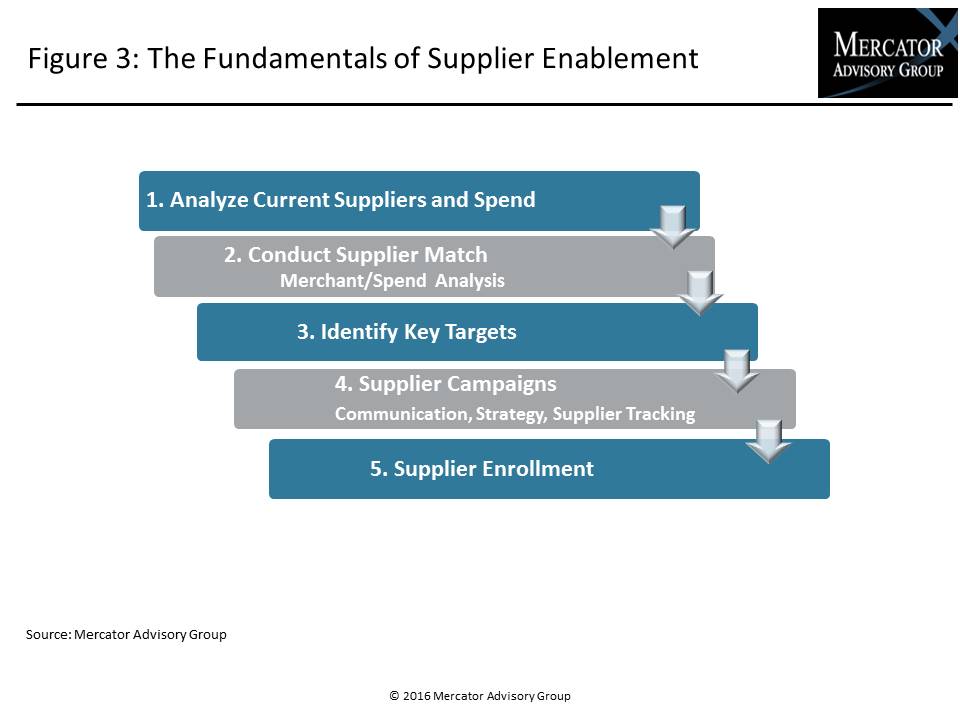 ---
Highlights of the report include:

A step-by-step approach for fundamental success 
A discussion of the opportunities around driving revenue through scale versus interchange and rebates
Methods to overcome the continuing greatest single hurdle, suppliers' resistance to pricing 
A detailed review of the value proposition for suppliers
A review of next-generation technology driving new business approaches that allow for flexible pricing and ease of card payments 
Interested In This Report