Overview
Solving the Micropayments Problem
Minimizing the Impact of Discount Fees on
Small Ticket Transactions
Boston, MA -- For merchants whose transactions tend to be of low value (e.g. quick service restaurants, mass transit, or online social gaming), the discount fees charged to the merchants occupy a significant percent of the revenue, which significantly lowers profitability. The friction this issue causes is known as the "micropayments problem," and to combat it, merchants can either stop accepting payment cards, or attempt to reduce the impact that discount fees have on their transactions. Because merchants don't want to lose customers who prefer to pay with plastic and because card networks don't want to lose their revenue from those transactions, both sides have an interest in making the cost of card base payments palatable.
Mercator Advisory Group's new report, Solving the Micropayments Problem: Minimizing the Impact of Discount Fees on Small Ticket Transactions, examines the way merchants and the networks have worked to lessen the effect of discount fees, as well as the solutions developed by third-party vendors who are trying to make a profit by doing the same. The report aims to determine which solutions have been successful, which have failed, and the reasons why.
Highlights of the report include:
Snapshots of the evolution of the micropayments problem, including an analysis of failed micropayments solutions vendors and the reasons why they were ineffective
A breakdown of the different issues faced by online micropayments and micropayments at the point-of-sale (POS)
Examinations of prominent industries that are most susceptible to the micropayments problem, and the solutions that merchants in those industries are using today
The effect the new Durbin Amendment will have on micropayments specifically
"As Americans move further away from cash, merchants who focus in small-ticket transactions are forced to accept the constraints of card-based payments as a reality," says Dave Kaminsky, analyst in Mercator's Emerging Technologies Service and author of the report. "The micropayments problem is not going away, so their only choice is to adapt and manipulate the discounts fees so that they are low enough that they can survive."
One of five exhibits in this report: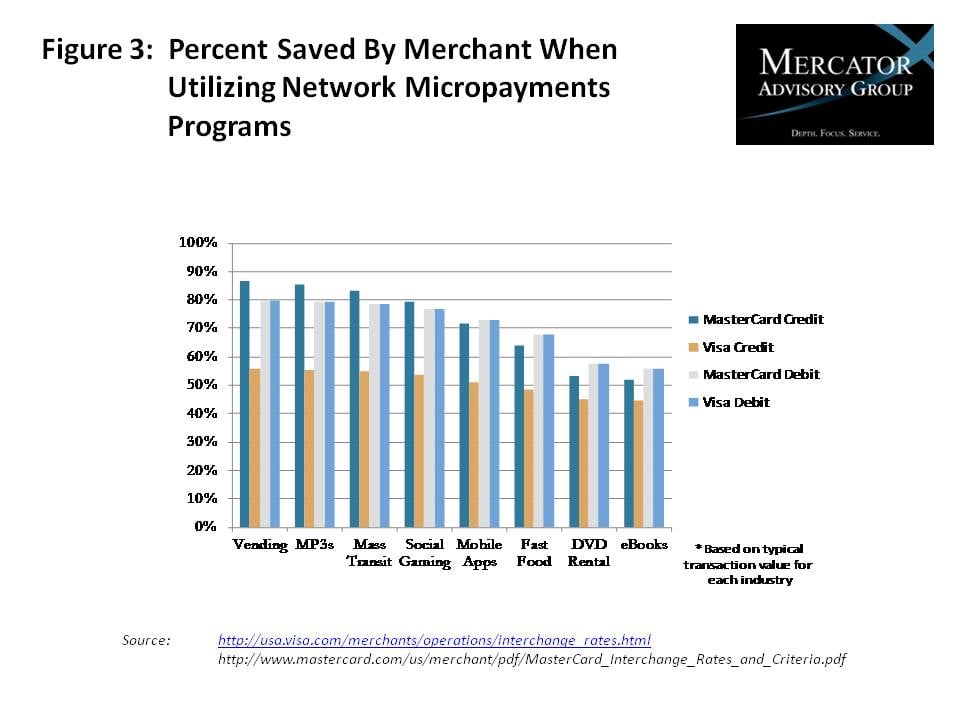 This report is 29 pages long with five exhibits and three tables.
Companies mentioned in this report include: Amazon, Visa, MasterCard, American Express, Discover, Apple, PaymentOne, Zong, eBay, Microsoft, Facebook, Wall Street Journal, New York Times, PayPal, Starbucks, Google, Napster, Rhapsody, Netflix, DigiCash, CyberCash, ESPN, Playboy, First Virtual Holdings, Beenz, Flooz, IBM, Compaq, Digital Equipment Corporation, Peppercoin, Chockstone, BitPass, Clickandbuy, Zynga, OMGPOP, Boku, Electronic Arts, Aeria Games, Playdom, Zoosk, Flattr, Square, Twitter, BitCoin, Electronic Frontier Foundation, Mazooma, and Dwolla.
Members of Mercator Advisory Group have access to this report as well as the upcoming research for the year ahead, presentations, analyst access and other membership benefits.
Please visit us online at www.mercatoradvisorygroup.com.
For more information and media inquiries, please call Mercator Advisory Group's main line: (781) 419-1700, send E-mail to info@mercatoradvisorygroup.com.
For free industry news, opinions, research, company information and more visit us at www.PaymentsJournal.com.
Follow us on Twitter @ http://twitter.com/MercatorAdvisor.
About Mercator Advisory Group
Mercator Advisory Group is the leading, independent research and advisory services firm exclusively focused on the payments and banking industries. We deliver pragmatic and timely research and advice designed to help our clients uncover the most lucrative opportunities to maximize revenue growth and contain costs. Our clients range from the world's largest payment issuers, acquirers, processors, merchants and associations to leading technology providers and investors. Mercator Advisory Group is also the publisher of the online payments and banking news and information portal PaymentsJournal.com.
---
Interested In This Report
Related content
With investment capital tighter in 2023, there's less interest in untested, unproven fintech startups and more of an emphasis on coming out of the chute with products that are read...
Wallet-based digital ID will create a wedge between universal wallets and payment apps, as embedded finance product offerings converge on feature parity over time.
For more than a decade, fintech startups and products have captured outsized attention and investment. In many ways, these companies have set the agenda for driving consumer expect...