Overview
Smart Ticketing: The Move to Open-Loop Transit
Smart Card Technology Opens Up the Transit World
Boston, MA -- Transit customers use the service at least twice a day - to go to work or school and to return home. This high-frequency, high-volume business has been a bastion of proprietary, closed-loop fare collection and payments schemes for decades. No more. Today, the open-loop payment option is growing in power and attraction for transit authorities and customers alike. Competing with hybrid and closed-loop schemes like Hong Kong's Octopus and South Korea's T-Money, open-loop payments are gaining traction through contactless and NFC technologies.
Mercator Advisory Group's new report Smart Ticketing: The Move to Open-Loop Transit examines the global move to open-loop payments, the standards required to make the transition practical, and critical factors for success drawn from an examination of remarkable failures as well as well-implemented approaches.
Highlights of this report include:
Annual global fare collection, U.S. annual volume, and the benefits of electronic ticketing.

Regulatory and business transformation complexities that have caused many transit authorities to switch to open-loop payments.
The reasons contactless EMV is set to transform ticketing.

Myriad benefits of open-loop payment for transit authorities and passengers alike.
Reasons NFC is a congruent fit with existing cellular network infrastructure as well as RF antennas, making it ideal in both worlds.
"Transit has been a bastion of closed-loop fare collection for decades. That's changing now that the cost balance of proprietary fare collections schemes and open-loop services is tilting toward open-loop " states George Peabody, director of Mercator Advisory Group's Emerging Technologies Advisory Service. "Contactless and mobile payments, especially via NFC, are changing how transit authorities think about the burden of managing their proprietary fare collection systems."
One of four exhibits in this report: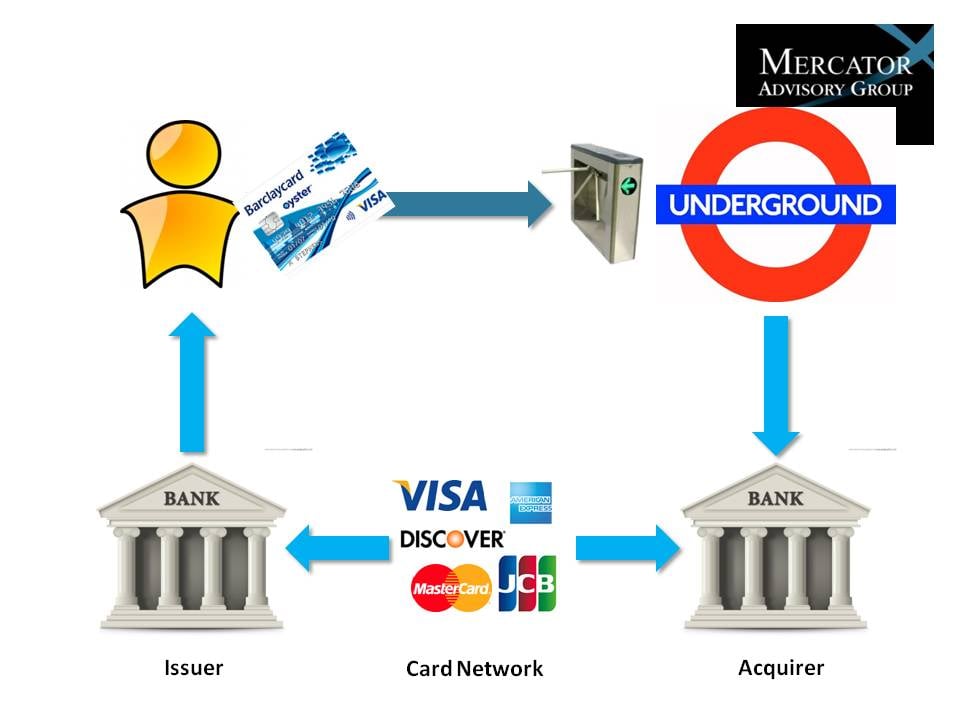 This report is 23 pages long, with three exhibits and one table.
Companies mentioned in this report include: Transport for London, T-Money, Octopus, Philips, NXP, ERG Pty Ltd, Barclays Bank, Barclaycard, LG, KSCC, and EMVCo.
Members of Mercator Advisory Group have access to this report as well as the upcoming research for the year ahead, presentations, analyst access and other membership benefits.
Please visit us online at www.mercatoradvisorygroup.com.
For more information and media inquiries, please call Mercator Advisory Group's main line: (781) 419-1700, send E-mail to info@mercatoradvisorygroup.com.
For free industry news, opinions, research, company information and more visit us at www.PaymentsJournal.com.
Follow us on Twitter @ http://twitter.com/MercatorAdvisor.
About Mercator Advisory Group
Mercator Advisory Group is the leading, independent research and advisory services firm exclusively focused on the payments and banking industries. We deliver pragmatic and timely research and advice designed to help our clients uncover the most lucrative opportunities to maximize revenue growth and contain costs. Our clients range from the world's largest payment issuers, acquirers, processors, merchants and associations to leading technology providers and investors. Mercator Advisory Group is also the publisher of the online payments and banking news and information portal PaymentsJournal.com.
---
Interested In This Report